Those seeking entertainment venues this weekend should check out the following sites in Ho Chi Minh City.

The Box Market (55B Nguyen Thi Minh Khai Street, District 1, HCM City)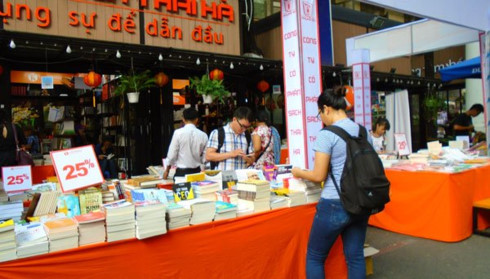 The Box Market, which is held every Saturday and Sunday, is a shopping venue amd a space for exchanges among artists, artisans and fashion lovers. 
This week, youths can drop at the weekend bazaar at the HCMC Labor Cultural Palace in District 1 on July 8-9. The organizer will host numerous interesting activities like talk shows and art performances. 
Especially, visitors can also savor delicious street food at reasonable prices and meet artists in fashion, fine arts and home decoration.
The weekend bazaar features 200 booths selling fashion items of local and foreign brands, clothes, handmade products, and vintage items at negotiable prices. Admission to the market is free.
Saigon Holiday Market (116 Nguyen Du Street, District 1, HCMC)
The market will come back on July 8-9 at Nguyen Du Sports Club, 116 Nguyen Du Street, District 1, next to Nguyen Du Galaxy Cinema where shopaholics and fashionistas can buy fashion items, cosmetics, shoes and bags at discounted prices, plus an opportunity to watch acoustic music shows performed by street artists and music bands, and discover attractive street food stands.
Nguyen Van Binh Book Street (Ben Nghe Ward, District 1, HCMC)
The book street on Nguyen Van Binh road next to two of HCMC's landmarks, the Post Office and the Notre Dame Cathedral, is recommended for young people, especially book lovers.
There will be an introduction of the book "Co hen voi Paris" (Traveling to Paris) by Paris-based Vietnamese author/artist/lawyer Amanda Huynh on the book street at 9 a.m. this Saturday. 
The book is a harmonious combination between travel stories and paintings the author wrote with genuine feelings and hands-on experiences of living and studying in Paris for a long time.
Nha Trang City-born Amanda Huynh has been admired by local youths for her outstanding academic records. In 2005, Huynh earned a bachelor degree in commercial law at the HCMC University of Law and a year later got a Master's degree in law at Capitole I University in Toulouse, France. 
She received a doctorate degree in law in 2010 at the same university. Since then, she has held numerous senior legal positions at companies in France.
In her art career, Huynh has produced more than 1,000 paintings of various genres and materials, which earned her a "Young talent" award by Art 3F in Europe in 2013. Her works have been displayed at many prestigious showrooms in France and Dubai.
HCMC Opera House (7 Lam Son Square District 1)
A "Vietnamese contemporary music and dance" concert by the HCMC Ballet Symphony Orchestra and Opera (HBSO) will be held at 8 p.m. on July 9 at the Opera House, 7 Lam Son Square, District 1, HCMC.
The concert will be performed by leading opera artists of HBSO Choir and Symphony Orchestra under the baton of conductor Tran Nhat Minh.
In addition, local and international audiences will have a chance to watch the contemporary dance "Night Lullbaby" by choreographers Nguyen Phuc Hai and Nguyen Phuc Hung in collaboration with young dancer Sung A Lung, who won the gold medal at the 2016 Young Talent Choreographer competition. The show was premiered for the first time on June 17. 
Tickets are priced at VND550,000, VND400,000, VND350,000 and VND200,000. Students just pay VND80,000.
SGT