If you are bored of old styles of weekend celebrations like sipping coffee in specially-styled cafés, enjoying fabulous buffet programs at luxury restaurants, listening to music at night clubs, rushing to busy themed parks or even lazily sleeping all day at home, you could take note of the following destinations in HCMC that can enrich one's experiences on two weekend days.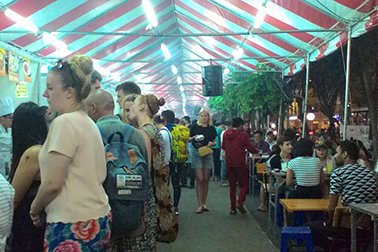 Tourists are visiting a weekend bazaar in HCMC's District 1
The Box Market (Ho Xuan Huong Sports Club, 2 Ho Xuan Huong Street, District 3)
The Box Market, which is held every Saturday and Sunday, is not only a shopping venue for city dwellers but also offers a space for exchanging activities among artists, artisans and fashion lovers. 
Those missing the weekend bazaar at HCMC Labor Cultural Palace in HCMC's District 1 last week still have a chance to take a sightseeing tour to the same event which will take place at Ho Xuan Huong Sports Club in District 3. 
People come here not only for shopping purposes but also for entertainment as the organizer will host numerous interesting activities like talk shows, art performances and lucky draws. 
Especially, visitors can also savor delicious street foods with reasonable prices and meet famous artists in the fields of fashion, fine arts and home decoration.
Saigon Book Flea Market (CineStar Cinema at 271 Nguyen Trai Street in District 1)
Book enthusiasts wishing to buy books at a discount can join the book flea market on the weekend, June 17-18, on the mezzanine floor of CineStar Cinema. 
The market will feature more than 3,000 books of various subjects such as literature, detective novel, foreign languages and economics. 
All books at the market will be discounted by up to 50% , which will surely give book-lovers and budget-minded students an opportunity to feel free to browse for their favorite books.
Nguyen Van Binh Book Street (Ben Nghe Ward, District 1)
Local guitarist and teacher Nguyen The Vinh, who established Huong Duong School to support orphans and disabled kids, will meet with readers to introduce his autobiography "Ong giao lang tren tang gac mai" (A village teacher on the attic floor) at 3.30 p.m. this Saturday at Nguyen Van Binh Book Street in close proximity to two of HCMC's landmarks, the Post Office and the Notre Dame Cathedral. At the book launch event, readers will have the opportunity to exchange and listen to many interesting stories from the teacher who has experienced many difficulties in life but has a generous heart.
HCMC Opera House (7 Lam Son Square District 1)
Local and international audiences can come to the City Opera House to watch the modern ballet "Night Lullbaby" by choreographers Nguyen Phuc Hai and Nguyen Phuc Hung in collaboration with the young dancer Sung A Lung, who won the gold medal of the 2016 Young Talent Choreographer competition. 
The show will be open at 8 p.m. on Saturday, June 17, and is expected to bring spectators a new artistic experience of the fresh breath of contemporary ballet.
SGT