VietNamNet Bridge - A music concert by Swedish jazz professor, pianist Håkan Rydin and fellow jazz musicians from the Vietnam National Academy of Music, will take place on the evenings of June 16-17 at Don's – A Chef's Bistro Hanoi, 16 Quang An Road, Tay Ho District, Hanoi.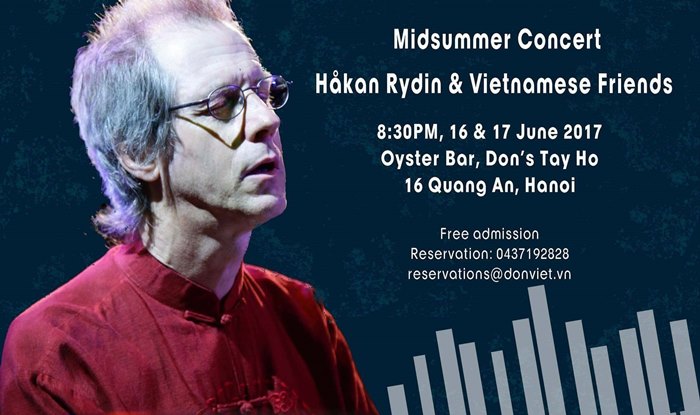 Håkan Rydin was the first Swedish student to pursue a bachelor's degree in Jazz Pedagogy and graduated in 1978. He was the original member of the Swedish legendary group Nexus. The group performed for 20 years with more than 1000 concerts in many parts of the world.
Nexus was a pioneer in many ways: it was the first Swedish band to perform at all major jazz festivals in Canada, the first group to organize a private tour in Soviet Union in 1990… Håkan played in Nexus until the group was dissolved in 1994. 
At that time he had already begun his longtime collaboration with American singer Kim Parker (daughter of the legendary saxophonist Charlie Parker) and together they toured the world over. 
Shortly after Nexus disbanded, he put together his trio with Hans Andersson and Mårgan Höglund. Their first CD "Beautiful Friendship" released on Four Leaf Records 1996 (FLC CD 146), was very well received and released in more than 10 countries.
In 2005 the trio CD "Tender Silhouette", recorded in Sun Studio in Copenhagen, was released on the Japanese label "Marshmallow Records". The CD got 4 stars (out of 5) in Swing Journal, Tokyo and received rave reviews in Sweden. The CD "A Splendored Thing" (Sittel SITCD 9313) with a tentet was released in 2007. 
A trio CD with Yutaka Kaido on the bass, Makoto Rikitake on the drums and guest artist Hiromi Masuda on alto sax was recorded in August 2010 in Yokohama, also on Marshmallow Records and released in 2013.
In great demand as a pianist, Håkan Rydin has performed with Thad Jones, Pepper Adams, Red Mitchell, Etta Cameron, Enrico Rava, Tim Hagans, Georgie Fame, David Liebman and Swedish jazz artists Jan Allan, Arne Domnérus, Helge Albin, Anders Bergcrantz, Christer Boustedt, Bernt Rosengren and Svante Thuresson, among others. 
He has given concerts in more than 20 countries around the world. Throughout his 40 years of music career, Håkan has performed at many major jazz festivals including Cork International Jazz Festival, Barcelona Jazz Festival, Svedala Jazz Festival, and many others.
In April 2013 Håkan Rydin was appointed Professor of Jazz Piano at the Malmö Academy of Music (Lund university – world's top 100 universities). At the moment, he's focusing on his Håkan Rydin Scandinavian Trio.
Last, but not least, Håkan has played a huge part in developing the jazz scene in Vietnam. He has taught some of the most prominent Vietnamese jazz musicians during their course of study at Malmö Academy of Music. 
Håkan has been to Vietnam seven times and given master classes to students from the Jazz Department of Vietnam National Academy of Music.
Admission to the concert is free.
For reservation, call: (04) 3719 3719 / (04) 3719 2828 or hotline: 090 480 0456.
PV