VietNamNet Bridge – Three movies "Me, Myself and Mum" from France, "Breathing" from Austria and "At Eye Level" from Germany will be introduced at the European Film Festival 2017 in Vietnam.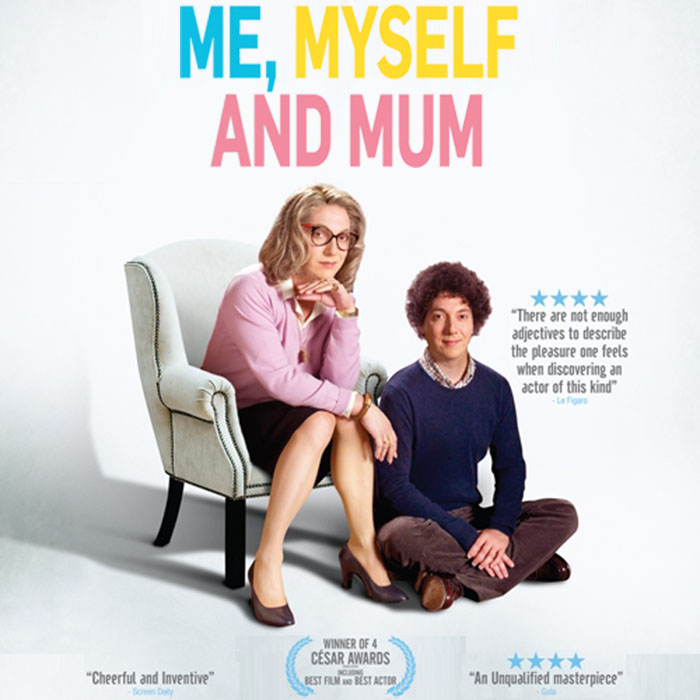 "Me, Myself and Mum" (French title: Les Garçons et Guillaume, à table !) is a 2013 French autobiographical coming of age comedy film written, directed by and starring Guillaume Gallienne. Based on his stage show of the same name, it follows Guillaume as a boy as he develops his own identity and his relationship with his mother.
The film premiered at the 2013 Cannes Film Festival and was released in France on 20 November 2013. In January 2014, the film was nominated for ten César Awards and won five, including awards for Best Film and Best First Feature Film.
The film will be screened in Hanoi on May 21, in Hue on May 26 and in HCM City on May 27.
This film is not for viewers under 16 years old.
Austrian movie "Breathing" is about 19-year-old Roman Kogler, a loner. He is closed-off, awkward, angry, a bit lost – and he is staying in a juvenile detention center. 
As a day-release prisoner he is allowed to leave jail for a job, but his colleagues at the varying workplaces don't make it easy for the young delinquent. 
Not that Roman helps his case much – his solitary character and his uncommunicative way sabotage many employment options. He just doesn't seem to be fit for re-socialization.
After many failed attempts, Roman finds a probation job at the municipal morgue in Vienna and of all things; it is this job dealing with death that shows him the path back to life.
This lauded first feature of actor-turned-director Karl Markovics (he starred in the 2008 Best Foreign Language Academy Award Winner "The Counterfeiters") uses active, meticulously composed visuals, to show a young man slowly integrating himself into the world, and the world, much more slowly, learning to take him back. It exposes some valuable things about redemption and prisoner reintegration.
The movie won several awards: Europa Cinemas Label – Cannes Film Festival 2011, Best Film/Actor – Sarajevo Film Festival 2011, Best Film Award – International Film Festival São Paulo 2011, German Language Feature Film – Zurich Film Festival 2011 and Best Film/Director/Actor – Austrian Film Award 2012.
"Breathing" will be screened in Hanoi on May 20, Hue on May 16 and HCM City on May 17.
A scene from "Breathing".
At the European Film Festival this year, Germany will contribute the movie "Auf Augenhöhe" (English "At Eye Level") by Evi Goldbrunner and Joachim Dollhopf. 
Michi, 11 years old, lives in a children's home and one day finds out who his father is. But when he eventually meets his dad Tom, it's a shock for both of them. Tom happens to be a dwarf and is even shorter than Michael. He didn't know about his son, but he wants to accept the challenge of fatherhood. For Michael, Tom's condition is a disaster, as it's the opposite of the manliness and strength he envisioned his father to have. This forces Tom, who had coped well with his "differentness" so far in his life, to confront his condition head on.
The author and directing duo Evi Goldbrunner and Joachim Dollhopf have developed a moving story for the cinema. "At Eye Level" is not only entertaining, the film also conveys an important message: It is a plea for tolerance, openness and empathy for people who are different. The film was made possible by the initiative "Der Besondere Kinderfilm" (The Special Children's Film) with which public-law broadcasters, sponsors, politics and the film industry support children's films that are based on original screenplays.
The movie will be screened in Hanoi on May 20, in Hue on May 19 and in HCM City on May 14.
All movies will be showed at the same cinemas:
Hanoi: National Cinema Center
87 Lang Ha Street
–
Hue: Dong Ba Cinema
187 Tran Hung Dao Str., Tel.: 0234 352 3850
–
HCMC: CineStar
271 Nguyen Trai str., Dist 1, Hotline: 093 890 0643/ Tel: 08 7300 8881
Free tickets will be distributed from 10 May in all 3 cities.
HANOI
Goethe Institut Hanoi: From 10/5 (9h – 12h & 13h – 17:30h)
56-58 Nguyen Thai Hoc Str., Tel.: 04 3734 2251/2/3-9
British Council: On 11/5 (from 9am until tickets run out or 12am)
20 Thuy Khue Str., Tel.: 04 3843 6780
L'Espace: On 12/5 (12h – 20h)
24 Trang Tien Str., Tel.: 04 3936 2164
HO CHI MINH CITY
Goethe Institut: From 10/05 (9h – 12h & 14h – 17h)
18 Road no. 1, Cu xa Do Thanh, Ward 4, Dist.3, Tel.: 08 3832 6716 /ext.14
British Council: On 11/ 5 (from 9am until tickets run out or 12am)
25 Le Duan Str., Dist. 1, Tel.: 08 3823 2862 (ext 2601)
CineStar Cinema: From 10/5 (9h-21h)
271 Nguyen Trai str., Dist 1, Hotline: 093 890 0643/ Tel: 08 7300 8881
HUE CITY
Dong Ba Cinema
187 Tran Hung Dao Str., Tel.: 0234 352 3850
Thua Thien Hue Cinema and Film Distribution Center
25 Hai Ba Trung Str., Tel.: 023 382 2145
PV