Artists Thai Nhat Minh and Nguyen Nguyen Ha are showcasing their experiments with clay at a contemporary ceramic exhibitionat the Viet Nam Fine Arts Museum.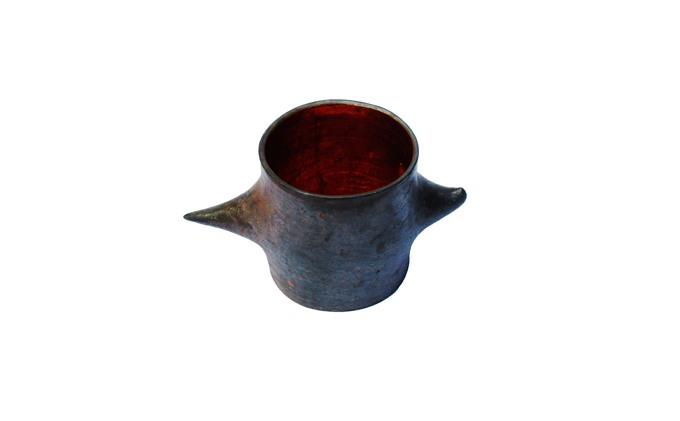 A sculpture at size 24cm by 38cm by 22cm by Minh
Hà, 51 years old and Minh, 33 are from two different generations of Vietnamese artists. They first met more than 10 years ago and have now decided to display together their clay works. 
"I want to create with clay after having experimented with many different materials such as wood, stone, copper and composit," said Hà. "I use Bát Tràng clay and bake it with a wood fire only in order to have a white powder on the products. It is different from traditional techniques of wood and coal for baking".
He will display nine pieces combining traditional and new techniques. The artworks are a reddish-brown colour that can only be achieved by 900oC degree heat. The pieces have no particular concept, reflecting various themes such as worms, snails and a portrait which it took him three years to make. 
"I think it is not neccessary to create a series of artworks with a concept," Hà said. "I try to make works which people know are made of clay when they see them."
Hà has worked in art about 20 years. He usually improvises with delicate pieces, which are sold at the museum store. He has won many awards at the National Fine Art Festivals in the 1990 to 2010 period. His sculpture Bán Than (Selling Coal) was awarded third prize at a fine arts contest in France in 1996.
Minh will present about 50 pieces of clay made in the traditional Hương Canh Pottery Village in the northern province of Vĩnh Phúc. Entitled Tìm Trong Ký Ức (Search in Memory), the pieces are daily utilities of the past such as jars, pots, crockery, jugs and bottles.
"In the past, clay-made objects were popular in daily life. But now such objects are made of industrial materials, such as plastic and steel," said Minh. "For me, these pieces are not only receptacles, they also contain dreams and desires."
Minh doesn't break or alter traditional pottery, but uses them as a basis. He met artisan Trần Văn Hải, one of four left in the village, to ask him to make pottery using traditional technique. 
"Clay in Hương Canh is precious because it doesn't need enamel to last," said Minh. "Sculpture is the best visual language for me to transfer ideas and emotions to the world. Form, space, material are memories that come and go, but they attract me as an an adventure in expression. These processes have given me extraordinary experiences."
Minh has had solo and group exhibitions in Việt Nam, the US and Hong Kong. He has also won fine arts awards from the Việt Nam Fine Arts Association and National Young Art Festival. 
The exhibition will run til May 11 at 66 Nguyễn Thái Học Street in the capital. 
VNS