VietNamNet Bridge – Indian classical dancers and the Indian Army Symphony Band are going on tour in Viet Nam from April 21 to 25. The performances are sponsored by the Viet Nam Ministry of Culture, Sports and Tourism and the Indian Embassy in Ha Noi.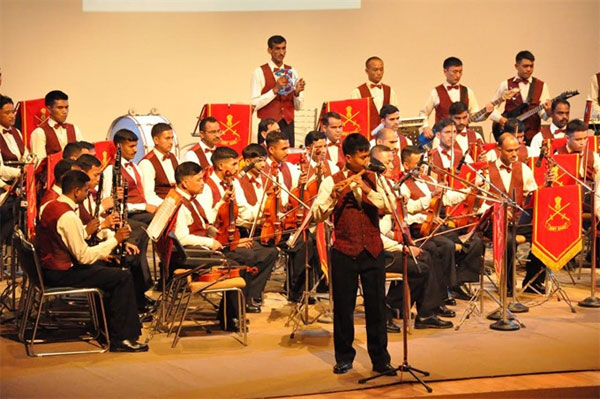 Varied repertoire: The Indian Army Symphony Band will perform in Viet Nam from April 21 to 25. Photo courtesy of vnpac.org
The first part of the performance consists of Kuchipudi, one of the ten leading classical dance forms of India, performed by dancers T Reddi Lakshmi, Lipsa Satpathy, Shivalika Kataria and Tanya Saxena. They will perform five dances choreographed by Guru Jayarma Rao, one of the foremost performers of the Kuchipudi style, who has enriched its repertoire with contemporary choreography. 
The dance-drama performance art that originated in the Krishna District of Andhra Pradesh brings together tradition, faith, temples and travelling bards.
In the second part, the audiences will enjoy music performed by the Indian Army Symphony Band and Traditional Orchestra of Viet Nam Military Music, Song and Dance Theatre. Highlight of the concert will be an Indian song entitled Kadam Kadam Badhaye Ja (Go Forward Step by Step) and the Vietnamese Que Toi (My Homeland) song. 
Three Vietnamese artists - Duong Quang Viet; Duong Phi Hung and Pham The Dung - will sing the Indian song accompanied by the Indian band. The Vietnamese song will be played by the Indian band, too. 
The two orchestras will also play together the overture to Mozart's Symphony No 40 and an Indian patriotic song.
The Indian Army Symphony Band was founded in 1990 with players from Army bands. Subsequently, to add variety to the music, Indian classical musical instruments like santoor, sitar and jaltarang were incorporated.
The band performs during the visit of numerous foreign dignitaries to India and during national ceremonial events like Republic Day, Independence Day and Beating the Retreat ceremony.
It has also participated in various military tattoos and music festivals in foreign countries, such as Russia, France, Italy, Sweden, Japan, Malaysia, the United Kingdom, Germany, Bhutan, and Nepal.
The performance will begin at 8pm at Ha Noi Opera House on April 21; HCM Opera House on April 22 and Nguyen Hien Dinh Tuong Theatre on April 25 in Da Nang City. 
VNS