VietNamNet Bridge – A jazz concert by Belgian trio The Poets' Souls featuring Vietnamese guest Hoa Dang will be held in Ha Noi and HCM City on March 19 and 21.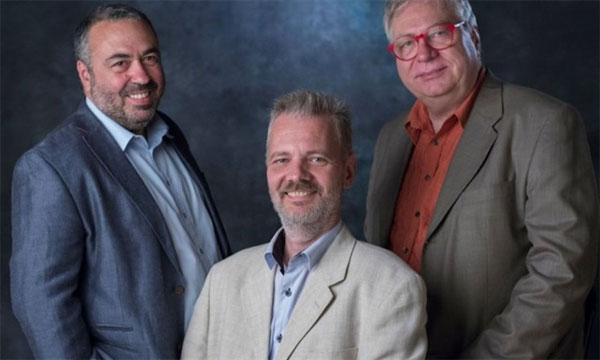 Jazz in blazers: Belgian trio The Poets' Soul will perform in Ha Noi and HCM City on March 19 and 21. File Photo
The concert will feature jazz pieces by French composers Jacque Brels, Léo Ferre and Geogres Brassens performed by leading jazz  musicians Pierre Vaiana on the soprano saxophone, Fabien Degryse on the acoustic guitar and Jean-Louis Rassinfosse on the double bass.
Since 1992, the trio has explored the French chanson standards to deliver instrumental versions full of emotion, creativity and humour. In five albums, they have infused the colours of the French song into the jazz world, giving numerous concerts in Belgium and around the globe.
At the concerts, audiences will have the chance to enjoy jazz fusion performances by the trio and a Vietnamese player of traditional t'rưng music instrument, Hoa Dang.
T'rưng is made of short bamboo tubes, differing in size, with a notch at one end a beveled edge at the other. The tubes are arranged lengthwise horizontally and are attached together by two strings.
"It is difficult to perform jazz on the t'rưng," said musician Hoa Dang. "Jazz is improvisational, with a fusion rhythm and a performance style that is rare for Vietnamese traditional instrumentalists. It requires players to be creative."
"I'm a little nervous and worried about the performance, because the artists are masters of jazz. We have listened to music files by one another, but we don't have much time to rehearse," said Hoa Dang.
Hoa Dang had a chance to perform with saxophonist Vaiana at the European Music Festival in 2014. That was the first time she played jazz.
Dang is a veteran traditional musician, however. She gained the title Doctor of Musical Arts in world music at Central Conservatory of Music in Beijing and has won prizes at national and international music competitions.
She is also member of the World Cimbalom Association and One Asia Orchestra, and the deputy head of Viet Nam National Academy of Music's Department of Traditional Music.
The concert will begin at 8pm at Viet Nam National Academy of Music's Grand Hall, 77 Hao Nam Street in Ha Noi, and HCM Conservatory of Music at 112 Nguyen Du Street, District 1. 
VNS