VietNamNet Bridge - Situated about 9km west of My Tho City, Dong Tam Snake Farm in Binh Duc Commune, Chau Thanh District, Tien Giang Province is the largest centre for snake rearing and snakebite treatment in the Cuu Long River Delta. It has long been an interesting tourist site for domestic and foreign visitors.
Dong Tam Snake Farm was established on October 27, 1979 in an area full of mines and barbed wire left by the US army.
The farm has the tasks of doing scientific research, rearing and conserving precious species of snakes, medicinal plants and animals, producing traditional medicines and providing first aids and treatment for people who are bitten by poisonous snakes in the region. Dong Tam Snake Farm has become a scientific center with great achievements in curing people.
In 1989 it was awarded the title "Labour Hero" by the State.
The farm covers 12ha. It has separated areas to rear precious species of snakes, such as the king cobras, burrowing cobras and ringhals, another to grow medicinal plants, a hospital for snakebite treatment, a research department, an animal reserve and a snake museum.
We followed lieutenant-colonel Vu Ngoc Luong, Deputy Director of Dong Tam Snake Farm when we visited the farm. We were horrified and also excited when we saw the cobras nearly 4 meters in length and 18-20kg in weight lying curled up with an upright flattened head and sparkling eyes. They seemed to be preparing to attack us. The cobras are a venomous elapid species. They are considered the "king" of the snakes and are classified in the "E" grade in Vietnam's Red Book. They crawl as fast as the clouds floating in the wind so they are called cloud tigers. Each year the cobras deliver only a one baby snake. At present, Dong Tam Snake Farm has about 200 parent cobras and many young snakes from 3 months to a year of age.
The cobras are a precious and venomous species. They are classified in the "T" grade and protected by the State. One gram of their venom can kill 160 people with an average weight of 60kg.
Another elapid species which mainly lives in the mountainous and midland areas can eject their venom 1.4-1.6 meters away, so visitors should stay far away from them. The vipers always lurk in green leaves. They look gentle and slow but when they are in danger, they strike as fast as lightning. The venom of this species will rupture the blood vessels, causing a cardiac collapse that makes the victim die.
On average, each year, the centre receives over 1,000 victims of poisonous snakes. In 2005 it received over 10 billion VND from the State, ministries and sectors to build an emergency ward with facilities, machines and equipment for snakebites treatment.
Since March, 2006, the patients here have been treated free of charge. Over the past decades the centre has saved the lives of thousands of people bitten by venomous snakes.
It has a team of experts and qualified physicians with experience in snakebite treatment. The centre also extracts the venom of the king cobras and vipers to produce medicines and serums for snakebite treatment and it also grows Vietnamese medicinal plants. It has hundreds of categories of medicines for different diseases, from influenza and headache to heart, liver and stomach diseases.
Dong Tam Snake Farm is a unique site in the My Tho-Thoi Son Isle-Dong Tam Snake Farm tour. At the farm the tour guide will help visitors learn about each species of snakes, their characteristics and physiology, how to distinguish venomous and non-venomous snakes so that they can survive when bitten by the snakes. Here, visitors seem to be lost in a kingdom of hundreds of species of snakes.
There are many snakes winding themselves around the branches. Visitors also have an opportunity to see many rare and precious species of amphibians, such as pythons, crocodiles and turtles which are in danger of extinction in Vietnam. Dong Tam Snake Farm has a museum with over 40 specimens of snakes which have been listed in Vietnam's record book. This is the first snake museum in Vietnam.
Besides learning about the snakes, visitors will enjoy the quiet atmosphere of the fruit gardens which are reminiscent of a peaceful countryside. Every year, about 30,000-40,000 domestic and foreign tourists visit this area.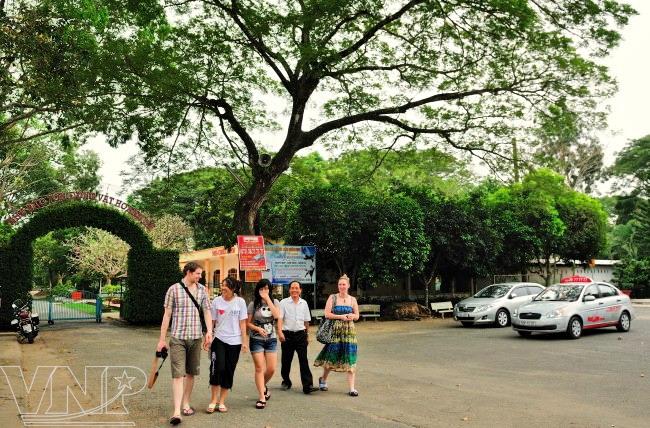 Every year, about 30,000-40,000 domestic and foreign tourists visit Dong Tam Snake Farm.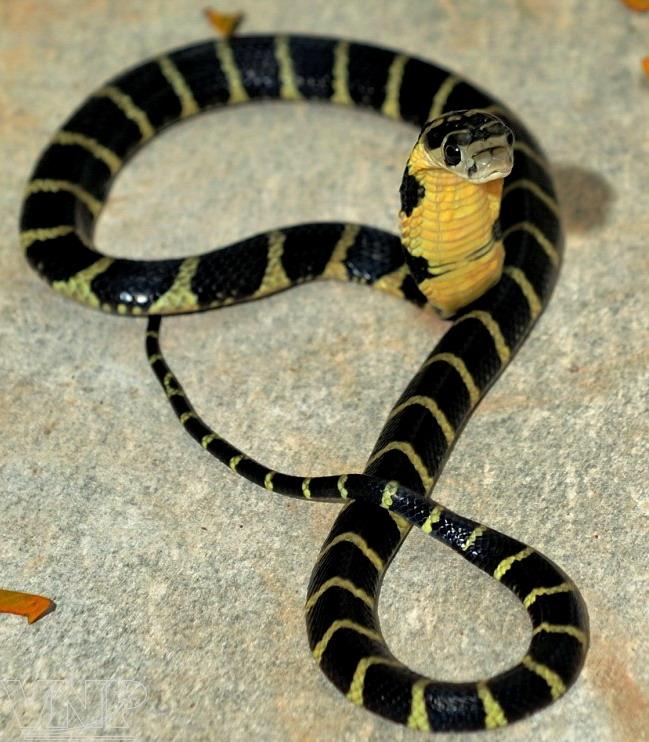 King cobras, a very venomous elapid species classified in the "E" grade in Vietnam's Red Book, are reared in Dong Tam Snake Farm.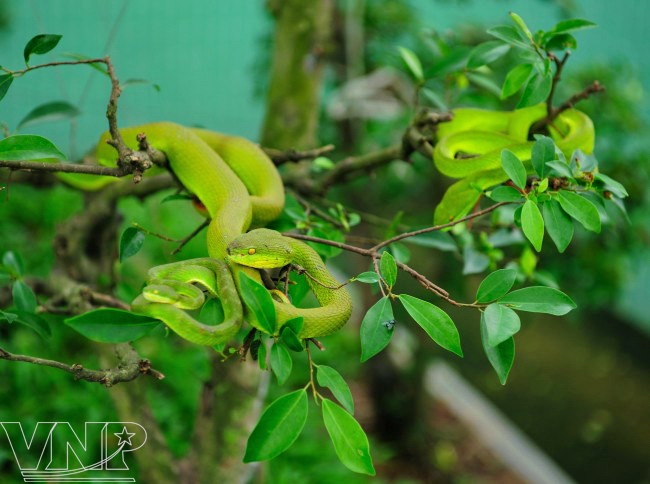 Vipers are reared in a natural farming model.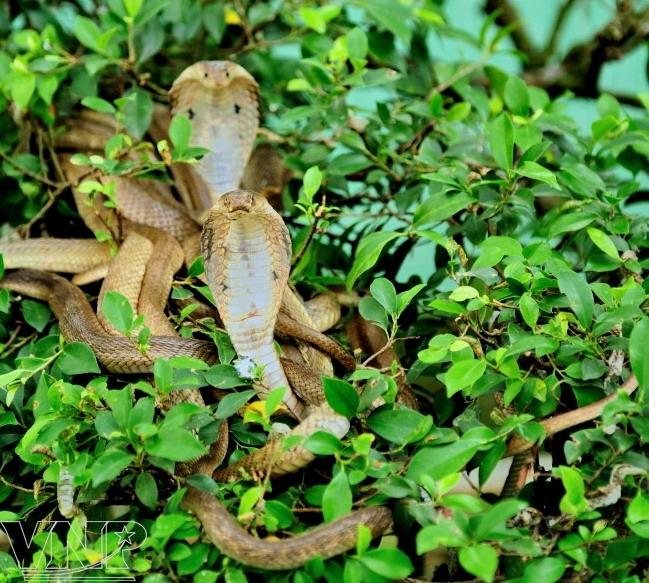 Ran ho meo (Naja siamensis) are reared in a natural farming model.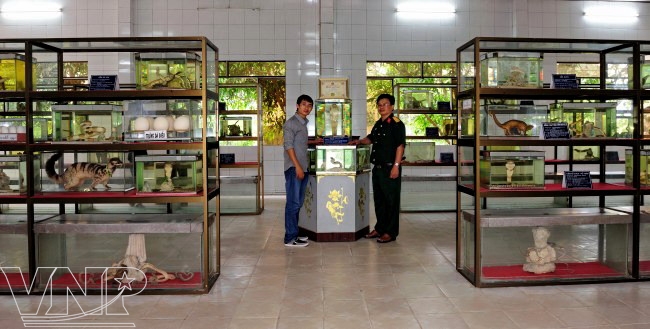 The snake museum of the Dong Tam Snake Farm has been recognized as the first snake museum in Vietnam by the Vietnam Centre for Records Book.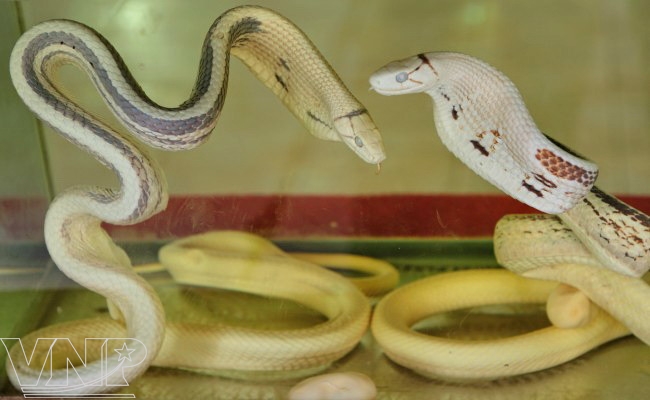 Samples of Copperhead Rat Snakes.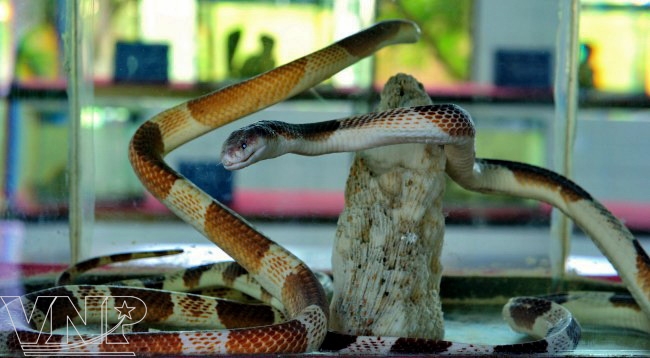 Samples of kraits.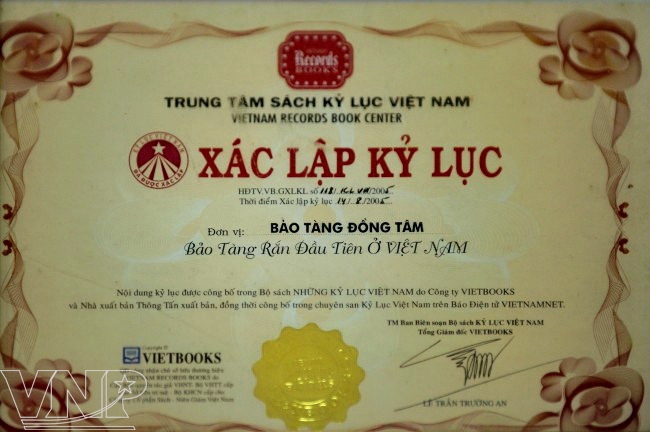 The certificate of records of the Dong Tam Snake Museum.
Mô tả
Source: VNP