VietNamNet Bridge – "Pho Tay" (street of foreigners) is a familiar address as well as the gathering place of foreign visitors in Ho Chi Minh City.
The "Pho Tay – Saigon" is the common name of the area covering the streets of Pham Ngu Lao, Bui Vien, De Tham, Do Quang Dau and the neighboring areas, in Pham Ngu Lao Ward, District 1, Ho Chi Minh City.
This area is the home to a lot of hotels, motels, restaurants, travel centers and travel services for foreign backpackers. "Pho Tay" has become a familiar address and the gathering place of foreign visitors to the city.
The living rhythm in "Pho Tay" is always fast and noisy, especially at night. During the daytime, foreign visitors can travel to other places but at night, they return to "Pho Tay" to relax, entertain and experience the pavement life of Saigon. The night in "Pho Tay" is colorful in lights and the colors of varied culture.
"Pho Tay" does not sleep at night, with a lot of fun, sadness and happiness in the life span of Saigon.
Some pictures of "Pho Tay":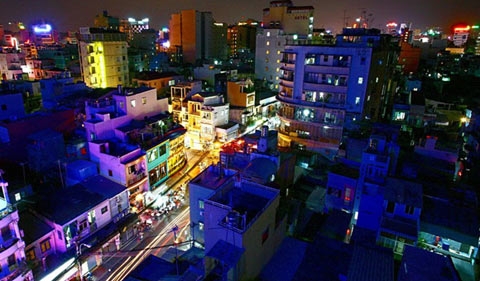 Part of "Pho Tay" looking from above.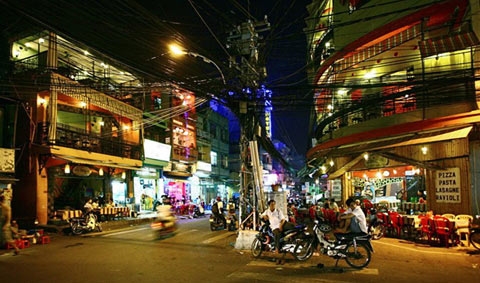 The junction of Do Quang Dau - Bui Vien with lots of restaurants and bars. There is also a group of xe om (motorbike taxi drivers) waiting for passengers.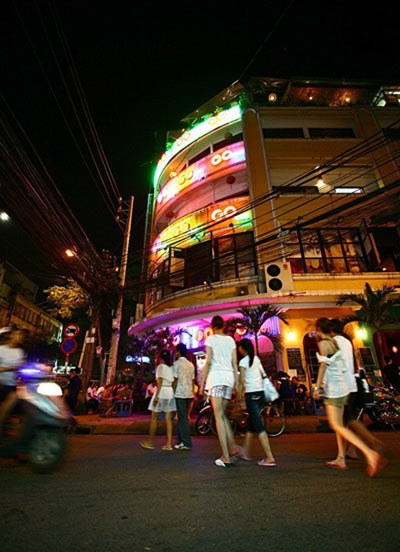 At night, foreign tourists and backpackers like wandering the street and drink beer.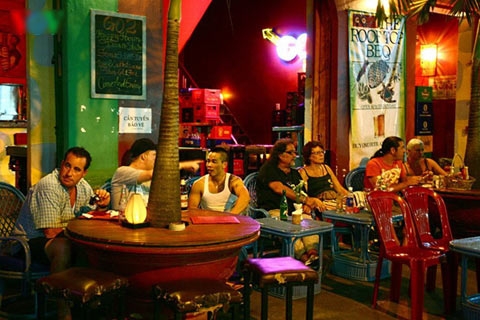 Sitting on the sidewalk to drink beer, looking to the street is the delight of many visitors.
Photo: A cafe on De Tham Street. Actually, it is not only a cafe but also a pub, a restaurant or a bar although it does not have a dance floor.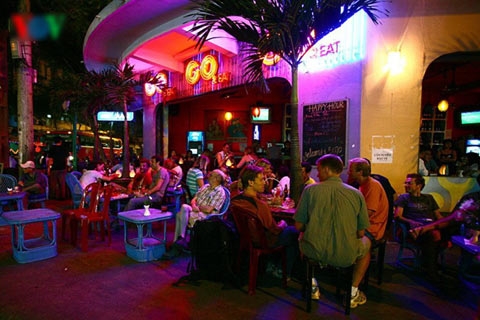 The restaurants and bars located at the corner always impress visitors and are preferred because of the broad vision and wide sidewalks. This is the Go2 Bar on the corner of De Tham - Bui Vien, which is quite famous in the "Pho Tay."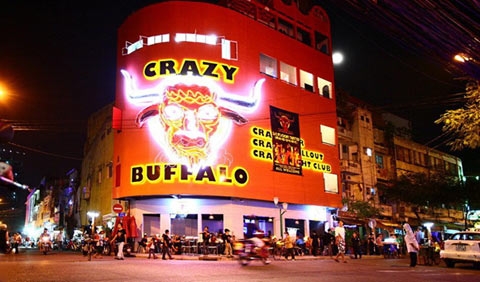 This is Crazy Buffalo Bar, also located at the corner of De Tham - Bui Vien Street, with a superficially impressive and overwhelming outlook.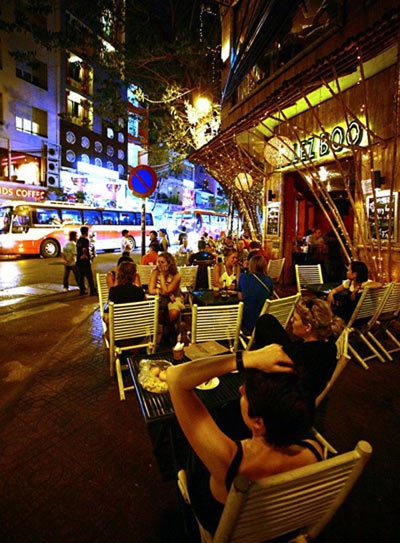 Allez Boo Bar located on the corner of Pham Ngu Lao - De Tham with the façade decorated with bamboo and wood.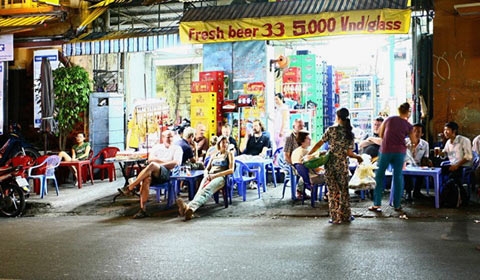 Many visitors do not sit in restaurants or bars but on the sidewalk restaurants, with very cheap price like this.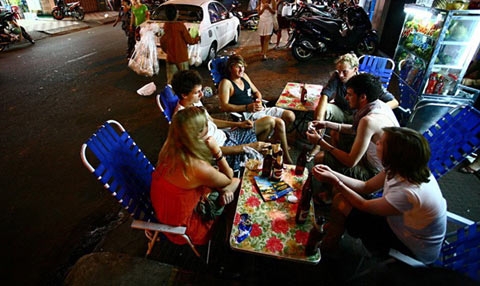 The drinks are also casual.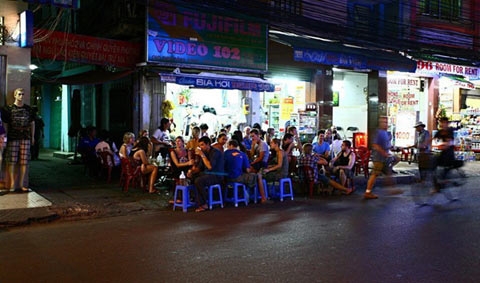 A lot of people in a small area. No problem, as long as it is fun and harmony in the life of the pavement.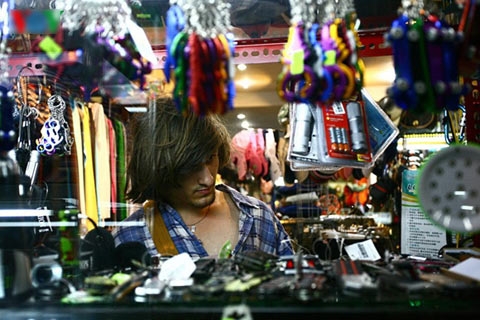 A visitor in a grocery on Bui Vien Street.
In a painting shop on Bui Vien Street.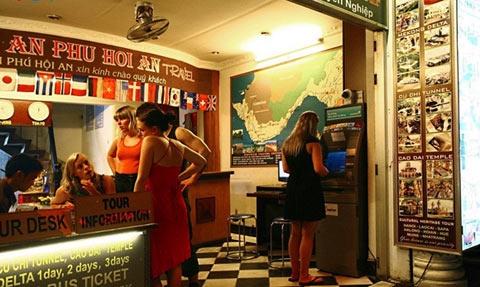 A tourist office on Pham Ngu Lao Street. Although it's late, some visitors still come to book tours. It seems that the travel services here are available 24/7.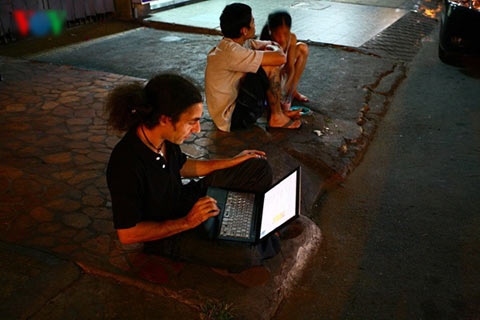 On the sidewalk, a foreign guy sits surfing the net. In "Pho Tay," wifi is available everywhere.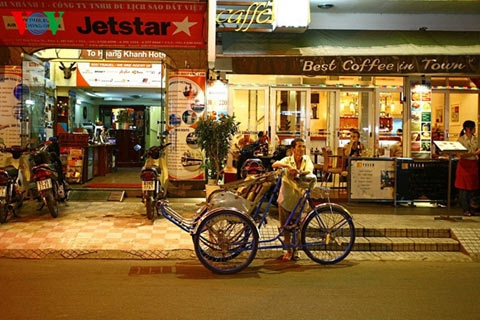 A cyclo driver is patiently waiting for passengers. Besides the bustle atmosphere and the shops with colorful lights, there are also quiet laborers in "Pho Tay."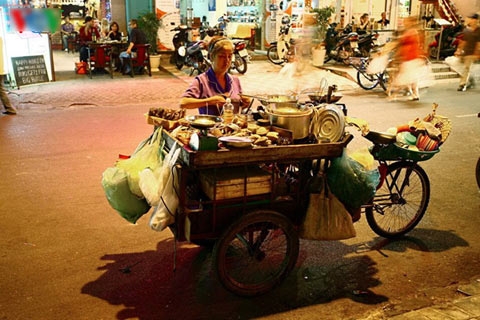 A "mobile food store" with the popular dishes.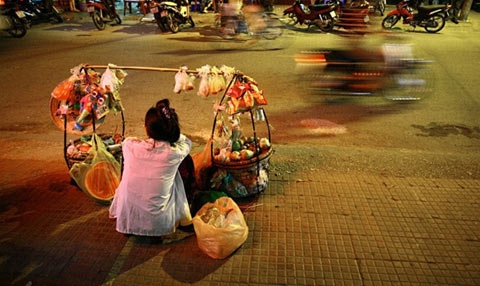 The relax moment of a hawker.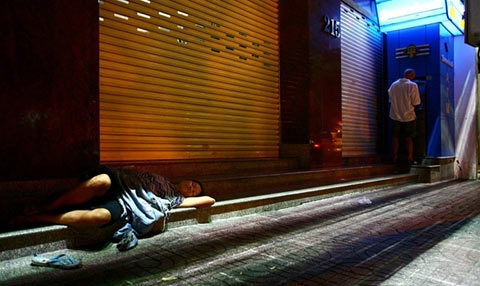 And somewhere there are also the sad corners of life - on the sidewalk in front of a banking office on Pham Ngu Lao Street.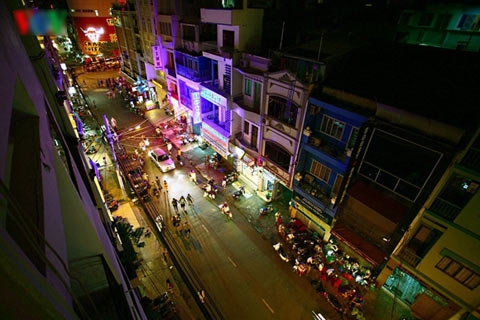 Bui Vien Street looks like an alley with tall houses. "Pho Tay" is at night but it seems to be restless.
Compiled by T. Van
Photo: VOV