Despite numerous ups and downs of the economy, and despite drastic changes to the socio-economic landscape in HCMC, there is a special market that has maintained its special traits for decades. 
Soai Kinh Lam in the city's District 5 is known far and wide for its long-established role as a crucial distribution hub of fabrics, not only for the city but the entire southern region. 
And it is also recommended as a venue for tourists who want to take sightseeing tours to gain an insight into the bustling business in the city in general and the Cholon area in particular.
In HCMC, there are markets specializing in a particular type of commodities. For example, Kim Bien Market is widely famous for providing various kinds of chemicals for use in various fields, especially in garment and food, or Dai Quang Minh Market as home to hundreds of vivid handmade products, Soai Kinh Lam market captivates first-time comers by the colorful and diverse kinds of fabric materials. 
Soai Kinh Lam fabric market, also known as Dong Khanh Department Store in HCMC's District 5, is nestled at the end of the busy Tran Hung Dao Street in District 5 in Cholon area where many Vietnamese of Chinese descent reside. 
The market is regarded as one of the oldest wholesale texitle market in the city, with nearly 500 stores selling various kinds of fabric materials with amazing colors and designs. 
The fabric items there are imported from many different countries such as India, South Korea, Japan, and especially from China, which is understandable because most texitle traders at the market are Vietnamese of Chinese descent who have close trading ties with partners in China. 
The market is also known as a popular point to distribute fabrics at wholesale prices for retailers within the city and neighboring provinces.
Once arriving at the fabric market, tourists might be captivated by the bustling sight of trading activities between sellers and buyers and the busy pace of market life that contribute to making life in Chinatown area more lively and animated.
Apart from purchasing colorful fabrics to bring home as a gift, foreign travelers will have the opportunity to gain a deep insight into history, culture and unique characteristics of Soai Kinh Lam market and Cholon as well, experience the business culture of the Chinese community in Saigon, and witness the livelihood of local residents.
Born into a Chinese family that migrated from Guangdong to Vietnam a long time ago and growing up in a Chinese community in Cholon area, Lieu Ngoc Chau, who has sold fabrics at the market for more than 20 years, inherited the business from her mother. 
She says although the business is no longer as prosperous as its heyday about ten years ago, she still devotes the rest of her life to selling fabrics at the market as a way to preserve her traditional family business. 
Speaking to the Daily on Sunday, a 42-year-old female trader who has run a fabric store at Soai Kinh Lam market for more than 25 years, said the market turns more and more bustling and busier at the end of the year as local people are in high demand of buying fabrics to make new clothes. 
However, she added that the trading activity in the market has become gloomier in recent years due to the ups and downs of the economy. 
The business downtrend at the market can also be attributed to the emergence of new sale channels in the city, such as shopping malls. 
Still, the market creates jobs for thousands of workers who come from different parts of the country to earn a living by providing transport services for traders there.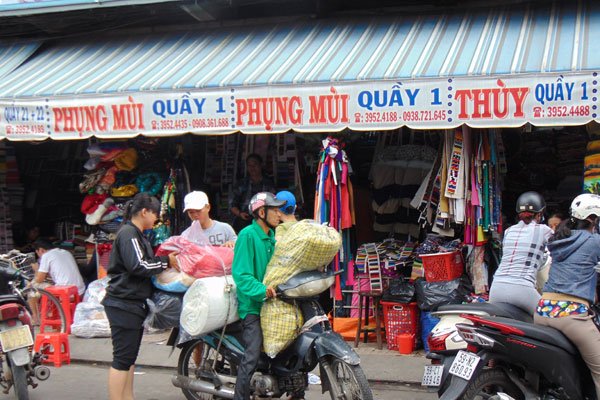 The bustling atmosphere at Soai Kinh Lam fabric market on the busy Tran Hung Dao Street in HCMC's District 5
Tourists are seen inspecting fabric items at a store at the market
The market is home to some 500 stores selling various kinds of fabric materials with amazing colors and designs 
SGT/emdep.com