VietNamNet Bridge - Frost and snow have appeared across northern mountainous provinces in recent days due to a record cold spell over the last 40 years.
It is reported that up to 40 places were covered with snow on Sunday and Monday (January 24-25). In many places, this was the first time snowfall appearing in history.
On Sunday, January 24, snow fell on many mountainous villages of Thanh Hoa and Nghe An provinces in central Vietnam for the first time.
In Thanh Hoa province, the temperature in the plain and Thanh Hoa city was 6 degrees Celsius and zero degrees Celsius in the mountainous area. Frost and snow appeared in some villages as Cao Son in Lung Cao commune, Ba Thuoc district, Sai Khao in Muong Ly commune and Nhi Son commune in Muong Lat district.
In Cao Son village, frost appeared on the night of January 23 and snow began falling at noon of January 24. Locals said the last snowfall was many decades ago.
A local official said many families in Cao Son had to take their children to the commune center to avoid the cold.
In Yen Khuong commune of Lang Chanh mountainous district, snow also appeared on January 24.
Snow fell in Muong Long and Na Ngoi, near the Vietnam-Laos border, on Sunday. Temperatures dropped to -1.5 to -2 degrees Celsius.
The same day, frost appeared in some districts like Tuong Duong and Que Phong as temperatures dropped to below 0 degrees Celsius.
The deputy director of the National Hydrometeorology Center – Mr. Le Thanh Hai - said that it was very rare that the temperature in Vinh City of Nghe An Province dropped to 7 degrees Celsius on January 24. It was the first time in history that snow fell in some districts of Nghe An.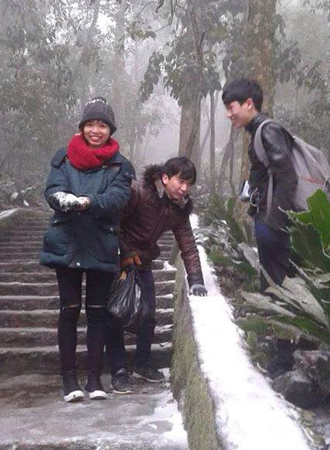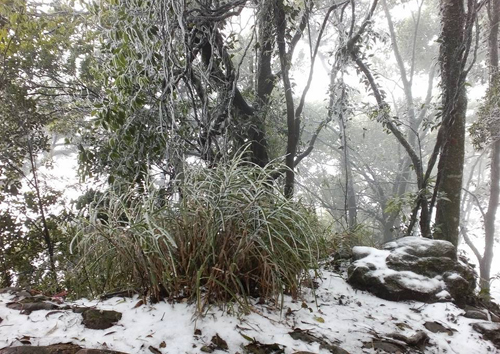 Snow on Ba Vi Mountain, Hanoi on January 24.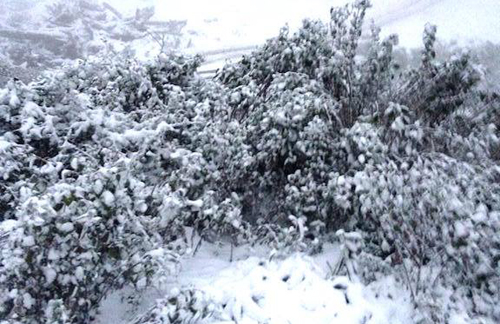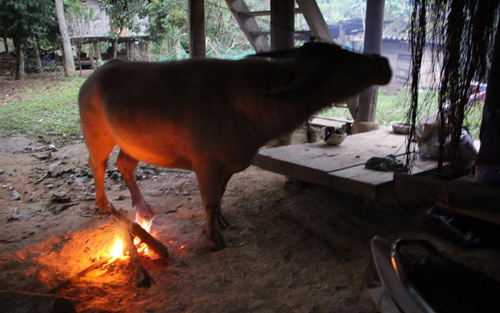 People burn wood to warm their cattle.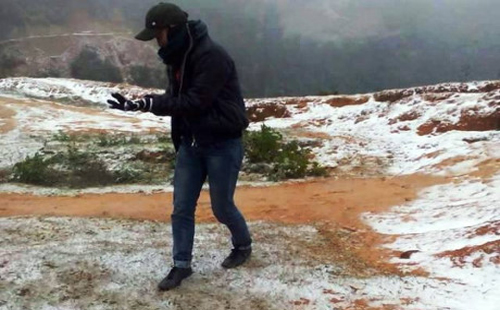 Snow in Nghe An province on January 24.
Đợt không khí lạnh mạnh nhất từ đầu đông kéo nền nhiệt miền Bắc xuống rất thấp, hàng loạt điểm có tuyết như: Sa Pa (Lào Cai), Tam Đảo (Vĩnh Phúc), Bình Liêu (Quảng Ninh), Mẫu Sơn (Lạng Sơn)...
Snow in Y Ty commune of Bat Xat district in Lao Cai province. This place is located at an altitude of 2,000 m over the sea level. Snowfall started at 12am on January 23 and has continued until today, January 27.
Tourists in Sapa, Lao Cai.
Snowfall was also reported in Binh Lieu district of Quang Ninh province.
In Tam Dao Town, Vinh Phuc province.
The road to Pu Xai Lai Leng Mount in Ky Son District, Nghe An province.
Road builders in Ky Son had to stop working because of snow.
The Vietnam-Laos border in Nghe An province.
Peach flowers covered by snow.
A tourist in front of the Buoc My border station in Ky Son district, Nghe An province.
 Snow in Binh Lieu, Quang Ninh.
Frost covers Dong (Bronze) Temple on the peak of Yen Tu in Quang Ninh.
Frost in Nam Can commune, Ky Son district, Nghe An province.
Snow in Moc Chau Plateau, Son La province.
In Van Ho district, Son La province.
In Ha Giang province.
Snow in Yen Bai.
 In Mai Chau Town, Son La Province
Mai Chau town.
Y Ty - Lao Cai province.
 Sapa - Lao Cai.
Tra Linh - Cao Bang province.
 Tra Linh - Cao Bang province.
Mau Son - Lang Son province.
Tam Dao - Vinh Phuc province.

Photo: VNN/Zing, Dan Viet, NDT/Tuoitre/Facebook

Compiled by Linh Nhat