VietNamNet Bridge – Non-professional services, poor tours and weak co-operation among provinces are the main reasons that tourism has not developed well in the Cuu Long (Mekong Delta) region, heard a conference organised on Wednesday in Can Tho Province.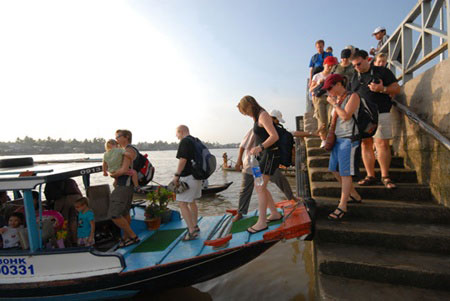 Foreign visitors take part in a river tour in the Mekong Delta.
At the conference, the deputy minister of Culture, Sports and Tourism, Hoang Anh Tuan, said the number of foreign visitors was limited and those who did visit did not stay long.
Tourism products are unattractive and often overlap in purpose, he said, adding that tours in Tien Giang, Ben Tre and Vinh Long were the same.
The deputy director of An Giang Province's Department of Culture, Sports and Tourism, Pham The Trieu, said that his province was trying to seek ways to encourage visitors to stay longer and to spend more.
Tour quality is often weak and improvements to tours have not been carried out well, he said.
According to the conference, the region is one of seven key tourism areas of the country. Last year, it welcomed 1.6 million foreign visitors, accounting for only 8.3 per cent of the total foreign visitors coming to Viet Nam.
Regional turnover from tourism last year was VND5.1 billion ($250,000), or 2.7 per cent of the national figure.
Leaders needed
To improve regional tourism activities, participants at the conference said they needed a leader who could coordinate activities among regional provinces as well as with other big cities and regions.
Pham Trung Luong, an expert from the Institute for Tourism Development Research, said that a tourism model for the entire region did not exist and the role of the tourism associations was not strong enough.
To develop, the region's provinces need to work together to improve competitiveness, he said, adding that they needed a leader to help connect regional members with other countries to open tours on the Mekong River and tours to Cambodia and Thailand.
Deputy Minister Tuan said to set up a coordinating board that would act as a leader and coordinator for regional tourism activities.
In the next three months, the institute would set up a plan to develop typical tourism products for the region, he said.
Other participations suggested developing homestays and luxury accommodations.
Improving the quality of infrastructure and tourism staff was also needed, they added.
By 2015, the region expects to need more than 37,000 rooms for 2.7 million foreign visitors and 5.7 million domestic visitors.
By 2020, the total would be 3.9 million foreign tourists and 6.5 domestic tourists. To meet the demand, the area would need 50,000 rooms.
Source: VNS