Quang Ninh: village tourism lures international tourists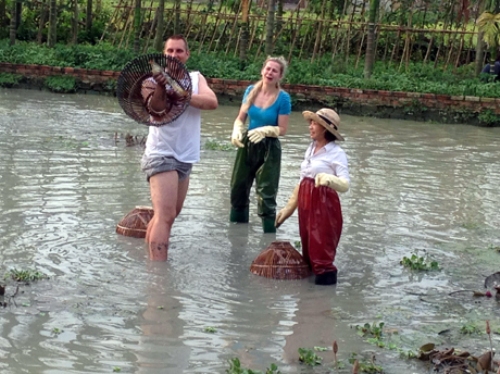 Photo: dulichhalong.
Numerous foreign tourists flock daily to a cultural tourism village in Dong Trieu district, northern Quang Ninh province, to discover the unique cultural identity of the local villagers.
The model of community-based tourism in Yen Duc commune, developed by the Indochina Junk JSC since 2011, is regarded as the final destination of many tours to the World Heritage site of Ha Long bay.
International travellers coming to the village can watch local villagers doing their field work and join them directly to practice rice and vegetable growing, rice pounding and fishing.
David Phillips, a tourist from the UK, said he had a great time at the village and learnt more about its traditional cultural features, while his wife acknowledged the diligence of local villagers and Vietnamese farmers at large.
Foreign tourists can also make tours to Canh Huong pagoda in Yen Duc commune or they can enjoy folk songs and water puppetry performances from local people.
According to Secretary of the Yen Duc communal Party Committee Nguyen The Bien, the tourism model helps raise local people's income and improve their awareness of developing green tourism and tapping the traditional cultural traits of Vietnamese villages. He called for further development to take place in a sustainable manner.-
South Korea supports charter flights to Jeju
Tours taking Vietnamese tourists to South Korea's Jeju Island on charter flights will receive supports of US$5,000 per flight, according to the office of the Korea Tourism Organization (KTO) in Vietnam.
The supports are only for tours operated by Vietravel, Saigontourist, Vitour, TST Tourist and Asia Sun Travel without transiting at a third place under a memorandum of understanding signed between the travel firms and the Jeju Tourism Organization and the Jeju MICE Tourism Association in Hanoi last week.
Vietnamese tourists flying to Jeju on direct charter flights can enjoy visa-free entry.
The support package will end on December 31, 2014.
A representative of KTO Vietnam said that Vietnam had yet to operate direct flights to Jeju and the only way to fly directly to Jeju was to travel on charter flights of tours operated by these operators.
A representative of TST Tourist said that the company would use the financial support to increase the service quality, update new tourist sites and offer high-quality tours instead of lowering tour prices.
Currently, to arrive in Jeju by air, Vietnamese tourists transit in Seoul or Shanghai.
According to statistics of KTO Vietnam, there were over 117,000 Vietnamese tourists traveling to South Korea last year, up 10%. Meanwhile, the number of South Korean tourists visiting Vietnam amounted to nearly 167,000 in this year's first two months.
More flight routes to Can Tho expected
The Ministry of Transport has agreed to organize a conference to promote air services to the Mekong Delta city of Can Tho on March 13-14, 2014, said an official of Can Tho City.
Dao Anh Dung, vice chairman of Can Tho City government, told the Daily that the organization of an aviation promotion conference in Can Tho was approved at a meeting in Hanoi on Monday.
"Can Tho wants to open more domestic flights connected to Danang, Dalat, Khanh Hoa, and international flights to Siem Reap, Taiwan, Hong Kong, and Singapore. It is because Can Tho already has an international airport, but it has been only connected to domestic places like Hanoi, HCMC, Con Dao, and Phu Quoc, and during the Tet holiday, there were few flight routes connected to Taiwan," said Dung.
Dung added the conference is aimed to lure investors and tourists to Can Tho as well as the entire Mekong Delta because Can Tho is the first-grade city of the Mekong Delta.
According to Dung, the promotion conference to promote flight routes will take place at the premises of the Southwest Steering Committee in Can Tho.
Korea offers promotion program for MICE visitors from Vietnam
Korea Tourism Organization in Vietnam will continue to implement a promotion program for Meeting, Inventive, Convention, and Exhibition (MICE) visitors.
Korean local authorities' tourism departments have also offered promotions to tourists including the Jeju Tourism Department.
About 117,000 Vietnamese visitors traveled to Korea in 2013. Jeju Island welcomed 10.85 million international tourists including 18,162 Vietnamese travelers.
Saigontourist will launch a promotional price from VND13-19 million on tours to Korea in association with Vietnam Airlines on Independence Day, April 30, and Labor Day, May 1.
Quang Nam: community-based tourism benefits minorities
A community-based tourism development project has helped the Co Tu ethnic minority community in central Quang Nam province raise their income along with preserving their cultural traits.
The outcomes were heard at a workshop reviewing the first two years of the four-year project held in the province on March 7.
With an annual 120,000 USD funded by the Japan-based Foundation for International Development/Relief (FIDR), 30 pilot tourist tours were arranged to Tabhing commune, Nam Giang district, where the majority of Co Tu people reside.
The project, which will run until 2016, has brought the local Co Tu beneficiaries a combined income of 233 million VND (10,951 USD), delegates heard.
Tens of refresher courses were organised to train involved ethnic minority households in service skills.
At the event, representatives from the Co Tu ethnic minority group shared their experience in developing ecological, cultural, and historical tours and homestay services.
Vietnam Airlines adds more flights for Hue Festival
Vietnam Airlines plans to increase the number of flights to serve passengers coming to the central province of Thua Thien-Hue to celebrate Hue Festival 2014.
The national flag carrier will operate more return flights from Hanoi and Ho Chi Minh City to Hue until June 23.
It will provide 400 seats every day for the HCM City – Hue city air route and 300 seats for the Hanoi–Hue flight every day until then.
According to Nguyen Van Thanh, deputy head of the festival's organising board, 17 billion VND has been provided in sponsorship for the event.
The Vietnam Commercial Bank for Industry and Trade (Vietinbank) is now the biggest sponsor with 5 billion VND (230,000 USD), followed by the Hue Beer Company (Huda), the Bank for Foreign Trade (Vietcombank) and the Bank of Investment and Development of Vietnam (BIDV) with 3 billion VND each.
This year the festival is themed "Cultural heritage with integration and development" and will take place from April 12-20, with a series of national- and provincial-level historical, cultural and artistic events.
It is expected to attract 200,000 visitors and various art troupes from nearly 40 countries around the world.
Quang Nam province to focus on tourism human resources
Central Quang Nam province will, from now to 2020, focus on improving the perception on tourism development and human resources training for the sector to meet rising demands, thus shifting its economic base from agriculture to industry, with services occupying a large ratio of the economy.
This was a conclusion from a conference jointly held by the provincial Department of Culture, Sports and Tourism and the International Labour Organisation in the province's Hoi An city, a UNESCO-recognised world heritage site, on March 7.
Presentations at the function also called for attention to the building of a set of standards on tourism training, especially for managers. They also stressed the need on the training of foreign languages and skills for tourism workers.
Participants said the training should be integrated into the national programmes on vocational training for the youth, especially those in rural areas.
Quang Nam province now counts 5,216 hotel rooms, 60 homestay facilities, and 46 travel companies. Last year it welcomed over 3.4 million arrivals with 4.5 trillion VND (211.5 million USD), an increase of 24 percent over the previous year.
Hanoi falling short of tourism potential
Secretary of the Hanoi Party Committee Pham Quang Nghi has said tourism is a "potential gold mine" for the capital, yet the sector's achievements have been limited.
At a working session with the Hanoi Tourism Corporation on March 7, the official said Hanoi boasts numerous tourism advantages, such as excellent cuisine, beautiful landscapes and low spending costs, along with a number of historical relic sites and craft villages.
However, he noted that these advantages have not been fully utilised to become tourist magnets, which is attributable to a lack of renovation.
Secretary Nghi suggested the sector encourage the creativity of tourism managers and staff together with equipping them with more professional skills, adding that they should also step up the upgrading of tourism facilities and promoting Hanoi 's images to the world.
In 2013, the city greeted 2.58 million foreign arrivals, up 22.9 percent year-on-year, generating 38.5 trillion VND (1.83 billion USD) in revenue – or 14-15 percent of its gross domestic product.
It plans to welcome 3 million foreign tourists in 2014.
Bac Ha market retains identity and uniqueness
Due to rapid modernisation, many markets have lost their authenticity, but Bac Ha market in northern mountainous Lao Cai province still retains its identity and uniqueness.
The road to Bac Ha district is bordered by terraced rice fields, magnificent mountains and the stilt houses of ethnic minority people. Since early morning, along the road to Bac Ha, local ethnic people in their traditional costumes on horseback, on foot and sometimes on motorbike, carry goods to the market.
Bac Ha district is inhabited by 14 ethnic minority groups, predominantly H Mong, Dao, Tay and Nung. Bac Ha market is not only a trading place, but also a venue for cultural exchanges among local people.
According to the locals, previously, the market was held on a hill in the centre of town. In recent years, due to increasing demand for trading and tourism, the old market has been replaced by a new larger market.
"The market is held on Sundays, so everybody can come because the other days of the week, people have to go to work. My family sells Thang Co, buffalo meat and pork in the market. This business is more profitable than agriculture," Radio the Voice of Vietnam quoted Lu Van Dao of the Nung ethnic group as saying.
The market is divided into different sections offering different products for sale, but the most crowded corner is the culinary one. Visitors to Bac Ha market often try Thang Co, a soup made of horse viscera flavoured with local spices. This is a traditional dish of the Mong ethnic minority.
Today, Thang Co is also prepared with the viscera of other animals such as goats or cows but it still appeals to both locals and visitors. To enjoy Thang Co with more authenticity, connoisseurs accompany it with a glass or two of corn alcohol.
Bac Ha market is also a place for local people to trade buffalos and horses. Local people come to the market to buy strong horses to help them do farm work and fast ones to enter the district's horse race.
"The Mong consider the horse a family member because it helps them a lot. At the beginning of the New Year, young men from the Mong, Tay, and Dao groups compete in a horse race to show their courage and pray for good luck for the New Year," said Thao Seo Cau is Vice Chair of the Bac Ha District People's Committee.
The market also sells houseware and tools. The most popular stands sell jewelry, clothing, and brocaded fabrics.
Bac Ha market is one of the few that still maintains the authenticity and uniqueness of a mountain market session. Visiting the market is an opportunity to discover the local culture.
Five years ago, the market was selected by Serendib magazine of Sri Lanka as one of Southeast Asia's top most famous markets.-
Source: SGGP/VNA/VNS/Nhandan