Japan airlines launches direct Hanoi-Tokyo route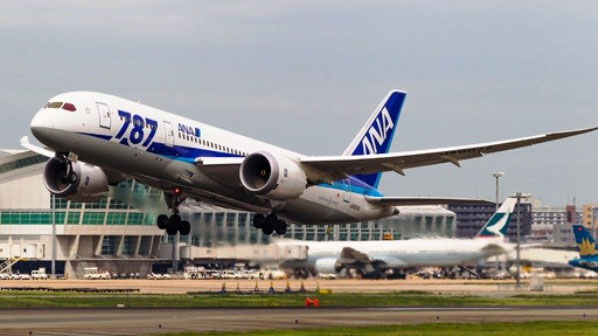 The first direct flight between Hanoi and Tokyo is scheduled to lift off on March 30, via All Nippon Airways (ANA) of Japan.
The inaugural flight of the newly established daily route departs from Japan's Haneda airport at 8:45 and lands in Hanoi at 11:55, while the return flight leaves Noi Bai international airport at 14:00 and arrives at Haneda at 21:5.
ANA offers a discount on return tickets from Hanoi to Tokyo, Osaka and Fukouka (US$650, excluding tax and surcharge) tickets booked between March 10 and March 24, 2014 and traveling from May 7-31, 2014.
ANA Vietnam Director Ryoichi Fujisaki said the upcoming Hanoi-Tokyo direct air route has been in gestation since in 2001 following the airlines successful opening of direct flights between Ho Chi Minh City and Tokyo.
Initially, ANA will use a Boeing 767 with 214 seats (35 business class and 179 popular), he said.
"From June 2014, the airline will use a Boeing 787 with more comforts", Ryoichi Fujisaki elaborated.
Last year, ANA carried 75,000 Vietnamese passengers and 10 million visitors from other countries to Japan. The Japanese government is expected to welcome 20 million international visitors in 2020, and the Hanoi-Tokyo route aims to help realize this goal, he concluded.
Since its establishment in December 1952, ANA has become one of the world's leading airliners catering to 50 Japanese cities and 32 big cities globally. With a total fleet of 238, ANA conducts 808 domestic and over 1,000 international flights every week.
Ha Long Bay – a must-go destination
US magazine, Business Insider, recently released a list of "100 trips you must take in your lifetime" and Vietnam's beautiful Ha Long Bay was included in the list.
Ha Long Bay was ranked 26th by the magazine's top 100 destinations, recommending tourists spend a night on a junk boat in the bay.
Other Asian countries to make the list include, Cambodia, Malaysia, India, Indonesia, Singapore, China, Thailand, Japan, and the Republic of Korea.
Covering a total area of 1,533 square metres on Vietnam's north-east coast, Ha Long is recognized by UNESCO as a World Natural Heritage Site.
It was voted one of the Seven New Natural Wonders of the World in 2011.
The bay has also been cited as a vision of outstanding beauty and one of the world's top ten Valentine's Day getaways by US-based National Geographic magazine.
Foreign arrivals increase in two months
Vietnam welcomed over 1.6 million overseas arrivals in the first two months of 2014, a surge of 33.4 percent over the same period last year, according to General Statistics Office.
The figure represented 20 percent of the yearly target on greeting 8 million international tourists.
Growth was reported in most markets, with Germany posting the highest rise of 262.7 percent, followed by China, 50.1 percent, and Cambodia , 36.9 percent.
The country also served around 9.5 million domestic tourists in the period, a year-on-year increase of 21.8 percent, raking in 47 trillion VND (2.2 billion USD) in revenue – up 34.3 percent on an annual basis.
Last year, Vietnam greeted over 7,572,000 foreigners, a 10.6 percent rise over 2012, bringing in 200 trillion VND (9.4 billion USD) for the state coffer.
The Ministry of Culture, Sports and Tourism has devised a plan on improving tourism products and service quality to be carried out this year.
It is also making efforts to successfully organise the National Tourism Year 2014 highlighting the Central Highland province of Lam Dong and other regional provinces.
The ministry is also gearing up for the National Tourism Year 2015 in central Thanh Hoa province.
Source: VNA/VOV