VietNamNet Bridge – If exploring the Mekong Delta area, tourists should stop at Thi Tuong Lagoon, the largest lagoon in the delta with a water surface of 700 hectares and enjoy some time in the cool wetland location with the homestay services of Nguyen Van Hung. Homestay is a tourism genre where travelers can experience authentic local culture and daily life.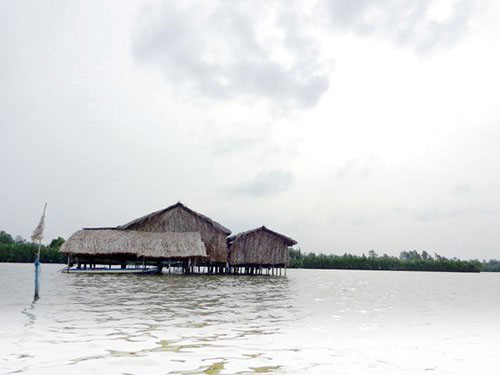 The floating house of Nguyen Van Hung - a popular homestay location for tourists on Thi Tuong Lagoon in Ca Mau Province.
Formed by alluvium from My Binh and Ong Doc rivers together with many canals in the three districts of Tran Van Thoi, Phu Tan and Cai Nuoc of Ca Mau Province, Thi Tuong has three main lagoons: Dam Trong (inner lagoon), Dam Giua (middle lagoon) – the largest – and Dam Ngoai (outer lagoon).
Thi Tuong lagoon is nestled in the heart of green fields and is surrounded by nipa trees. Shaped like a balloon swelling out, it is two kilometers wide, ten kilometers long and has the total water surface of around 700 hectares, Thi Tuong charms tourists with its picturesque beauty.
In the morning, tourists can experience the peace and tranquility of the lagoon while hearing the birds sing and watching as the sun rise creates a mesmerizing scene on the water. When the sun is up and the dew has disappeared tourists can observe more clearly the daily life of local people in this coastal area with their many unique customs.
On the lagoon there are about 20 floating houses where locals breed shrimp. Among them, Hung's is the largest home which is well equipped with modern facilities. He even has a wooden boat to grow vegetables and a cage to raise chicken, pigs and ducks.
At Hung's homestay, tourists will be given a cruise around the lagoon. In the afternoon when the sun comes down on the west side, golden rays shine on the waves, bringing excursionists wonderful moments. Hung said that the water level is about one meter in the dry season and reaches the deepest level of 1.6 meters during the rainy season.
The lagoon also has a private area for Kien Giang businessmen who raise clams there. So around the lagoon area, tourists can learn about this practice as they watch farmers on the job.
At night, especially under moonlight, a barbecue party with locals telling tourists folklores about this land and some wine must be experienced. Sleeping in the house which has many entrances but no doors in this natural surrounding must also be tried at least once.
Hung's homestay charges tourists VND200,000 per person for an afternoon, night and early morning stay.
Source: SGT