Tourism development potential praised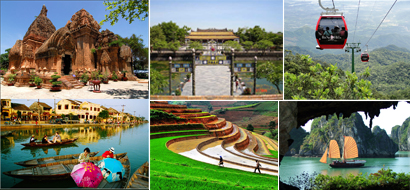 Viet Nam ranks second in Asia in terms of tourism development potential, according to a survey unveiled at the World Travel Market (WTM) in London recently.
In 2012, international tourists to Viet Nam numbered 6.8 million and domestic visitors, 32 million, 27 times and 32 times higher than 1990, respectively. The turnover from tourism reached VND160 billion, 118 times higher than in 1990, which contributed a lot to the country's GDP.
Image of the Vietnamese tourism has been known at the regional and international tourism markets, becoming the one with highest growing rate in Asia-Pacific.
WTM's Director Simon Press said that Asia leads the world's tourism development potential, with China leading. It is followed by Viet Nam, Myanmar, Indonesia, Thailand, Sri Lanka, Malaysia, Cambodia and the Philippines.
Latest statistics from the United Nations' World Travel Organization show that international tourists to Asia-Pacific has increased averagely by 6 percent in the first half of 2013, with the number to South Asia increasing 7 percent and to Southeast Asia rising 12 percent.
Nearly 30 Vietnamese enterprises joined the WTM in London to seek for opportunities and expand their business market as well as promote the country's image.
The market was held for management agencies, tour operators, hotels and relevant enterprises. The organizer said that the number of visitors at this year's WTM notably increased by 14 per cent compared to the previous year. There were about 23,000 visitors on the first day.
Vietnam Airlines installs self check-in kiosks
Vietnam Airlines (VNA) passengers can now check-in for domestic flights at kiosks installed at the T1 Terminal at Noi Bai International Airport, which began operating December 1.
Officials note that the flight check-in procedure takes only about two minutes, as customers quickly receive their boarding passes. Passengers can perform the self check-in from 24 hours to 45 minutes before their flights.
For those with need to send luggage through, they are required to go to check-in counters where they will be given luggage receipts.
However, some passengers will need to continue checking-in at counters, including those using the business class lounge or customers with special requirements or travelling with children. Further, groups with over four passengers also need to check-in at counters.
According to a representative of VNA, self check-in kiosks at the airport will help the airline lower the time to serve customers, especially during peak hours.
Travel warnings against Thailand softened
Many countries have softened their travel advice on Thailand after the political rallies in Bangkok subsided, according to the Thai Ministry of Foreign Affairs.
Spokesman of the Thai Foreign Ministry Sek Wannamethi said there are 34 countries and two special economic zones which still maintain their travel advisories for tourists visiting Thailand . However, many of them have reduced the intensity of their travel notices by saying that the situation in Thailand has much improved.
The spokesman added that the US Embassy in Thailand and the Delegation of the European Union to Thailand have voiced their support for the Thai government's democratic approach and opposed the protesters' occupation of government offices.
Sek pointed out that the foreign media were closely monitoring the situation in Thailand and were very much interested in the government-sponsored forum between the private sector and academics to find solutions to the country's political standoff.
According to him, the head office of the Ministry of Foreign Affairs on Si Ayutthaya Road, which was previously seized by anti-government protesters, and the Department of Consular Affairs on Chaeng Wattana Road have now resumed their operations. However, two other offices of the ministry located inside the Government Complex remain closed as the protesters are still occupying the premises.-
Noi Bai airport welcomes 12 millionth passenger
A ceremony to welcome the 12 millionth passenger to Noi Bai International Airport in Hanoi was held on December 5.
The passenger took the flight VJ 8660 conducted by VietJet Air.
Noi Bai airport has to date provided services for 36 domestic and international airlines from 30 countries and territories around the world.
It has seen an increase of 10 percent in an annual average number of flights and passenger arrivals over the past five years.
This year, the airport is expected to receive around 90,000 flights.
The Vietnamese aviation market will stay open to foreign carriers and closely connected with the regional and international aviation sector, the Civil Aviation Authority of Vietnam (CAAV) has said at a recent aviation promotion conference.
In 2012, the Vietnamese aviation sector received 310,000 flights carrying 37.5 million passengers and 650,000 tonnes of cargo.
At decision 21/QD-TTg dated January 8, 2009, the Prime Minister stated that Vietnam should have 26 airports by 2020, of which 10 would be international.
Source: VGP/VNS/VNA