VietNamNet Bridge – By drawing on its rich heritage of Buddhist pagodas and ancient sites, this picturesque northern region hopes to attract more tourists from both Viet Nam and around the world.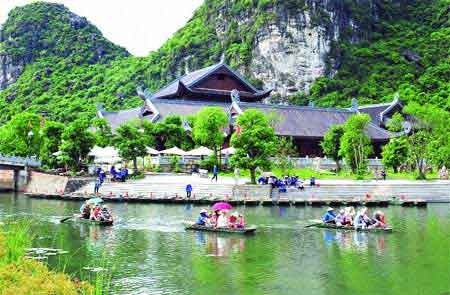 Scenic spot: Ninh Binh is developing eco-tourism and cultural tourism, with Trang An among the top destinations for visitors. 
Nguyen Thi Gia, a retired woman living in Ha Noi, says one of her greatest joys this year was to see Bai Dinh Pagoda in the northern province of Ninh Binh.
"I was really impressed to see the great buildings and the huge bronze Buddha statues there. The pagoda, with its unique architecture, is a harmonious combination of old and new," she says.
But Bai Dinh is not the only wonder that the province offers.
Located in the southern part of the Song Hong (Red River) Delta, Ninh Binh, 80km from Ha Noi, is rich in tourist potential. Not only has nature endowed the land with many wonderful landscapes, such as the Tam Coc-Bich Dong river-cave complex and Trang An landscapes, but cultural and historical sites also abound. These include the former royal capital of Hoa Lu, the Phat Diem Stone Cathedral, the spiritual tourism complex of Bai Dinh Pagoda.
All these places of historical, religious and scenic interests have been drawing tourists, both local and foreign, in increasing numbers. Built to celebrate the 1,000th anniversary of Thang Long-Ha Noi (1010-2010), the Bai Dinh Pagoda, the largest in Viet Nam, is located in a vast valley with many lakes and mountains. King Ly Thai To moved the capital city from Hoa Lu in Ninh Binh to Thang Long (now Ha Noi) in 1010.
The new pagoda is near the ancient Bai Dinh Pagoda, which was built by Zen Buddhist priest Nguyen Minh Khong (1066-1141) in the 11th century.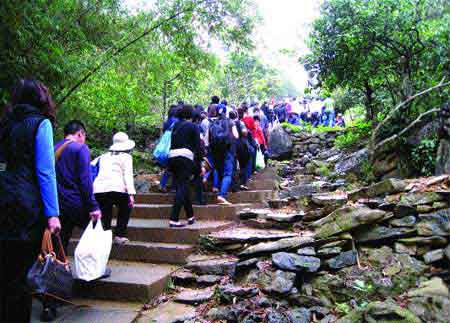 Mountain climbers: Tourists and pilgrims on their way to ancient Bai Dinh Pagoda.
The ancient pagoda is situated on top of a small mountain peak in Gia Sinh Commune in Gia Vien District. To reach it, visitors have to climb up 300 stone steps. As an ancient description explains: "Bai Dinh" means "the worship of heaven and earth, Buddha and celestial angels."
The air in the pagoda is fresh and cool. The quiet mountains and forests are conducive to meditation. According to Vietnamese folk tales, this countryside region is sacred land as it has given birth to kings and saints. Ly Cong Uan, birth name of King Ly Thai To, meditated in the pagoda before moving the capital to Thang Long.
Visitor Nguyen Quang Thi from Ha Noi says: "The old pagoda and the new one have their own interesting positions. The old one is in an isolated place on a mountain, but it looks traditional, especially as it has Gieng Ngoc, a water well that never runs dry. The new one is situated in an open and vast space, with a river in front and a mountain on either side that resemble a crouching dragon and a relaxing tiger."
On the way to the old pagoda, tourists visit Sang (light) Cave where Sakyamuni Buddha is worshipped, Toi (dark) Cave where the nation's Mother Goddess (Mau) is honoured. The Light Cave is 25m long and 15m wide. Both ceiling and floor are strangely flat. Above the entrance gate, there are carved scripts saying "Minh dinh danh lam" (Famous landscape on mountain top) by King Le Thanh Tong (a poet and one of the greatest rulers in Vietnamese history). The Dark Cave has a pond named Fairy, with strange stalactites reflected in water, creating a fanciful scene.
The new Bai Dinh Pagoda, also known as Bai Dinh Buddhism Spiritual Centre, covers 700ha, and is the largest in Viet Nam in terms of size. Its three-door gate is again the biggest in the nation at 16.5m high and 13.5m wide. The building has four main columns made of ironwood. Each is 13.8m tall. There are four smaller pillars, each 11m high.
At the entrance gate, there are two bronze statues of Ho Phap (Protective deities), each 5.5m high and weighing 12 tonnes, and eight bronze statues of Kim Cuong (angels who protect Buddhism), weighing 8 tonnes each.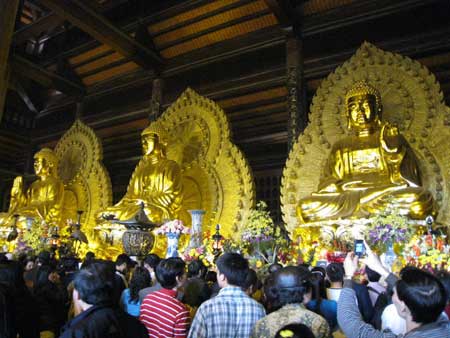 Gilded age: Bai Dinh Pagoda is home to many giant bronze Buddha statues recognised as national records. 
The bell-tower has three roofs, 22m high and covering 49 lineal metres of floor space. The tower has the 36 tonne Dai Hong Chung bell, the biggest of its kind in the country, which was cast in Hue. The bell striker is made from an ironwood tree. It is 4.2m long and weighs 500kg. The bell, which is bronze mixed with gold, hangs high in a region of mountains and rivers.
People can hear its sonorous vibrations from 10km away.
From the bell-tower, visitors pass a lawn to arrive in a sanctum devoted to Kwan Yin. Built of columns and carved timbers, it is 14.8m high, 41.8m long and 17.4m wide, and has five main chambers and two side chambers. In the middle of the sanctum is a 1,000-hand Kwan Yin bronze statue, 9.57m high and weighing 80 tonnes. Once again, it claims to be the biggest bronze Kwan Yin statue in Viet Nam.
From Kwan Yin Sanctum, visitors arrive in the Phap Chu Sanctum to worship Lord Buddha Sakyamuni, the founder of Buddhism. The building is 30m high, 47,6m long and 43,3m wide, and has two main roofs and eight smaller roofs facing the four directions.The building is high, light and airy and has five chambers. The central chamber is 13.5m long and has four side chambers each about 8m long. On a high platform in the central chamber, a great bronze statue of Lord Buddha sits on a lotus throne.
Of course, the statue, which is 10m high and weighs 100 tonnes, is said to be the highest and heaviest bronze Lord Buddha in the country. Apart from size, the statue is a tribute to the bronze casting artists in Y Yen District, Nam Dinh Province. At the rear of the statue, there are 1,284 small boxes, each containing a small bronze Buddha image.
Behind the sanctum is the Tam The (past, present and future) Sanctum. Located on the highest hill in the region, it is the biggest building in the new Bai Dinh complex. It is 34m high, 59m long and 40m wide, with an inside area of 3,000sq.m. Yes, once again, a record is claimed. The sanctum has three roofs and seven chambers. In the main chamber, there are 66 pillars, including two rows 24.8m high.
The sanctum is reserved for worshipping Buddha Past, Present and Future. Each of the three bronze statues is 7.2m high and weighs 50 tonnes. Another record is claimed for this trinity. Behind each of the three statues is a giant leaf covered with hundreds of small bronze Buddha statues.
The pagoda's corridors run for a total of 1km. In them are housed 500 Arhat stone statues of high artistic value.
Bai Dinh Pagoda's records include being the largest pagoda in Viet Nam, (107ha); having the largest gilded bronze Buddha statue in Southeast Asia (100 tonnes) and three Tam The statues each weighing 50 tonnes. The pagoda has the two biggest bells in Southeast Asia (36 and 27 tonnes).
Bai Dinh also claims the record for the biggest number of Bodhi trees in one place in Viet Nam. One hundred were propagated from the orginal tree where Buddha was enlightened in India.
Sacred land of heroes
Promoting its claim to be a sacred land once home to the capitals of three imperial dynasties Dinh, Tien Le and Ly, the region is linked to major changes in the nation's history. According to Associate Professor Pham Mai Hung, vice-chairman of Viet Nam's Cultural Heritage Association, nature has bestowed Ninh Binh with hills and mountains in the northwest, and plains and coastal areas in the southeast - all rich in fauna and flora.
Cultural heritage: Bai Dinh Pagoda has become a popular tourist attraction in recent years.
"Moreover, its intricate river systems created an important geo-political barrier throughout history. The existence of dynasties Dinh Tien Hoang (968-980), Le Dai Hanh (980-1009) and Ly Thai To (1009-1226) were lively evidence."
The Director of the provincial Department of Culture, Sports and Tourism, Lam Quang Nghia, says the first international conference on spiritual tourism will be held from November 21-22. It has been organised by the Ministry of Culture, Sports and Tourism, the United Nations World Tourism Organisation and the Ninh Binh People's Committee. It will be held in the spiritual tourism complex at Bai Dinh Pagoda.
The conference was the initiative of the Secretary General of the UN World Tourism Organisation, Taleb Rifai, after visiting Viet Nam. According to the Organisation, spiritual tourism has much potential for development in Asia and the Pacific. "Introducing the tourism potential of Viet Nam - and Ninh Binh Province in particular - will create a forum for the development of this type of tourism," he says.
The ancient capital of Hoa Lu attracts large numbers of tourists from around Viet Nam and overseas. In Ninh Binh, tourists explore many popular spiritual tourism sites.
These include the One-Pillar Pagoda (Nhat Tru), an ancient pagoda in Truong Yen Commune, Hoa Lu District. It has been ranked a national monument along with a temple for King Le Dai Hanh.
Researcher Ha Manh Khoa from the Institute of History says of special interest in the temple is a stone column carved with Buddhist prayers erected by King Le Dai Hanh in 995. The column is 4.16m high. Its eight faces have about 2,500 ancient Han characters praising Buddhism.
The Trang An landscape complex, one of the most attractive destinations in Ninh Binh, is now being submitted to the United Nations Educational, Scientific and Cultural Organisation (UNESCO) for recognition as a World Heritage Site.
Among the well-known historical sites in Ninh Binh, Phat Diem Stone Cathedral in Kim Son District is an architectural masterpiece. Its unique feature is that while it is a Catholic church, it was built in the style of a traditional Buddhist pagoda.
Nhat Tru Pagoda, the ancient capital of Hoa Lu, the spiritual complex at Bai Dinh Pagoda, Trang An landscapes, and Phat Diem Stone Cathedral lure many visitors, especially Buddhists and Catholics. Dinh The Thap, director of the provincial Statistics Department says, the province had received more than 4.18 million visitors by the end of October 2013, an increase of 20.8 per cent over the same period last year.
Venerable Thich Duc Thien, Deputy General Secretary of Viet Nam Buddhist Sangha's Excecutive Council, says the Sangha recently conducted a survey on the facilities of Bai Dinh Pagoda to prepare for the United Nations Vesak 2014 (a very important event of international Buddhism) to be held in the pagoda. The Government has already approved the Sangha's plan to celebrate the Vesak festival at Bai Dinh Pagoda.
"We believe that the UN Vesak 2014 festival will be solemn and abundant with activities," he says.
The provincial People's Committee vice chairman, Tran Huu Binh, recommends Ninh Binh focus on two types of tourism: eco-tourism and cultural tourism, which includes spiritual sites such as these Buddhist pagodas.
"The successful organisation of the conference will confirm the advantages that Viet Nam's tourism sites have for regional and international tourists and contribute to freedom of belief and religion in the country," he says.
Source: VNS