VietNamNet Bridge - As the residence of the red-headed cranes, the Tram Chim National Park promises to be an attractive destination for exploration in the southwestern region of Vietnam.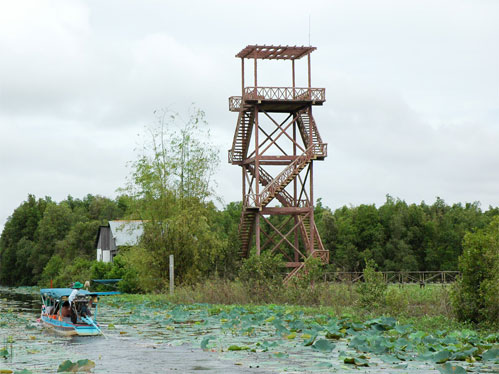 Visitors can see the panoramic view of the cajuput forest from the watch tower. Photo: tramchim.com.vn
Located in the lower Mekong Basin, in Tam Nong district, Dong Thap province, the Tram Chim National Park attracts tourists by the immense green of the cajuput forests which are the home to countless species of rare plants. In the flood season (from August to November in lunar calendar), this place welcomes hundreds of thousands of visitors.
Tram Chim National Park is divided into five management areas (A1-A5), each area is surrounded by a system of canals and dykes with a total length of up to 59 km. Tourists can visit the park by tac rang, a small motor boat. Along the canals are dense mangrove forests, with 200 species of birds, including many rare species.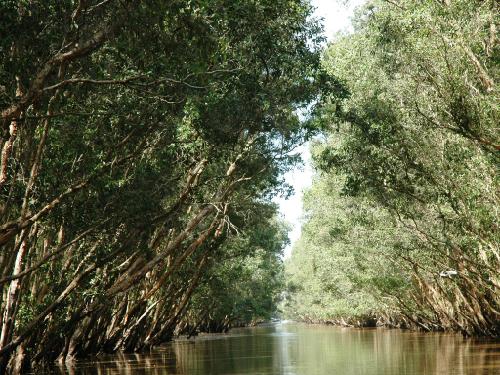 Immense cajuput forest. Photo: tramchim.com.vn
Sitting on a boat to travel on the Muoi Nhe Canal, you will be amongst the vast green grass and colorful lotus fields. Located in the center of Dong Thap Muoi, Tram Chim is deserved to be the home of the best lotus flowers. Lotus here are very big, in white or pink colors. Lotuses are mixed with purple water lilies to create the beautiful scene.
If you want to see red-headed cranes, you should visit Tram Chim in late December to early May of the lunar calendar.
In the flood season, you can also witness the proliferation of birds from boats, but remember to turn off the engine.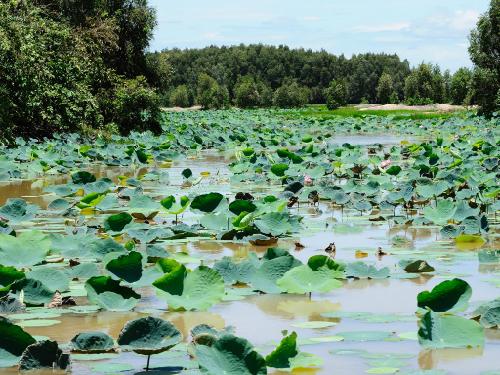 Lotus fields in Tram Chim. Photo: tranchim.com.vn
You can observe the life of many species of birds from the 20m high tower named Vong Canh. From here, you can also see the panoramic views of mangrove forests.
From HCM City, you can catch a bus straight to Tram Chim or you can get on a coach to Cao Lanh and then a bus to Thanh Binh to go to the national park. Here, you can buy tickets to visit Tram Chim from 1 to 3 hours or lease a boat to explore the park individually for VND500,000-800,000 per boat.
You can stay overnight at the Tram Chim National Park if you want to enjoy the serenade of nature in rooms priced from VND150,000-VND250,000/night.
And you can also return to the town or back to Cao Lanh to explore the lives of people in the southwestern region. Do not forget to enjoy the specialties here such as grilled snakehead fish wrapped in lotus leaves or grilled birds.
My Le