VietNamNet Bridge - Each shop has its own style. Although they are luxury or sidewalk shops, they have been existed for a long time and have become part of the memories of Saigonese.
Banh mi or the Vietnamese sandwich is a product of French colonialism in Indochina, combining ingredients from the French (baguettes, pâté and mayonnaise) with native Vietnamese ingredients, such as cilantro, chili peppers, and pickled cucumbers and carrots.
The classic version, banh mi thit nguoi is made with various Vietnamese cold cuts, such as sliced pork or pork bellies, chả lụa (pork bologna), and head cheese, along with the liver pâté and vegetables.
Another option is the breakfast banh mi, either with scrambled eggs served in a baguette; the version eaten more widely for breakfast in Vietnam is eggs fried sunny-side-up with onions, sprinkled with soy sauce or Maggi sauce, and eaten with a fresh (and sometimes buttered) baguette.
Below are three oldest and most popular banh mi shop in Saigon.
1. Banh mi Hoa Ma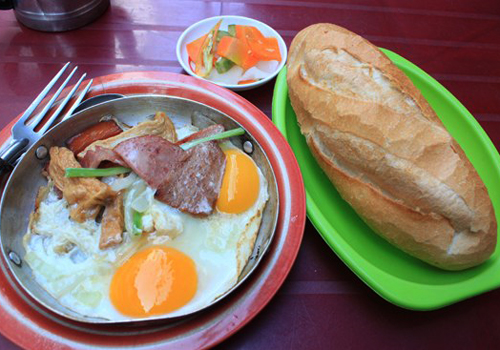 In the thinking of many people, banh mi is fast food which is consistent with the hurried life. But in a small alley in the heart of Saigon (District 3), in the morning, so many people come here to sit on old chairs to slowly enjoy a banh mi thap cam to start a new day.
The shop is small, saggy and its name plate also looks very old but the quality and the taste of banh mi has not changed for decades.
A banh mi consists of an omelet, Vietnamese ham, pork, pate, pickles ... but instead of being baked in an oven, banh mi are fried on a small pan to ensure crispy and delicious banh mi for customers.
For more than 50 years, the nameplate of the shop has been faded with time, the owner – who is over 80 years old now, still stands there day after day to chop pork, ham… and do the old work.
2. Banh mi with French taste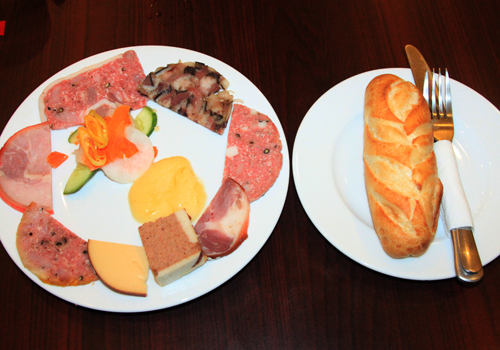 Called by the old Saigonese "Western Rice," the banh mi shop on Tran Dinh Xu Street, District 1, has opened for nearly 40 years. We can say that this banh mi shop is unlike any other in Saigon with the separate bread and the stuff and no sauce at all.
The difference of banh mi here is the ham served with bread, which keeps full flavor and style of French cuisine. All delicious materials like liver pate, cheese, ham, chicken ham, sausage, bacon, chicken pate ... are placed on a plate together with bread with the scent of butter.
In addition to students, office workers, many old people come to the shop to enjoy banh mi, which reminds them of their youth, and above all, the taste of banh mi is still the same as it used to be.
3. Peddled Banh mi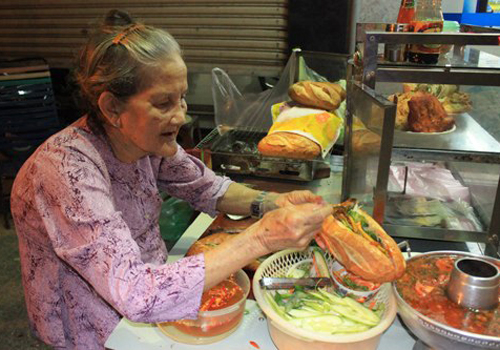 The owner of this banh mi handcart is a woman of nearly 80 years old. In the past over 50 years, at 10pm, she pushed her trolley to the corner of Le Van Sy-Tran Huy Lieu streets, District 3 to start a working day.
"I started selling banh mi when my son was only one year old. That time I was young and healthy so I carried my loads of banh mi through the streets, from the Khmer Pagoda road on the bank of Nhieu Loc canal to the train station in District 3. Everyday, I walked with my banh mi loads from the early morning to the evening. Now I cannot walk like that so I stand here. I've been at this street corner for over ten years," said the trolley owner – Mrs. Tu.
At the age of 80, Mrs. Tu is no longer agile. She processed each banh mi very slowly but customers patiently wait for their turn.
For many years, the banh mi trolley of Mrs. Tu has been here quietly, serving thousands of people at night.
T. Van