VietNamNet Bridge – A seven-kilometre tour around Hoi An's Cam Thanh Village takes visitors through the beautiful countryside and straight to the heart of Vietnamese traditional crafts and lifestyles.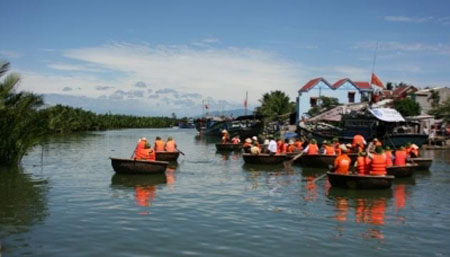 Coracle paddling among a nipa palm forest.
Christine, a visitor from Australia, shared the remake, saying that: "I would highly recommend these tours to everyone travelling to Vietnam".
The tour combines coracle paddling among a nipa palm forest and bicycle rides on winding flat roads around the tranquil village. Along the way, stops are made to visit craft villages specializing in lanterns, silk goods, timber furniture and pottery.
The Bay Mau (Seventy thousand square metres) nipa palm forest is a unique ecological area with flooded forests and charming landscapes. The forested area has been reduced to 58 ha, but the nipa palm is still prevalent.
The forest is home to shrimp, fish and diverse avian life. Tourists can explore the wetland ecosystem in coracles, from which they can fish with nets or lines. The forest also provides raw materials to make craft products and build traditional houses.
The traditional house of Cam Thanh Village resident Sau Mot attracts a large number of visitors. "The house was built in 2011 with walls made of split bamboo panels and palm-leaf roof", Sau Mot said, adding that the structures kept cool in summer, but warm in winter.
Sau Mot's son, Phan Dinh Vu, also a Hoi An tour operator, said that modern houses had gradually replaced the old-fashioned ones, though villagers preserve some old houses for visitors.
Tourists also have an opportunity to observe furniture production, and purchase souvenirs, interior decorations, and special foods in Cam Thanh village.
The tour allows customers to feel free to visit any house and join in craft production with locals, travelling from place to place on bicycles, which are available for rent in Hoi An. Tourists can guide themselves using informational brochures and maps, which are provided for free in Hoi An.
The local government and people devised the eco-tours to preserve the environmental heritage of the region and raise local awareness of environmental stewardship, all while providing a stable income for the local community, according to the Deputy Head of Hoi An's Trade and Tourism Office, Pham Thi Ngoc Dung.
The Trade and Tourism Office also organises training courses on foreign languages and cooking for locals to improve the quality of service, Dung said.
She also said that the green tours are expected to spread to other localities in the future, aiming to diversify Hoi An's tourism and attract visitors.
Source: Nhan Dan