VietNamNet Bridge - Many stalls in the lounge of HCM City's Tan Son Nhat airport began listing new price tables since June 26, after the Civil Aviation Administration of Vietnam (CAAV) issued an ultimatum on putting down overcharging at the airport. The prices for many commodities have fallen sharply.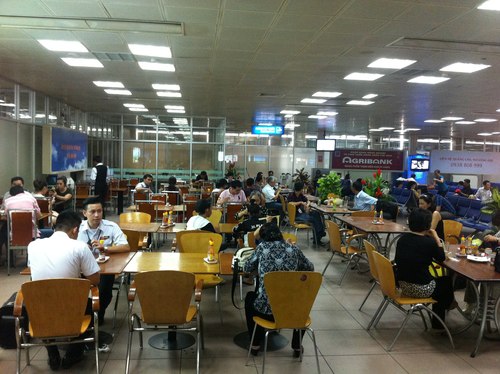 A restaurant in Tan Son Nhat Airport. Photo: VNE.

On the afternoon of June 26, Sasco's restaurants changed their menu with new dishes and new prices. According to the new menu, the price for a bread with pork pies reduced from VND 49,000 to VND33,000, the price for a bowl of noodle felt from VND49,000 to VND45,000. An employee said the prices for other dishes were also slashed.
Recently, many passengers who traveled on domestic routes at Tan Son Nhat Airport were very indignant with the catering manner and expensive prices in the lounge area after check-in. "I go to Hanoi. Due to the flight being delayed, I had to eat here but the food is too expensive. A bowl of instant noodles was nearly VND50,000, but its quality is similar to noodles at sidewalk restaurants," said Mr. Hai, who flew from HCM City to Hanoi on June 25.
According to Hai, businesses have to pay high cost to be allowed to sell food in the lounge area but food quality needs to be improved.
In the lounge area, the prices for food at restaurants of Sasco are higher than outside. However, from June 26, the prices of many kinds of goods in the lounge areas and the outside have been narrowed.
The passengers also complained of the high prices for foods at the Da Nang International Airport. In Da Nang. There is no restaurant on the road of 600m to the airport. Inside the station, there are about 10 food stalls on the 1st and 2nd floor selling fast food and drinking water ... with the price of two or three times higher than outside.
Going from Hue to the Da Nang Airport to fly to HCM City, Mr. Mai (Quang Tri province) was "dizzy" with the listed price of VND24,000 for a cup of black coffee and VND60,000 for a plate of chicken rice... "I've drunk coffee at many coffee shops in Da Nang, but the price for a cup of black coffee is only at VND6,000-10,000," he said.
At restaurants in the Da Nang International Airport, a cup of black coffee is from VND15,000 to VND24,000, doubling that of restaurants outside the airport. The price for a bowl of noodle of all kind is VND40,000, while the quality is similar to products offered at sidewalk restaurants, worth VND15,000-20,000.
Lucky Coffee Shop applies the highest price table in this airport, with VND99,000 for a plate of rice with roast chicken and VND79,000 for a plate of rice with other kinds of food.
At the Aviation Restaurant, the price for a plate of fried instant noodle VND65,000 andVND55,000 for bread with eggs, two to three times higher than the prices of outside restaurants.
Mr. Trung, an official of the Da Nang Airport Service JSC, said the prices for food in the airport are higher than outside because the input cost here is higher.
VietNamNet Bridge has just received an email from a Japanese visitor named Motoki Nagasawa, reporting the same issue at the Noi Bai International Airport in Hanoi.
According to the visitor, the incident occured on June 29, at a souvenir shop named ATS in  Noi Bai Airport.
"I stopped at one souvenir shop (ATS) at Noi Bai Airport's international departure hall to buy green bean cakes, as a souvenir to my Japanese colleagues in Japan," he wrote.
"The price is just $2, so I bought two boxes, total $4, paid by VND. The female clerk told me "VND100,000". I disagreed as the rate was about 20 percent different. After the strong complaint about three minutes, she consulted with her boss then reluctantly agreed to VND84,000, which is the same as official rate."
"I can notice that they try to cheat foregin tourists this way, but they should realize that repetition of such non-honest way of doing business would result in the reduction of travellers coming into Vietnam. In the end no one would buy sourvenir in the airport anymore," he commented.
It is for sure that this way of doing business will be tackled. The Civil Aviation Administration of Vietnam has confirmed its determination to control services and business activities at all airports to prevent overcharging.
S. Tung