VietNamNet Bridge - Baked bananas, bread with grilled pork, crab rolls, crab vermicelli ... are among the Vietnamese cuisines that are world well-known.
1. Baked bananas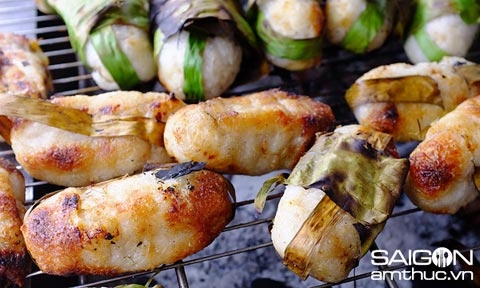 At the World Street Food Congress held in Singapore at the end of May 2013, baked banana of Vietnam was voted the most favorite dish.
Banana covered in baked sticky rice is a favorable snack with many Vietnamese people.This dish is really simple and easy to process but very tasty.
The first step of making the dish is choosing bananas. Pick ones that is straight, since the curved ones will be hard to mold into beautiful shapes.
The white layer of rice that covers around the banana is cooked from good sticky rice.
After cooking the sticky rice, mix it with scraped copra and coconut milk. Then roll it into thin layers.
Peel the bananas and put them on the sticky rice layers, then roll them so that the sticky rice will cover the entire banana. This step must be done carefully to make sure that the sticky rice layers will cover tightly the banana.
Then, use a piece of banana leaf to wrap outside and bake it on burning coal. The baking step requires the makers to pay attention and turn the bananas steadily so that they will not be burnt.
Bake until the green banana leaves outside turns into dark yellow, the sticky rice becomes dry and the bananas smell fragrant.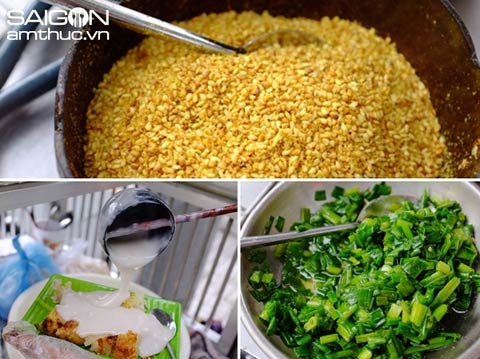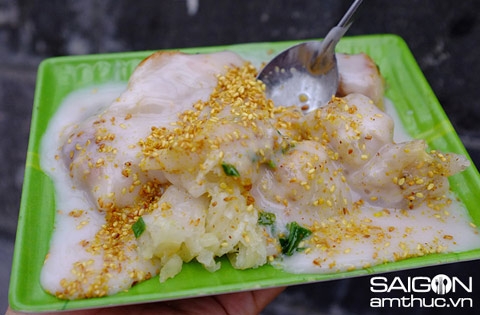 Remove the burnt banana leaves outside and cut the banana covered in a layer of baked sticky rice into small pieces, then pour coconut milk over and sprinkle some roasted peanut on the surface.
This snack can either be enjoyed when it is hot or cool. Although it is very simple and quite rustic, the dish is really delicious and easy to eat. It has now become very popular and widely preferred.
The fragrance and greasy taste of coconut milk mingles with the sweet of banana covered in baked sticky rice can definitely arouse anyone's desire.
2. Baguette with grilled meat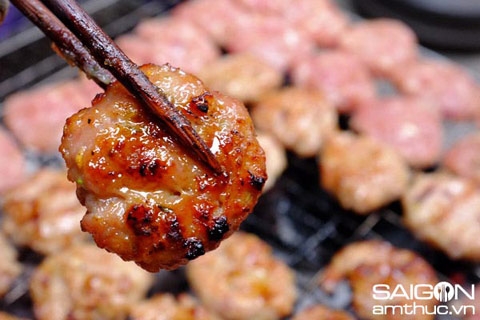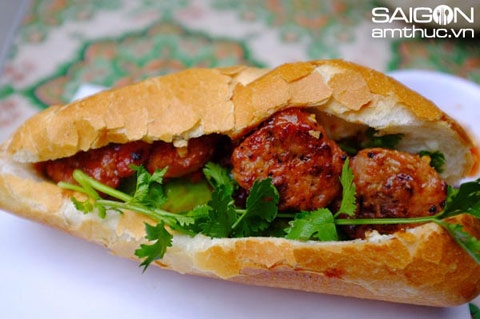 On the website concierge.com of the American magazine Condé Nast Traveler, baguette with grilled meat on the sidewalk of Nguyen Trai street in District 1 - Ho Chi Minh City is selected as one of the 12 most delicious street food in the world.
3. Barbecue chicken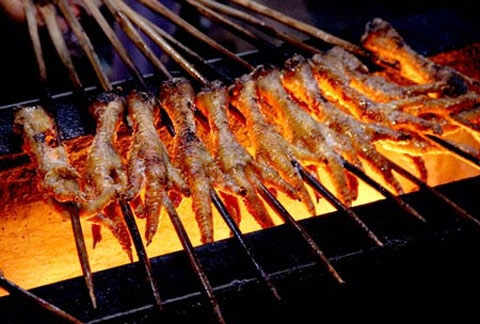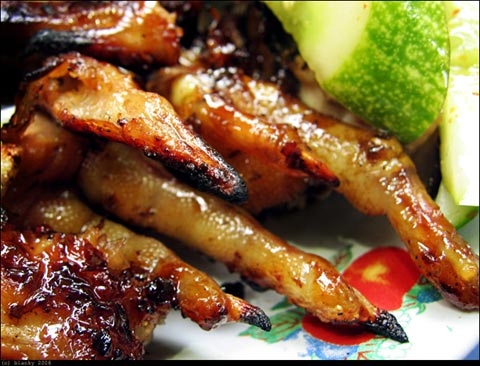 In 2012, according to the CNN Go poll, Hanoi was in the list of 10 cities with the most delicious Asian dishes, with barbecue chicken.
Grilled chicken wings and feet, sweet potatoes and bread that's been brushed with honey before being grilled are served with chili sauce and pickled cucumbers in sweet vinegar. The simple, enticing menu is nearly identical for all the vendors on the street.
According to CNN Go, Hanoi is also a street-eater's paradise, with a plethora of options for those who want to eat like a local. In fact, many swear that the best food in Hanoi is found on the sidewalk, with dishes that often feature fish sauce, lemongrass, chilies, and cilantro and other fresh herbs.
4. Nem cua be (spring rolls with fresh crab meat)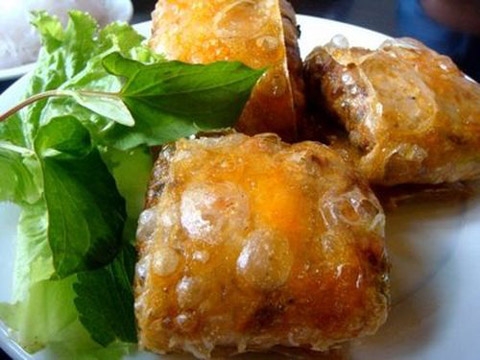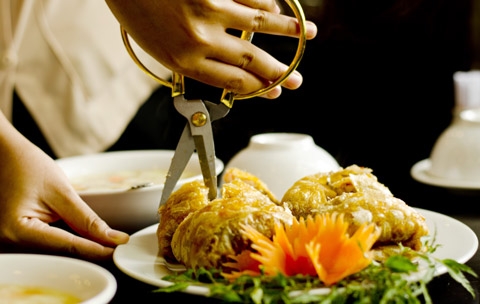 Being famous a dish throughout Vietnam, nem cua be is also selected by CNN Go as one of the interesting street foods in Asia.
You can find many types of excellent spring rolls all over Vietnam, but nem cua be, made with fresh crab meat, are particularly good. Unlike regular spring rolls, they are wrapped into a square shape before being fried. Nem cua be are a specialty of Hai Phong, a seaside town not far away, but are fantastic in Hanoi as well.
5. Banh khot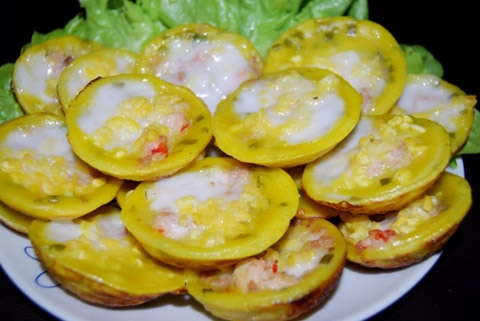 In the World Street Food Congress, Vietnam's banh khot was also in the list of 35 world cuisines.
This cake is made from rice flour and shrimp. It is fried and served with raw vegetables, fresh chili, fish sauce with shrimp.
Banh khot is a very unique dish. Basically, it is a small hearty pancake that originated in the nearby beach town of Vung Tau but is now a special part of Saigonese cuisine. If it is made correctly, it will be golden-brown and crispy on the outside but soft in the middle. Banh khot usually comes in two varieties, pork and shrimp, but some restaurants make specialty versions, like oyster and fish. It is served with a plate of leaves, mustard or lettuce, which you wrap around the banh khot.
Banh khot carts are easy to spot because they sport a unique cooking apparatus, consisting of what looks like a thick cupcake pan. The pan holds the banh khot as they fry in oil. This is a faster street food — generally the cook pumps them out pan-by-pan and you buy from the lot sitting on display.
6. Bun rieu cua (Crab vermicelli)
As a quiche dish of the Vietnamese people, in 2012 this dish was also selected by CNN Go as one of the most attractive dishes in Asia.
Bun rieu cua is served with tomato broth and topped with crab or shrimp paste. In this dish, various freshwater paddy crabs are used, including the brown paddy crab found in rice paddies in Vietnam.
The crabs are cleaned by being placed in clean water to remove dirt and sand. The crabs are pounded with the shell on to a fine paste. This paste is strained and the crab liquid is a base for the soup along with tomato. The crab residue is used as the basis for crab cakes.
Other ingredients for this dish are: fried tofu, me or giam bong (kinds of rice vinegar), Garcinia multiflora Champ., annatto seeds to redden the broth, congealed pig's blood, split water spinach stems, shredded banana flower, Elsholtzia ciliata, spearmint, perilla, bean sprouts and vegetarian sausage. This dish is rich in nutrition: calcium from the ground crab shells, iron from the congealed pig's blood, and vitamins and fiber from the vegetables.
7. Pho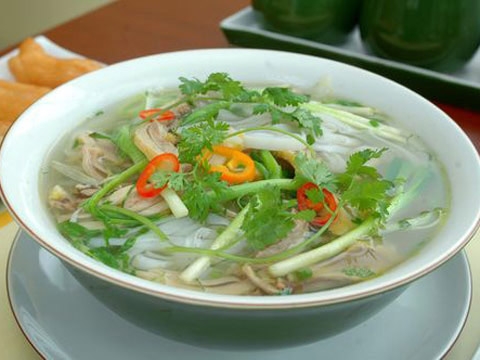 For a long time, Vietnamese noodle brands have become popular all over the world.
Pho is a Vietnamese noodle soup consisting of broth, linguine-shaped rice noodles, a few herbs, and meat. It is a popular street food in Vietnam and the specialty of a number of restaurant chains around the world. Pho is primarily served with either beef or chicken. The Hanoi and Saigon styles of pho differ by noodle width, sweetness of broth, and choice of herbs. The origin of pho and its name is a subject of scholarly debate.
8. Bun cha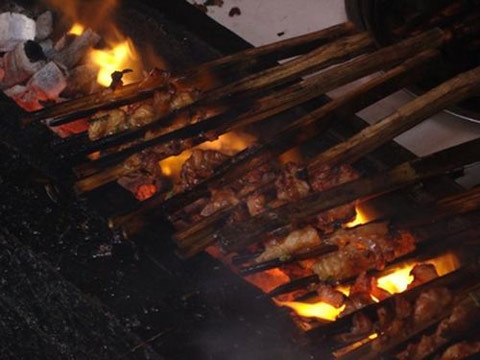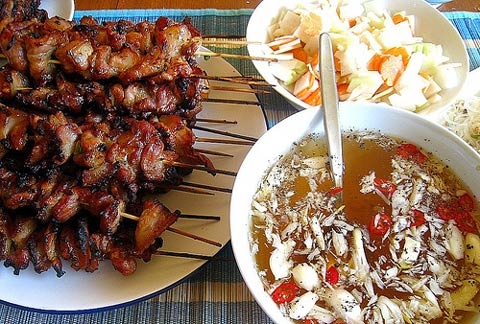 Bun cha is another world-famous dish of Vietnam. It is a dish of grilled pork and noodle, which is thought to have originated from Hanoi. Bun cha is served with grilled fatty pork over a plate of white rice noodle and herbs with a side dish of dipping sauce. Hanoi's first bun cha restaurant was on Gia Ngu, Hoan Kiem District, in Hanoi's Old Quarter.
Bun cha is popular in the Northern region of Vietnam. In the South, a similar dish of rice vermicelli and grilled meat is called bun thit nuong.
Minh Minh