VietNamNet Bridge – Ho Thi Ky is considered the biggest flower market in town and is known as the Langbiang Plateau (famously located in Dalat) of HCM City.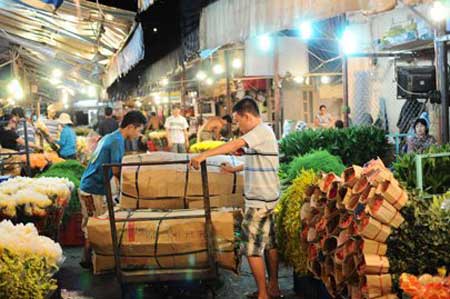 Workers load flower boxes at Ho Thi Ky Flower Market.

At this time of the year with Tet holidays almost upon us, the market becomes one of the busiest locations in the city.

It is a hotspot from 11 p.m. until 6 a.m. the next morning with dozens of trucks rushing to the market with thousands of flower-boxes from Hanoi and Dalat cities. Some flowers are also imported from Japan, Thailand and China.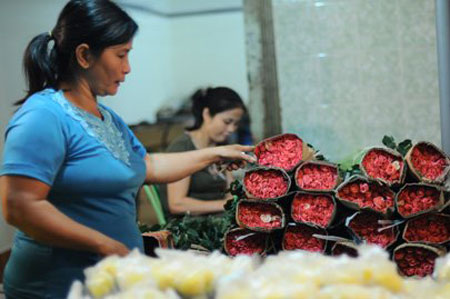 A woman chooses roses at Ho Thi Ky Flower Market.

The market, located on Ho Thi Ky Street in District 10, sells varieties such as the rose, daisy, orchid, lily, salem, mimosa, sun flower, lotus as well as wild flowers. Apart from fresh flowers, the market also features baskets and vases made from bamboo or ceramics as well as flower arranging services.

Eight percent of workers in the market are men who carry or load flower boxes. The prices are also reasonable, at about VND30,000 for ten roses, VND5,000 for a daisy bunch, VND50,000 for flamingo flower boutique, VND40,000 for a gerbera boutique and VND90,000 for a lily bunch.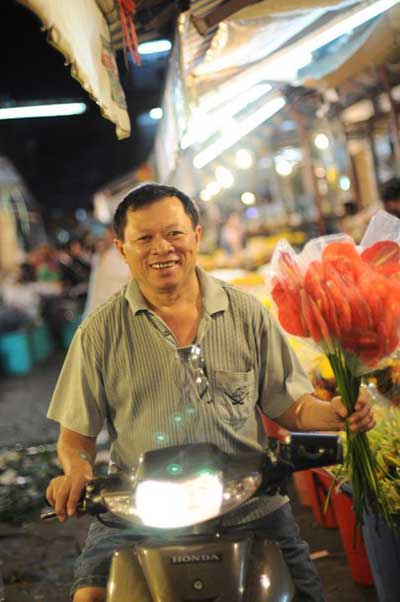 A man smiles happily after buying a beautiful boutique of flamingo flowers.

The market has about 100 trading households with about 5-7 workers in each. On normal days, the market receives about 1,000 flower boxes with each box holding 150 flower boutiques, but on the holiday season like now, the market receives from 2,000 to 3,000 flower boxes.

Here are some snapshots taken by The Saigon Times Daily's contributor Cong Thu in Ho Thi Ky Flower Market in District 10 during the night.

Source: SGT