VietNamNet Bridge – International tourists to Vietnam as well as domestic travelers have tightened their purse strings, with their average spending increasing slightly and even declining if inflation is factored in, according to the General Statistics Office (GSO).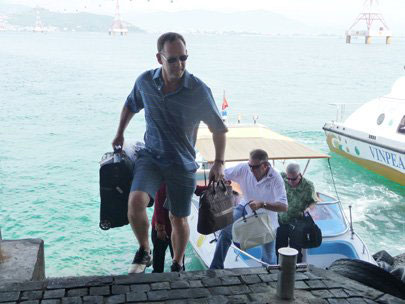 Foreign tourists arrive at Vinpearl Nha Trang Resort in Khanh Hoa

Province's Nha Trang City. Each foreign tourist spends an

average of only US$105 per day.
Local travel service prices have risen steadily by dozens of percents each year, but the average spending by international tourists increased a mere 11% in the latest survey by GSO compared to two years earlier.
The latest statistics on this issue were compiled in the 2009-2011 period and released on Tuesday at an online meeting of the Ministry of Culture, Sports and Tourism. Statistics on domestic and foreign tourists' spending are collected by the office every two to three years.
For those foreign tourists who travel to Vietnam on their own, the average length of stay is 12 days, which is the same as two years ago. In this duration, each tourist spends US$1,268.4, up 11%, and the average daily spending is only US$105 per day, up 10% from 2009.
Meanwhile, foreign tourists buying tours of travel firms, besides the tour price, spend an additional US$62 per day, rising only 3.6% from two years ago.
The average travel length of domestic tourists is four days per tour, also equivalent to that in 2009. The total spending of each domestic tourist per tour is VND3.53 million, or VND977,000 per day and up 39%.
Tran Thi Hang, deputy head of the General Statistics Office, said although spending of domestic tourists is up, the rise mainly results from the price hike, and in fact tourists do not spend much.
There were over 4.3 million foreign tourist arrivals in Vietnam in the year's first eight months, up nearly 10% from the same period last year while for domestic tourists, the respective figures were 23.2 million and 7%. The tourism revenue in this period reached VND98 trillion, up 15%, according to the Vietnam National Administration of Tourism.
At the online meeting on Tuesday, tourism officials and entrepreneurs hotly debated must-do issues to prop up the country's hospitality industry, and one such issue was to build hygienic restrooms for visitors.
The Vietnam National Administration of Tourism said at the meeting that building standard restrooms for tourists should be the big breakthrough for Vietnam's tourism this year.
After several months of constructing restrooms at tourist sites nationwide, there have been only one-third of restrooms meeting standards. Tourism officials at the meeting said that building restrooms was a hot issue which needed to be carried out soon.
However, according to travel firms, building high-quality restrooms for tourists is what the local tourism industry needs, but they are more concerned over price hikes and a drop in the number of visitors.
"We expect these hot issues will be discussed to work out solutions to attract customers amid current difficulties, but we see no such issues tabled by authorities," the director of a HCMC-based travel firm told the Daily after the meeting.
VietNamNet/SGT