Tra Su Mountain is a must-see destination in An Giang Province and it was a day we won't forget.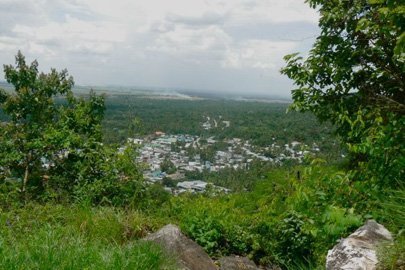 To reach there you have to head from Nha Bang Township on the road to Tinh Bien Township for about 150 meters, then make a right turn along a rocky sloping path to a pharmacy named 'Sau Xung va Nam My', tourists will spot Tra Su Mountain.  
Located in Nha Bang Township, Tinh Bien District, Tra Su Mountain belongs to Thuy Dai Son Mountain Range. The mountain is not impressive due to its height but it is an attractive peak for tourists to admire the splendid scenery and to find tranquility for their soul.
The mountain is famous due to a small temple which is dedicated to worship two huge rocks. Locals say that the stones, which are about one ton and 300 kilograms, rolled to the Cua Thien Huyen Nu from the mountain peak on July 25 1991.
People call the stones 'Chu vi Son Than' (Goddess of mountain) and worship them as they pray for good luck and health.
Trekking up about 100 steps, tourists will see Ong Ho Cave which has two stone grottoes, one is Ngu Ho temple and one is Cuu Pham temple lying deep in the cave. After another 25 meters, pilgrims will see Ba Chua Temple where many locals often come to pray for a happy life.
Progressing towards the peak, tourists will see a fairy yard where they can stand and appreciate a panoramic view of Nha Bang Township with its greenness of rice fields, plantation, winding roads, streams and nearby houses. The fresh air, the spacious atmosphere and tranquility of nature will help tourists to rejuvenate after stressful working days.
There will be some other stone caves for tourists to discover and old altars for pilgrims to burn incense to connect with the supernatural world.
SGT