Vietnam Airlines will continue raising flight prices following Vietjet Air and Jetstar Pacific, doubling overall ticket prices after taxes and increased fees.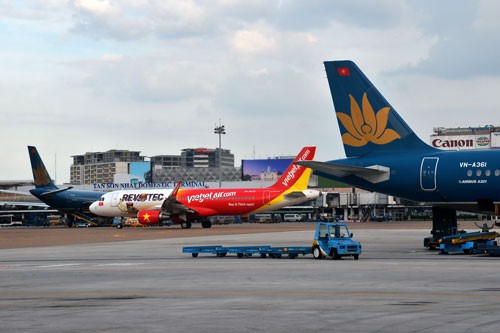 Vietnam Airlines raising flight prices following Vietjet Air and Jetstar Pacific
According to Vietnam Airlines, it will start collecting fees for system maintenance in the next five to seven days in order to improve the management of its customer database. The applied fee for short domestic routes is VND80,000 (USD3.48) and VND150,000 for domestic routes that are longer than 850km. The fee for international routes is USD7.
The fee is exempted for business class, elite class and club economy class.
Meanwhile, Vietnam Airlines will scrap the ticket charges for web purchases, which is VND50,000 (USD2) for domestic routes and USD7 for international routes to encourage more online bookings.
Both Vietjet Air and Jetstar Pacific had increased their system maintenance fees right before the summer holiday period. Jetstar Pacific applied a fee of VND210,000 (USD9), an increase of VND70,000. Vietjet Air also increased the fees to VND210,000-VND370,000.
Other fees were also increased including airport, cancellation and change fees.
Mai Thanh, a ticket agent in HCM City, is worried that their business could face difficulties with higher prices. In September, a ticket from HCM City to Vinh cost VND500,000 (USD22) but with the new fees, the flight now costs VND1m.
"The original ticket prices displayed on websites are only VND299,000 (USD13) or VND499,000. But after adding in taxes and fees, it will double. Many customers think that we earn high commission fees and cause us trouble," she said.
Since transport costs account for two-thirds of holiday spending, higher fees will also spell trouble for tourism companies.
Local airlines have increased various types of fees since early 2018 after the Civil Aviation Administration of Vietnam raised several airport service fees.
Nguoilaodong/Dtinews