VietNamNet Bridge – Hidden down an alley in HCM City is a simple and unassuming Vietnamese eatery popular with locals and foreigners alike. The Nomad Quynh reports.
Modern: The second floor with a more contemporary look. VNS Photo The Nomad Quynh
The area around Ben Thanh Market is one full of history and culture, with plenty of old buildings, street vendors and various shops that have been here for generations. Our country is changing day by day, but this area remains a symbol of old Sai Gon.
One alley is known among local women as 'nail alley' — Le Thanh Ton Street. This name is derived from the dozen nail salons that line the route, and they are always packed. They might not be cheap, but some of my girlfriends swear the staff give the best manicures in town. Whether this is a topic that interests you or not, the fact remains that these shops are a big draw for travellers.
However, these nail salons aren't the only thing that makes a trip to this part of town worthwhile. If you continue deeper down the lane you'll find some of the most popular local and Western restaurants in town. One of them is a rustic and homely Vietnamese bistro called "Bếp Mẹ Ỉn".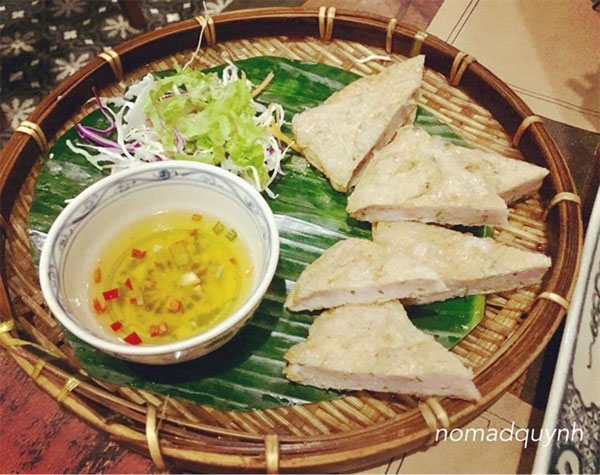 Delicious: My favourite of the day - Fried fish cakes with dill. VNS Photo The Nomad Quynh
In Vietnamese, the name means 'the kitchen of Little Piggy's Mama', with 'little piggy' being a common nickname that mothers call their children. As the name suggests, the concept here is home-made food from a mother with love. Just like French bistro Cocotte next door, Bếp Mẹ Ỉn is owned by foreigner experts in the Vietnamese F&B business, which is why their success was to be expected from the beginning.
Indeed, the setting gives you a cosy feeling right after stepping in, with rustic wooden furniture, blue accents and decorations including quirky paintings and a drinks counter crafted out of a tuk-tuk. While the first floor looks more like a street-food diner, I prefer the upper floor because of its brighter and more modern design. Their menu features a selection of home-style rural Vietnamese dishes plus some popular local street food.
We tried one of the signature dishes: Bánh đập thịt nướng (Vietnamese style pizza on sesame rice cracker with grilled pork, quail eggs and shrimp sauce; VND65,000). This is a traditional dish from central Vietnam, around Quang Nam to Khanh Hoa but most famous in Hoi An. Its base consists of two parts – a crispy grilled rice cracker called bánh tráng nướng and a soft, steamed rice layer called bánh ướt – both of which are actually separate dishes famous on their own. On top of this are various toppings including grilled pork, seasoned with different spices and herbs, plus quail eggs and peanuts. The accompanying sauce is complex by itself – a mixture of stir-fried shrimp and onion, oil and chilli.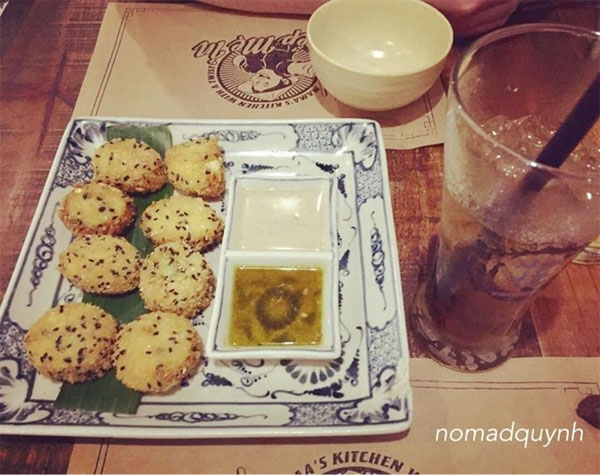 Crispy: The popular fried egg tofu with sesame. VNS Photo The Nomad Quynh
This dish is eaten by first taking a piece of the 'pizza' and dipping it into the sauce. The taste of grilled meat and shrimp mingles with the rich stir-fried onion, the crunch of the cracker and the soft steamed rice paper; all create a delicious combination of flavours and textures. If you think the shrimp sauce is too strong, ask for fish sauce which is a lighter version.
Our next dish was fried egg tofu with sesame (VND75,000). It was soft and well-cooked, a good choice if you like tofu. However, my favourite this time was the next dish: fried fish cake with dill (VND95,000). Dill is a common herb in Viet Nam and goes especially well with fried fish. Here at Bếp Mẹ Ỉn, the fish cakes were slightly crispy yet juicy at the same time and very rich.
The drinks menu offers traditional concoctions from different regions such as táo mèo – preserved condensed rose apple juice (specialty of Sa Pa), soda sữa hột gà (soda, fresh egg yolk and milk). There are also a wide range of local rice spirits as well as special cocktails.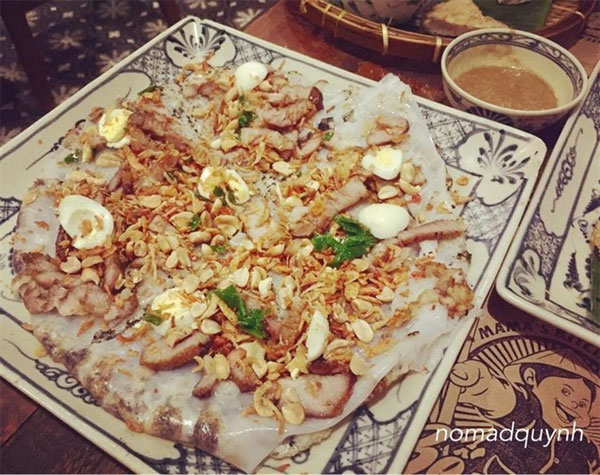 Top choice: A signature dish – Vietnamese style pizza on sesame rice cracker with grilled pork, quail eggs and shrimp sauce. VNS Photo The Nomad Quynh
The service is generally fast and professional, as they are used to handling big groups of customers. Overall, if you want to explore different kinds of traditional Vietnamese homey food in a relaxing venue right at the centre of HCM City, Bếp Mẹ Ỉn will not disappoint.
BẾP MẸ ỈN
Address: 136/9 Lê Thánh Tôn, District 1, HCM City
Tel: 028 6866 6128
Opening hours: Everyday from 11am – 11pm
Comment: Popular Vietnamese diner serving homey rural and street food dishes in a cosy and relaxing venue.
Source: VNS