VietNamNet Bridge – At V's Home, vegan food is not a religious calling or sacrifice for animal welfare but rather the foundation of satisfying, flavourful meals that leave diners feeling nourished. Minh Thu explores.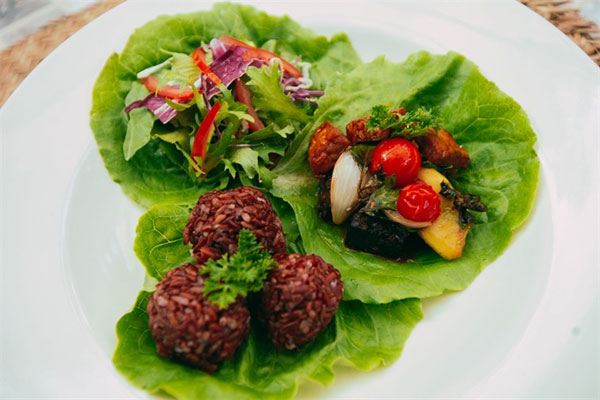 All-natural: Brown rice served with salad and roasted chickpeas tempeh and tomatoes.
When I enter a small alley searching for a French-style villa like many others in the Old Quarter of Hanoi, the rhythm of La Vie En Rose sounds first presto then lago.
I doubt that it's coming from the café I'm heading towards, because I expect that the vegetarian restaurant should play instrumental music or zen sounds like others I have visited.
But V's Home is a vegan restaurant quite unlike the others where I have dined. Each minute I spent there brought me different emotions and experiences. My time there absolutely transformed my thinking about vegan restaurants.
The zen-instrumental music at vegan restaurants often aligns with a more general hippie aesthetic and sensibility, with well-made décor and menu information exhorting people to be vegans for religious or humanitarian reasons, like protecting animals and reducing greenhouse gases.
Pham Vi opens V's Home just because she wanted to indulge guests in a beautiful space with fine dining, a place where the kitchen is full of passion and love and a place where every little corner calms your soul, she said.
"We eat veggie food just because it's good for the health," she said.
"Here, we offer gourmets a feast with three criteria: 'clean' as the food is cooked from organic ingredients and non-genetically modified organisms (non-GMO); 'calm' because only a small amount of spices is used to keep the ingredients pure and fresh; and 'graceful' with elegant presentation to pay gratitude to the beauty of Mother Nature."
The well-decorated food has inviting names such as Sweet Kiss, Party Girl, Lolita, Ever Green and Summer Scent.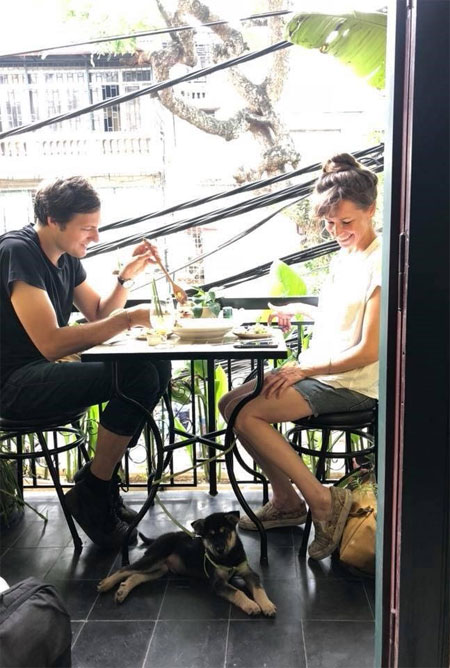 Hello, stranger: The fine dining of V's Home attracts many foreign guests. VNS Photo Minh Thu
I feel a powerful energy from each corner of the restaurant, from handicrafts made by disadvantaged people to simple furniture and tableware made from environmentally-friendly materials (no paper tissue and plastic straws), and above all, the powerful beauty on the plates.
I start the meal with Tropical Morning, a salad that takes me out of the city to enjoy morning glories in tropical regions, each with slightly different floral, fruit and leaf characteristics. I can feel the sunlight on my shoulder, the breeze in my hair and the sound of the ocean in my ears.
Pineapple is roasted until it pervades the table with a fascinating scent. The slices of pineapple lie on rocket, lettuce and tomatoes. Pistachio and mozzarella embellish the plate of greenery.
My friends and I order several side-dishes such as spring rolls and summer rolls before the main course: Zen Garden, a hotpot which can be compared to a symphony of flowers, vegetables, fruits and bulbs.
We are amazed when the waitress brings a bowl of colourful flowers to us. It wakes up all our senses. Fruits, mushrooms and bulbs are braised together to make a nutritious and elegant soup. Then we slowly dip vegetables, tofu, flowers and bun gao luc (noodle made from brown rice, whole-grain) into the boiling hotpot to enjoy the different tastes of the ingredients.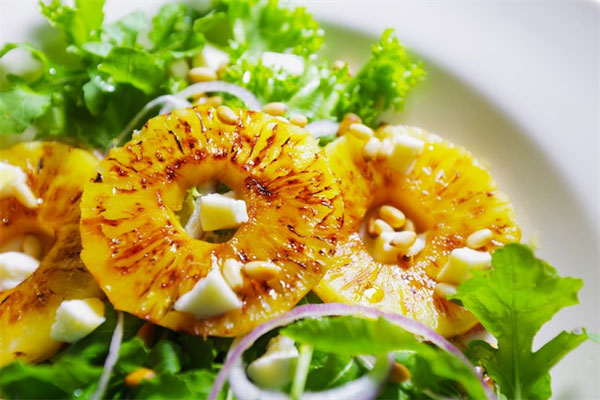 Transporting: Tropical Morning salad. The ingredients include pineapple, rocket, lettuce and pistachio. Mozzarella is optional. VNS Photo Minh Thu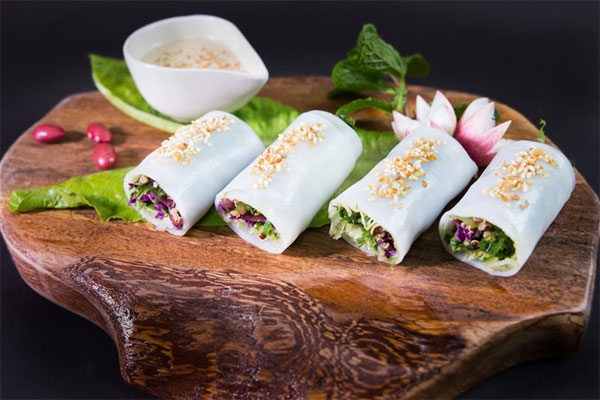 Fresh: Summer rolls.
It can be said that the hotpot is a rendezvous of specialties from the north to the south as it comprises diên dien flower (popular in the Mekong Delta), rau dang (bitter vegetable), banana flower, keo neo (yellow burrhead), water lily and water spinach. Though we eat until the last bite and drop, the food we consumed doesn't make our stomachs ache like when we eat too much meat and fat.
I tried most of beverages on the menu and must give the owner a round of applause because each kind of drink is not only eye-catching but also good for the health. You can choose a drink designed especially for your style, such as Forever Young Lady and Hot Chic Lady.
The Forever Young Lady drinks are elegant and smooth like rosemary green tea and hibicus flower tea. Those in the Hot Chic Lady are well-mixed and provide energy, such as Summer Dance (coconut juice with mixed fruits) and Pink Heart (coconut juice with red dragonfruit).
Bradley Rae, a diner, said this is a restaurant that literally changed his life, transforming him from devoted meat lover to wise diner. "To my surprise, the absence of any meat was of no importance - for each course was overwhelmed by an assortment of exotic, mouth watering-flavours that were constant throughout the evening," he said.
"Owner Vi has created a masterpiece of decor and healthy cuisine combined, so do yourself a favour, live not for meat, but for flavour!"
Rae noted that sometimes guests will have to write down what they want because most of the staff are deaf.
"Vi is training them in all facets of hospitality, which I found simply astonishing, and very inspirational," he said.
Ossie Stewart from the UK remarked on TripAdvisor that the building and ambience are also a real treat. "What a gem of a place, incredible food and wonderful staff," he said.
Vi said she just wants to build an inspirational kitchen for herself, a place of healthy food for vegetarians and anyone who wants to change their appetite for a while.
Above all, she wants to spread an active energy. She employs hearing-impaired staff to bring them a sustainable job and 100 per cent of the restaurant's profits are dedicated to community activities. 
Source: VNS