VietNamNet Bridge – Fancy drinking coffee in the middle of a vegetable garden, enjoying the greenery around as leaves sparkle in the morning sunlight? That's a routine most would like to enjoy.
And it is already a reality.
Triet's Coffee, set in a vegetable garden grown through the hydroponic method, is a unique model attracting residents of Tam Ky City in the central province of Quang Nam.
The café is run by start-up graduate Pham Ngoc Vy.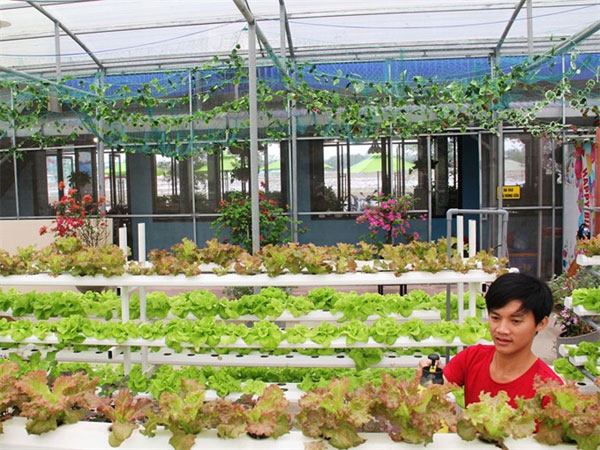 Circle of life: Planting vegetable using hydropnic methods allows produce to take care of itself. Photos courtesy of Triet Cafe
"When I was young, my grandparents took me to the vegetable field with them to keep an eye on me as they went about planting," Vy tells Viet Nam News. "The field was usually crowded, with people busy watering, preparing the soil, harvesting, all the while chatting among themselves and laughing. I would wander around to search for nests of crickets. Whenever I found one, I would call out to my grandfather for help and we would catch the crickets to play," Vy says.
"I cannot forget the fresh morning air, with the green vegetables covered in dew. At that time, farmers did not use pesticides, so all the worms I caught in the field would be good food to the birds my grandfather raised at home," he says, adding that today, traditional and clean farming methods have been replaced by chemical-laden agriculture to grow crops in a short time.
"It is difficult to find safe and nutritious vegetables, which is how I came up with the idea of the cafe," Vy says.
One of a kind
There are hundreds of cafes in Tam Ky City, but all of them are commercial. Vy's is the only one in a vegetable garden where customers can buy fresh organic produce, enjoy the greenery and take photographs while sipping on a cup of coffee.
In mid last year, Vy and his cousin, Nguyen Trinh Nhan, borrowed a plot of land from their uncle to open the café. They studied models of hydroponic farms in the central province of Quang Ngai and Da Nang City and researched the method on the internet.
The garden is just outside the cafe. Vegetables are planted on pots of water, which are linked together by a system of pipes. No chemicals are used to grow the vegetables. The gardener pumps a solution of mixed nutrients into the pipes to nurture the vegetables. The garden is roofed to avoid strong sunlight and rain and is surrounded by nets to keep away insects.
Set in an area of 300sq.m, the café has grown vegetables enough to meet the demand of customers and some local kindergartens.
Vy and Nhan plan to expand the cultivation area to 2,000sq.m this year as well as supply vegetables to nearby supermarkets, primary schools and online customers.
"I feel relaxed coming here with my wife during the morning on weekends," says Nguyen The Vinh, a customer. "The staff here are thoughtful, and the space is airy with lots of greenery. My wife buys vegetables here as she believes in the safe planting model they apply."
Mai Thanh Lan, another customer, learnt about the place on Facebook through her friends' check-in statuses.
"My friends have taken beautiful selfies here," she says.
Nguyen Thi Thu, another regular, says she visits the café every day mostly to watch the vegetables and drinking coffee is only secondary.
"Although the coffee here is quite good, and the milk tea is special," she says.
Not quite a smooth ride
The café sells 10kg of vegetables every day, mostly to customers.
Lettuce requires the shortest time to grow -- 25 days of planting before being harvested. The most popular vegetables grown in the café garden are lettuce, celery and amaranth.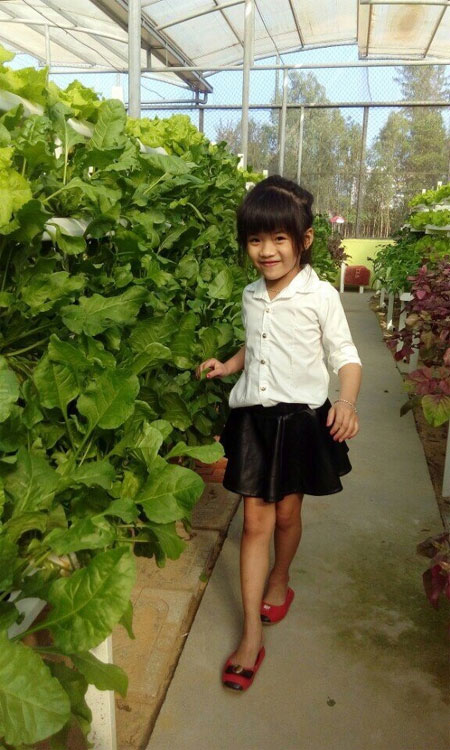 Growing together: The shop is an ideal place for children to play.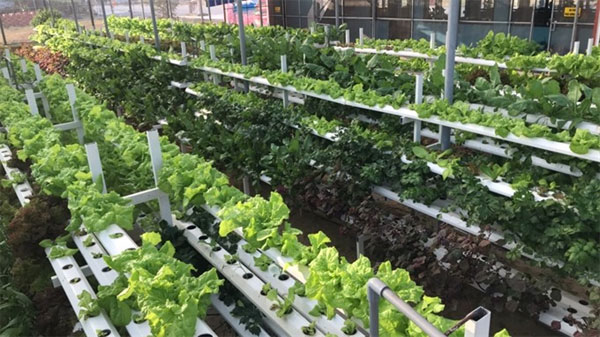 All natural: The shop does not use any chemicals. It uses a net house to prevent insects and worms from eating produce. The water system contains nutrients and is pumped automatically to save time for watering and caring for vegetables.
According to Vy, one of the main problems is the lack of capital. So far, he has mobilised capital from family members and relatives and divided the profit with them. He has also borrowed money from relatives, to whom he has paid interest rates similar to that of banks.
"In the early stages of my venture, many of my relatives did not support me," he says. "They argued that the café was far from Tam Ky City's centre."
But Vy never lost hope. He was confident that the area would develop fast. And he was right.
A South Korean trading centre will soon be opened near the cafe. It is located 3km from Panko Tam Thang Industrial Zone, on the main road leading to Mother Thu Statue and is 2km away from the coastal road leading to the popular Tam Thanh Graffiti Village.
The area houses five residential living quarters and will soon host various offices of foreign companies, administration offices of the city and Thaco Company's urban area project with a total area of 150ha.
Vy is also confident of the café's menu, which has attracted many customers, giving him a stable income to upgrade the shop and rent more land for planting vegetables.
"I am about to develop Triet's Coffee into a trademark specialising in home-made fast food, drinks and organic vegetables, with an area three times larger than the current one," Vy says. "I am also thinking of opening a cafe by planting experimental flowers on water, he adds.
According to him, the main challenge of opening a café growing fresh vegetables is that the area should be large enough.
"I cannot install too many shelves next to one another as enough sunlight has to come in for the vegetables to grow," he says.
He is open to sharing his experience with start-ups in major cities as he is confident that such a model would be successful in large cities.
"My business principle is to be kind. A kind heart brings the highest satisfaction to customers. At Triet's Coffee, we always put our customers first," Vy says.
The café's catchphrase is "Delicious and Safe".
Its homemade milk tea is quite popular. Vy says he is completing formalities to register and trademark Takicha, the café's special flavoured milk tea.
"Our service is fairly good although vegetable planting has not grown as well as we had expected," he says. "However, I believe safe vegetables and beverages will act as magnets to attract customers to the cafe."
Le Huong
VNS