VietNamNet Bridge – Da Lat: The Central Highlands city of Da Lat has many things to offer tourists, including breathtaking views, a cool climate, and a bustling night market in the heart of the city.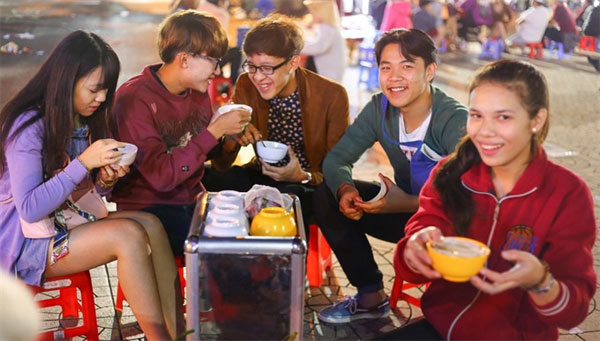 Atmosphere: Young people enjoy bowls of hot tofu pudding. — Photo diadiemanuong.com
Whenever I come to the city, I always visit the night market to immerse myself in the lively atmosphere among the street vendors. It's a wonderful culinary experience that I can't find anywhere else.
Like thousands of visitors flocking to the market, I enjoy the night life, and the massive array of different tastes that I can experience.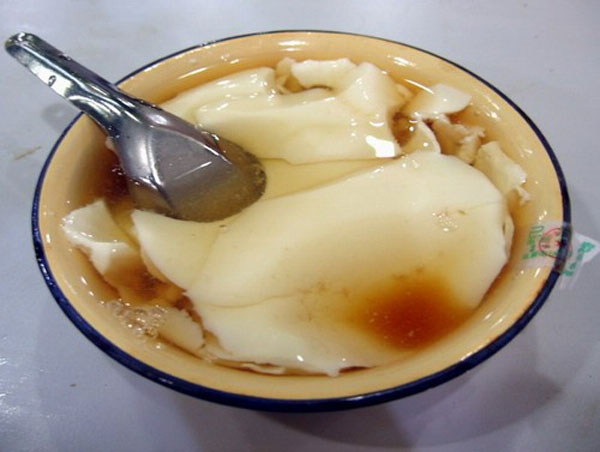 Treat yourself: Tofu pudding is a very common and popular sweet dessert made from soy beans. — Photo baomoi.com
Warm up with hot tofu
A dish that I would recommend is dau hu nong (hot sweet tofu pudding), with hot soya milk. Tofu pudding is a popular sweet dessert made from soy beans. In the chill and fog of a city such as Da Lat, the dish becomes very special, with a smooth, creamy texture, alongside a brown-yellow ginger sauce.
While the dessert is often served with ice, jelly, shredded coconut and fruits, here in Da Lat night market, you can treat yourself to one of a kind tofu pudding – with ginger syrup.
Mrs Nho was one among first tofu sellers at the market; she even made a brand name for herself, although she doesn't have a billboard.
Nho comes from the central city of Hue. She has sold the dish in Da Lat for over 20 years, and now her daughter helps her to serve customers.
"Many tourists from other provinces love Da Lat, and come here annually," said Nho.
"They always come to eat my tofu whenever they visit the city. They told me that the dish is one of the reasons they keep coming back, because mine is their favourite tofu. Hearing those things is really sweet."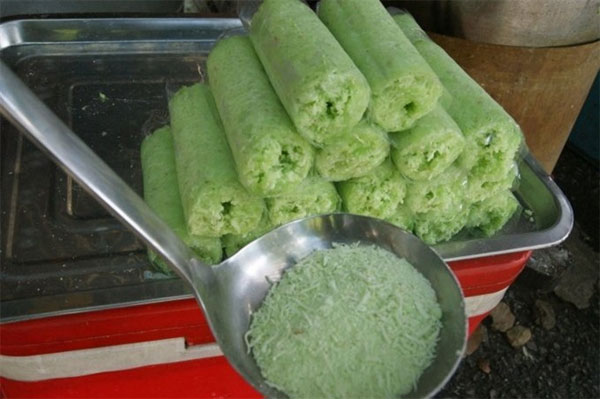 Yummy: Just one bite into the hot and steamy freshly made cakes can warm your body up and boost your mood. — Photo baomoi.com
Sweet things in tubes
Watching the sellers make their product, quickly and skillfully, is an integral part of the street food experience.
Banh ong la dua (steamed pandan cake with coconut filling in a tube) is another dish that can be found in the night market. Watching it being made is a truely enjoyable experience. The sellers make up to six cakes at once, and have everything prepared within five minutes.
The filling is a surprise. It is a mixture of ground cassava, flour, pandan paste, and coconut sprinkles. Just one bite into the hot, freshly made cakes will warm your body up and boost your mood.
The sellers fill up a tube and are steam it for a while, then the cake is covered with a layer of soft rice paper. The paper is transparent so the fresh green of pandan is still visible.
Behind that plain white layer of rice paper is a steamy cake with a spongy texture. The sweet has a more gentle flavour than the hot tofu pudding.
Originating from the Khmer community in the Mekong Delta province of Soc Trang, the tubular cakes are now a specialty of Da Lat night market.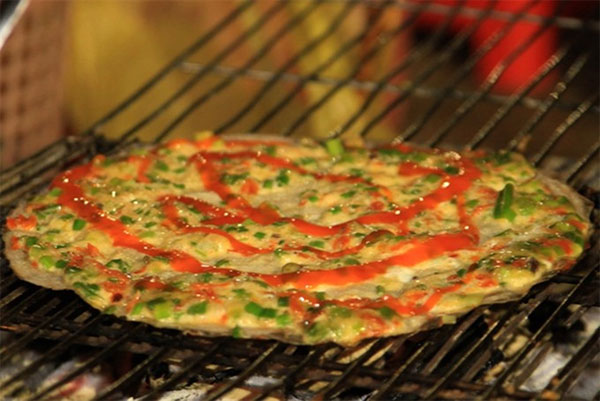 Pizza, Viet Nam style: Banh trang nuong (Vietnamese pizza) is a dish that takes inspiration from around the world. — VNS Photo Minh Thu
Crunchy world on a rice paper
If there's one dish in the night market that takes influence from around the world, it's banh trang nuong (Vietnamese pizza).
Its made of rice paper roasted on a charcoal grill and topped with ground pork, chopped spring onions, and a quail egg mixed with dried shrimp crisps.
Da Lat's take on this Vietnamese fun fusion uses a thicker rice paper, and is topped with cracked chicken egg, butter, cheese, seafood, sausage, and even scallions. If you are vegetarian, you can order a rice paper with corn and cheese.
Dakota, a tourist from Texas, said the main reason he came to the market was to sample the food. "My favorite was the banh trang nuong, also known as Vietnamese pizza," he said.
"It's a bunch of toppings grilled onto rice paper, bursting with flavours, for just a buck," he said, "Do yourself a favour and don't eat at the stalls and small restaurants with promoters who try to lure you in. Go for the ladies with tiny stalls and little plastic chairs. They're the ones who put their passion into their food, and plus they are super sweet!" 
Source: VNS