A tourism development fund will be set up with capital to be sourced from the State budget in the first three years and then contributed by 10% of revenue from visa and immigration-related fees.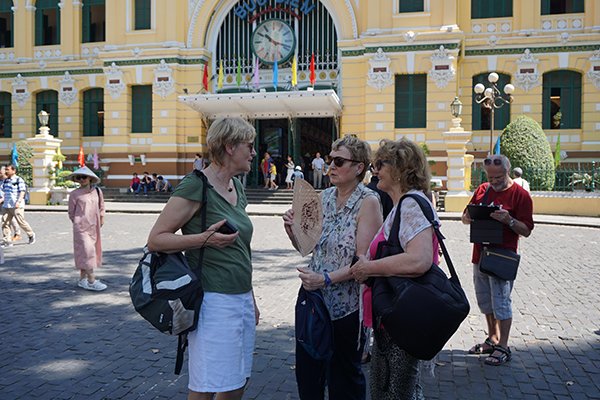 International tourists are seen in front of the HCMC Post Office. Part of revenues from tourist visa fees will be used to operate the tourism development fund 
Under Government Decree 168/2017/ND-CP, which guides the execution of the tourism law, capital of the fund will also come from annual revenues at tourist destinations and contributions from sponsors, local and international organizations, and bank interest, among others.
There is no mention of specific chartered capital of the fund in the decree, but it will be determined after the Prime Minister decides on the fund's establishment.
However, when seeking comment on regulations concerning organization and operation of the fund, the Ministry of Culture, Sports and Tourism said that chartered capital provided by the State budget is VND300 billion in three years, with VND100 billion in the first year.
According to the tourism law, the fund is aimed at promoting tourism, supporting research and development of tourism products, and developing human resources.
There are no official statistics on international tourists needing visas to enter Vietnam. But in a talk with the Daily late last year, a source from the Vietnam National Administration of Tourism said that around half of international tourists to Vietnam in 2016 had to apply for visas. Last year Vietnam welcomed more than 12.8 million international tourists.
As in Circular 219/2016/TT-BTC of the Ministry of Finance, the fee of single-entry visa, multiple-entry visa valid for three months and one valid for three-to-six months are US$25, US$50 and US$95 respectively. Besides, a transit visa costs US$5.
SGT