The Vietnamese tourism sector served 13 million foreign visitors and more than 73,000 domestic travelers last year earning more than US$22 billion. The sector is planning drastic measures to increase its growth amidst the challenges of the 4th industrial revolution.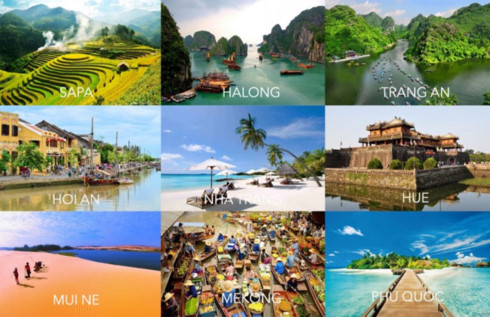 Last year the Politburo released a resolution on developing tourism into a spearhead industry and set a target of receiving 20 million foreign visitors by 2020. This will be a challenge amidst the 4th industrial revolution. Vietnam ranks 17th in the world in internet coverage. 
More than half of its population use the internet daily. 90% of the foreign visitors to Vietnam access tourist information via the internet. Nguyen Huy Hieu of the vntrip.VN company said: "Statistics show that the rate of smart phone use is 45%. Booking rooms online has increased because customers can get better deals."
A recent survey by Google and Temasek showed that online travel ranks 3rd in the world in terms of growth and revenue. The survey forecast that Vietnam will earn US$9 billion from online travel by 2025.
The Hi-tek company recently used Blockchain 4.0 technology to develop a system for booking rooms and airfares online. The system connects with 800,000 hotels, provides information about 150,000 flights around the world and enables online visa applications. 
Hi-tek Truong Lan Phuong said "Travel companies need to work closely to boost the growth of Vietnam's tourism. Because they are now working individually they cannot fully tap Vietnam's tourism potential."
Giants in online travel like Expedia and online booking websites like agoda.com and booking.com are active in Vietnam. A number of Vietnamese enterprises have joined the game like ivivu.com, gotadi.com, chudu24.com and vntrip.VN.
VOV5