VietNamNet Bridge – Y Ty Commune in Bat Xat District, in the northern province of Lao Cai, has become a new tourist destination for domestic and foreign visitors.
Happy days: A Ho (third from left) with a group of tourists on top of Nhiu Co San Mountain. VNS Photos Cao Huong
Many locals have been exploiting natural and cultural advantages to develop their business.
With agility and intelligence, 33-year-old Sung A Ho, a resident of Ngai Cho Village, was one of the first to offer a homestay service in the commune.
The first impression that people have of Ho is that of a friendly and frank man. Born into a poor family with eight children, he did not have the resources to go to school. He cannot read or write, but that has not stopped him from earning a stable living.
"My family used to be very poor," he said. "We had to work on terraced rice and maize fields throughout the year. Sometimes when we did not have a good harvest, we had to eat cassava instead of rice or maize."
The family did not have enough food all year round. Thus, none of his brothers and sisters knows how to read and write. Ho faced more difficulties when he got married 10 years ago.
Y Ty Commune is famous for its spectacular landscapes which attract many photographers and tourists.
A Ho met a tourist named Ngo Huy Hoa in 2014, who travelled to the area to take photographs. Hoa was the first person to inspire A Ho to offer tourism services.
Hoa told A Ho that the area had beautiful landscapes and interesting ethnic cultural features, but lacked accommodation. He advised A Ho to offer the service to improve his family's income.
With the support of Hoa and some other friends, A Ho upgraded his house and other necessary facilities to offer homestays.
His business has welcomed guests for two years and brought A Ho an income of more than VND200 million (US$8,800).
"Homestay is much better than farming," A Ho said. With the money, he re-invested and enlarged rooms besides improving other facilities.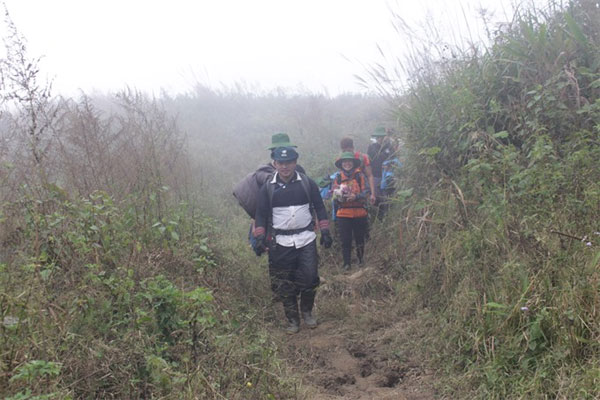 Through the mist: A Ho acts as a tour guide.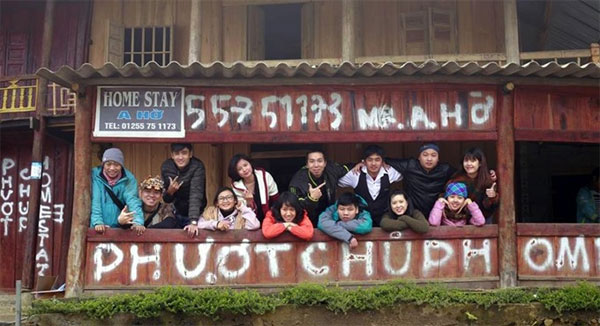 Back home: A group of tourists pose for a photo at A Ho's homestay. 
He has also encouraged other friends to run homestays to make a better income.
"At first, when I told them to offer homestays" A Ho said, "They said they were shy and could not do it as they had no money and could not speak the Kinh majority language."
A Ho explained to them that Y Ty had beautiful landscapes and that was a huge advantage.
"If you don't know you can learn," he told them, "You should work hard and tourism services are rather simple."
Seeing his success, his friends agreed to contribute money and open homestays in the neighbourhood.
"Many tourists have given me their opinion on how to provide better service," he said.
Though he can't read or write, A Ho knows how to talk to tourists and win their trust with his frankness.
A Ho Homestay has been a popular destination for tourists in Y Ty. At a reasonable VND50,000 a night per head together with other friendly services, tourists get the chance to eat, play and stay with locals.
"We like this homestay model as we can understand the culture and customs of local ethnic groups such as the Mong and Ha Nhi," said Bui Thi Phuong, a tourist from Hai Phong City.
A Ho's homestay can host up to 30 guests a night and it is always full on the weekends in winter and autumn — the ideal seasons for tourists to trek up the mountains and watch clouds and terraced rice fields. His house on an average receives 400-500 tourists per year.
Together with Bach Moc Luong Tu (Ly Quan San), Nhiu Co San and Muoi mountains, Lao Than Peak for the past two years has become a trekking destination for backpackers.
A Ho also offers a tour guide service. With his understanding of local geography, he has guided many teams to conquer peaks by the shortest and safest routes.
He and his friends have also offered overnight stop in tents on the way to Lao Than Peak at VND50,000 per head. He rents sleeping bags and sells food at the stops.
According to Hau A Sinh, chief of Y Ty Commune's authorities, locals are now aware of the benefit of their services.
"However, many have received less success than they expected due to a lack of guidance. Sung A Ho's initiative is a good example for locals to follow to eradicate poverty," he said. 
By Hong Ninh and Cao Huong
Source: VNS