VietNamNet Bridge – Hue City in central Thua Thien- Hue Province and one of its hotel facilities have been listed among the awardees of the ASEAN Green Awards 2018.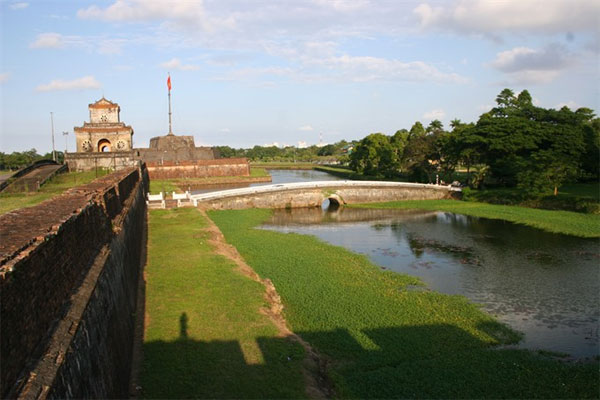 A green view of Hue Former Citadel in Hue City. — VNS Photo Nguyen Van Sum
According to the province's tourism department deputy director, Nguyen Van Phuc, the former imperial capital city of Hue is among the three Vietnamese cities to be awarded the ASEAN Clean Tourist City title, together with the city of old towns, Hoi An, and the city of villas, Da Lat.
The indicators for ASEAN to evaluate a clean tourist city include cleanliness, environment and waste management, green spaces around the city, security and health, as well as urban safety and tourism infrastructure.
The Pilgrimage Village Boutique Resort and Spa, a tourism facility in the city, is also listed among the hotels to receive the ASEAN Green Hotel Award.
A green hotel is one, which promotes environmental friendliness and energy conservation, as defined by the ASEAN green hotel standards. The evaluation considers the elements of the environmental plan, green product, human resources and environmental management.
Other Vietnamese accommodation facilities that will be awarded are Flamingo Dai Lai Resort in northern Vinh Phuc Province, Four Seasons The Nam Hai Resort in central Quang Nam Province, Ho Tram Beach Boutique Resort and Spa and Six Senses Con Dao Resort in southern Ba Ria-Vung Tau Province.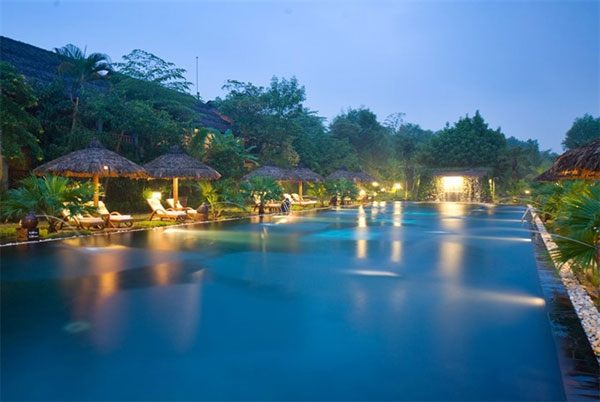 A view of a pool in the Hue-based Pilgrimage Village Boutique Resort and Spa. — Photo courtesy of the Department of Tourism
Phuc said in the previous years, 10 hotel facilities in each ASEAN member country were awarded, but this year's upgraded requirements led to the list of five.
The cities and hotels will be honoured at an event in Chiang Mai, Thailand, in January next year.
ASEAN built green standards for its member countries' cities and hotel facilities in 2006 and the standards were first applied in 2008.
The ASEAN Clean Tourist City Standard is said to provide its member countries with a tool to improve tourism quality in their cities, while the ASEAN Green Hotel Standard is set up to increase the environmental-friendliness and energy conservation in the ASEAN accommodation industry.
ASEAN, which is the Association of South East Asian Nations, was formed in 1967 and includes the 10 member states of Brunei Darussalam, Cambodia, Indonesia and Laos, as well as Malaysia, Myanmar, Philippines and Singapore, in addition to Thailand and Vietnam. The country joined the ASEAN in 1995. 
Source: VNS