Prime Minister has recently approved a program on development of tourism infrastructure in the period 2016 – 2020 to help the tourism industry become a key economic sector.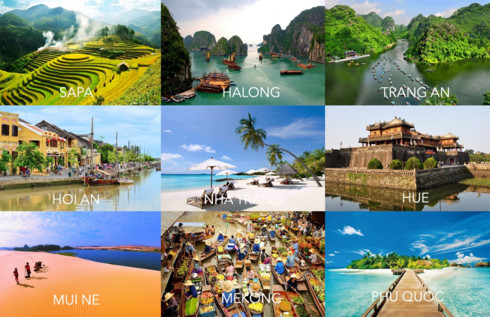 Under Decision 1861/QĐ-TTg, the VND30 trillion (US$1.32 billion) program will focus on building and upgrading tourism and transport infrastructure at provinces with key tourist destinations listed in the "Strategy on Vietnam's tourism development until 2020, vision to 2030" approved by the Government.
The program will give priority to poor provinces, whose budget cannot afford the investment.
The program will also strive to have the infrastructure of three to five national tourist areas to be perfected by 2020, contributing to creating favorable conditions for tourists as well as attracting domestic and foreign investment.
Under the "Strategy on Vietnam's tourism development until 2020, vision to 2030", Vietnam will develop tourism to be a key economic industry with high professionalism, modern and fairly synchronously-developed tourist infrastructure; high quality, competitive and diversified tourist products imprinted with unique traditional cultural characteristics.
Specifically, by 2020, Vietnam tourism sets the targets to receive 10-10.5 million international arrivals and 47-48 million domestic tourists, with total revenue of US$18-19 billion accounting for 6.5-7 percent of GDP; have 580,000 rooms including 35-40 percent of 3-5 stars; create 3 million jobs including 870,000 direct labors. 
By 2030, total tourism revenue is expected to double that of 2020 to US$36-38 billion.
To meet the targets, the strategy also mentions to the development of infrastructure and technical facilities for tourism.
According to the strategy, the planning and investment in infrastructure development will include transport, information and communications, energy, water supply and drainage, environment and related fields to ensure a uniform system for tourism development; modernizing the public transport network; planning public spaces;
It will also upgrade and develop social infrastructure of culture, health, and education, especially museums, theaters, clinics, training and educational establishments, with sufficient conveniences and  facilities for tourists;
The strategy emphasizes on the need of developing the technical infrastructure system that ensures quality, modern, convenient and uniform tourism services and facilities, to meet the needs of tourists. Such a system includes tourist attractions, accommodations, restaurants, information service, travel advice, booking and reservation service, travel agents, tour operators, tour guides, vehicles and transport service establishments for tourists, service facilities for sightseeing, leisure, entertainment, sports, conference and other purposes.
Under the strategy, the State will offer preferential policies to support investments in tourism infrastructure, human resource training, tourism promotion and brand development; link and mobilize resources for capacity building and quality improvement of tourism service providers, forming tourism centers of regional and international standards.
The investment priority lies in the development of national tourism centers, attractions, and urban areas, as well as tourism routes and destinations in remote areas or regions of socio-economic difficulties which have potential to develop tourism;
The Government will implement sustainable development policies and design preferential policies for the development of eco-tourism, green tourism, community tourism, and responsible tourism;
Other policies to encourage social engagement in and attraction of domestic and foreign investment sources for the development of tourism technical infrastructure, human resource and tourism promotion will be also mentioned in the strategy.
Hanoitimes