VietNamNet Bridge – Hoi An, a UNESCO World Heritage site, charms visitors with its picturesque riverside, brightly coloured old houses; great street food; fine-art galleries and rural villages.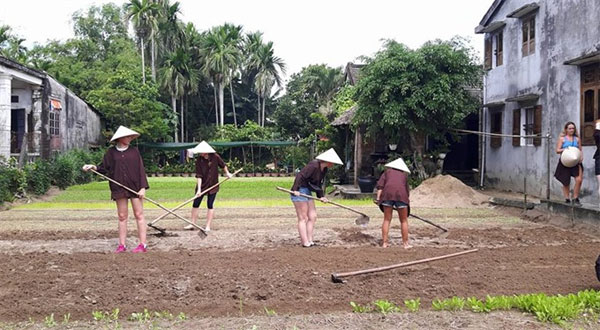 Down-to-earth: Visitors learn about organic vegetable growing An My.
While villages such as Kim Bong are known for carpentry, Thanh Ha for ceramics and Tra Que for herbs, An My Village is a hidden gem.
The village, set in a rural landscape, opened to tourists just a few years ago. It is only 3km from Hoi An and 1km from Cua Dai beach.
Arriving in An My, visitors feel they have travelled back to the times when agriculture was still the main economic activity. Not just agriculture, mind you, but agriculture free of chemicals and nourished only with natural manures and compost.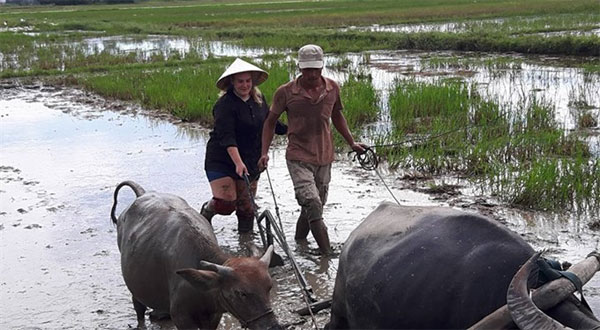 Buffalo power: Working with Asian farm beasts is a highly novel experience.
The village market gardens cover nearly 105ha, 45ha under rice and 35ha growing vegetables and other staples.
Visitors can join villagers in their farm work, planting young rice, harvesting it or drying it in the sun. Cooking it with the hosts is an extra bonus.
An My runs on organic lines. Travellers can cycle around the village and drop in at Nguyen Thi Dong's house. She has a vegetable garden covering 500sq. m of courgette, tomato, luffa and different types of vegetables. Entry is VND30,000 (US$1.30).
Visitors learn about organic gardening, accompany locals in taking care of vegetables and flowers.
The host boil herbs such as lemongrass, ginger and lemon leaves. Tired visitors then soak their feet in the warm water to relax.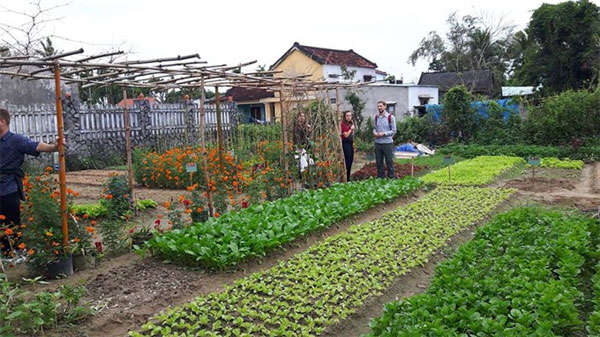 Thriving: An My Village is home to several organic vegetable gardens.
Guest can also join in making and flying kites, making masks and decorating the festive lion's head used for performance at the full moon festival.
More adventurous travellers can experience working with buffaloes, and catching and grilling fish. 
Lunch usually features vegetables from the gardens, grilled fish caught in the river and Quang noodles made by the locals. 
Vilde Teigen, a Norwegian tourist said:  "It is wonderful. I didn't know about these things before I came to Hoi An. This city is not only an ancient town with charming wooden houses but also a place with beautiful and peaceful rice fields."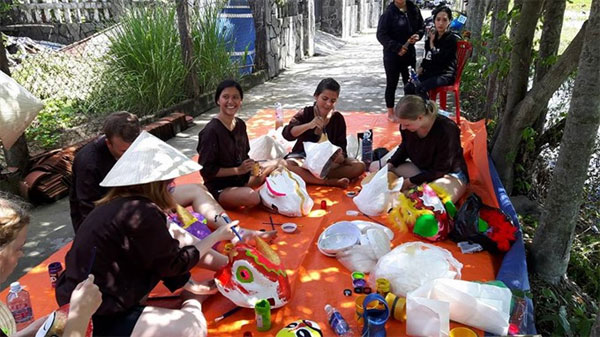 Festive time: Tourists decorate a lion's head and masks used at full moon festivals. — Photos courtesy of An My Village
An My Communal House (đình) is a highlight of the trip. The communal house is where locals worship their village patron saint and a place for communal activities. The structure, built in the Nguyen Dynasty in the 19th century, was recognised as a provincial relic in 2011.
From An My Communal House, visitors can cycle through the village, passing by a small road with purple flowers on both sides and rice fields.
Luong Son, chairman of Cam Chau's People's Committee, said to preserve the fine rural landscape, the village aimed at a "no hotel" policy. Currently there are only one spa, four houses for short-term rent to foreigners and two home-stay facilties.
By Thuy Anh
Source: VNS