Vietnam has seen a significant increase in the number of foreign tourists travelling to the country by sea but poor infrastructure and a lack of high-quality services for cruise tourism may hinder growth.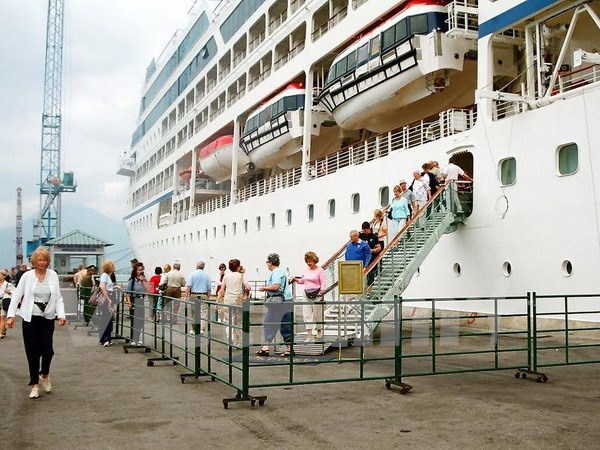 Celebrity Millennium Cruise Ship brings foreign tourists to central Thua Thien-Hue province. 
Vietnam welcomed nearly 285,000 sea travellers last year, an increase of 67.7 percent from 2015. The increase left airline travel behind, which posted growth of 31.7 percent in 2016, while travel by land has been steadily declining in recent years. 
According to Saigontourist CEO Vo Anh Tai, the country has a great outlook for sea travel since it is blessed with a long coastline and beautiful beaches. 
However, there is no terminal exclusively for cruise passengers in Vietnam; and in fact, they had to land at cargo terminals, he said, adding that a lack of such basic services has caused many international cruises to hesitate to sail to the country. 
The World Tourism Organisation forecast strong growth for Asian sea travel by 2020, enjoying revenue of 30-40 percent higher than travel by air and by land, said Director General of the Vietnam National Administration of Tourism Nguyen Van Tuan.
Though Vietnam has become a more appealing destination for cruise holidaymakers over the past few years, the rise in the visitor number is till below the country's potential, Tuan noted.
To lure more travellers, the sector should continue improving infrastructure, services and policies in the field.
Vietnam must build modern, convenient passenger ports to serve large cruises while domestic tour operators need to enhance their services as cruise travellers are often ready to spend a lot of money, President of Vietnam Tourism Association Nguyen Huu Tho urged. New tourism products, featuring unique local products, should also be introduced, he added.
Echoing's Tho view, Tuan suggested the industry design a wider range of tours and services for cruisers in places where they land.
VNA