VietNamNet Bridge – Visitors to Hoc Mo, a wild and charming beach located in the central province of Quang Ngai, can enjoy all sorts of activities, from fishing, to enjoying beautiful views or learning about the culture of the local fishing village.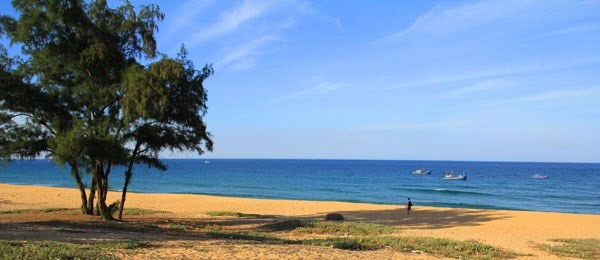 Paradise: Hoc Mo Beach has tranquil and untouched beauty. — Photo thanhnien.vn
The beach is part of Sa Huỳnh tourism complex, about four kilometres east of the People's Committee of Pho Thach Commune; however, it is relatively unknown among tourists, meaning its still has its untouched beauty.
To reach Hoc Mo, visitors have to pass through Thanh Duc Bridge and walk on the small village path shaded with bamboo trees, before a wide space suddenly opens at the end of the path.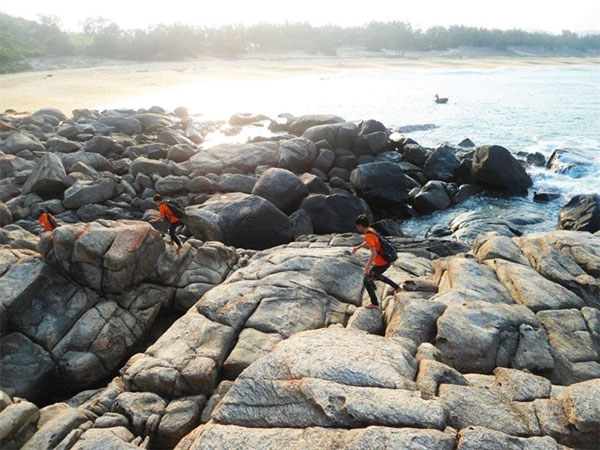 Adventure: Visitors climb on rocks by Hoc Mo Beach. — Photo m4v.me
More impressive still is the 'green belt' created by rows of perennial willows planted by the locals.
As well as along the beach, the willows grow close to the water edge, creating a cool space even in the afternoon heat. The visitors can go camping, cook under the willow shades and enjoy the sea at the same time.
After having enough of the forest of willows and the beach, visitors can discover Hon Rua – a name that locals gave to the rock-top shaped like a tortoise shell situated close to the sea. The rock-top includes many black flagstones heaped on each other, another impressive feature of the beach.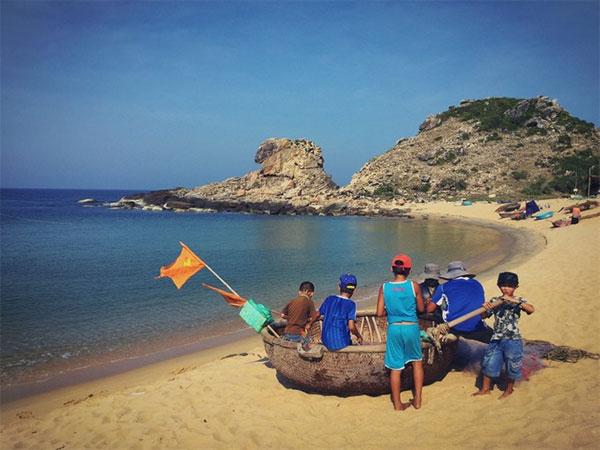 Play time: Local children play on Hoc Mo Beach. From afar is the rock in the shape of tortoise shell. — Photo staticflickr.com
Hoc Mo Beach is truly a peaceful picture of everyday life. Fishing boats casting their nets close to the shore float up and down the water as if they were playing with the waves, while when night falls, monkeys leave the caves to seek food and relax on the beach.
Some monkeys play among rows of trees or dance on the towering rocks, or dash into the water to catch fish and eat in front of astonished visitors.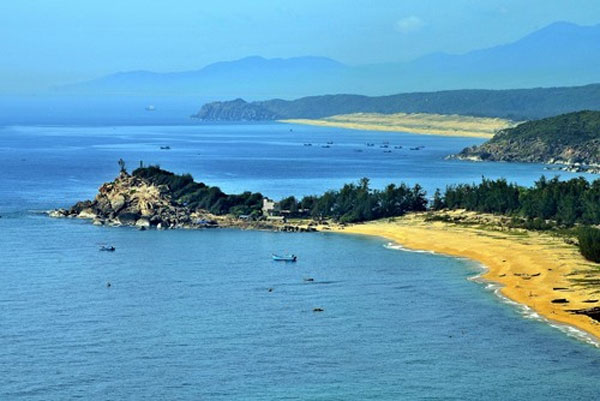 Pretty like a poem: Rows of perennial willows grow luxuriantly on Hoc Mo Beach. — Photo sahuynh.net
Hoc Mo has also charmed visitors with its Doi (Bat) and Yen (Swallow) Caves. Early morning and late evening everyday, the entrances to the caves become filled with bats and swallows flying for food and returning to their nests after a day wandering the vast sky.
Next to the beach is Thanh Duc 2 Tomb which has a unique worship ceremony for the Whale Deity every January.  Observing the ceremony is an interesting option for visitors who wish to learn about culture of the area. 
Source: VNS