VietNamNet Bridge – Meigo Mark had already visited 40 countries when the thought struck him: he wanted to travel around the world.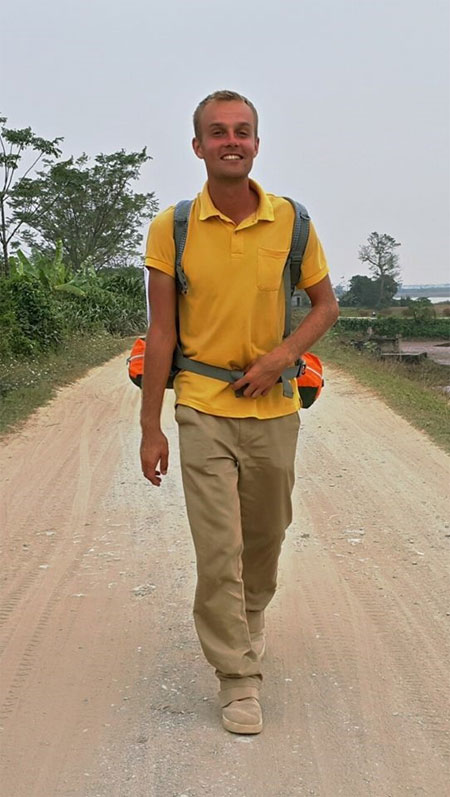 Long way to go: Meigo Mark, a 27-year-old Estonian musician, started walking around the world in 2014 and has crossed more than 20 countries. — Photos courtesy of Meigo Mark
While this might not count as an epiphany on its own, the fact that he wanted to do the trotting on his foot was a revelation of sorts.
He was 24 then, and it took him a couple of months to get started, but he knew for certain that there was nothing else he wanted to do. Just walk, walk and walk. Not for a week, month or year, but several years.
The equator goes around the earth for 40,075 kilometers, so that would be the minimum distance he would go on foot, taking 8-9 years, he decided.
In a little more than three years, Mark has walked close to 17,000 kilometres through more than 20 countries, treading narrow dirt paths and big highways, through forests and deserts, crowded cities and deserted villages. (He only uses ships/boats and planes to cross oceans and rivers.)
While this sounds exotic and exciting, it has not been an easy journey – he has been smothered by ants, bitten by dogs and robbed, but Mark has no regrets.
"Every day I see hundreds of eyes and feel hundreds of hearts - so many experiences, so many stories. I feel I am becoming richer. And every day I meet people who are better and happier than me. It gives me a lot of inspiration and motivation to become better and happier person myself."
The 27-year-old was born in a small village of Estonia with just 70 residents, surrounded by "vast space of natural fields, forests, ponds and rivers."
Recalling his decision to travel by foot, he said: "I started to have this strong inner feeling. It was the only way to continue my life. I felt I had a lot of energy and could do it. I had to do it. I should at least start out."
Mark read about dozen people who'd successfully walked around the world, and this gave him greater confidence in himself.
"I knew it would be hard and take years to complete, but I love overcoming challenges."
Mark wakes at about 6am and walks 25 to 50 kilometres a day.
First impressions
He entered Viet Nam in early November last year via the Lao Bao Border and spent five months in the country.
"My first impression of Viet Nam was very good. On the first day, when I was walking in Lao Bao there were so many people, they were very friendly and welcoming.
"Viet Nam is definitely one of my favourite countries so far because of its people. Every day, so many people stopped me to give me tea, coffee, asking if I'm hungry, offering me to stay at their home, giving all kinds of gifts, even money."
In mid-April this year, a group of 13 Vietnamese people joined Mark on his walk for five days.
"It was a very big group. I was not sure how I would manage this, because I had no previous experience walking with such a big group.
"But they turned out to be super supportive. I admire their strong will power. Their group energy was fun too. We sang and laughed a lot," said Mark, who is a musician by training, having formally learnt classical trumpet and piano.
The group of one Estonian and 13 enthusiastic Vietnamese walkers walked more than 100km. They ate together and slept on the floor of local houses.
"It was truly a wonderful experience.
"I thought that many of them would quit the very next day because they had serious pain in their legs and couldn't walk properly, but they all of them made it until the last day.
"We started at 5.30 am every day and continued to walk under the scorching heat of noon. Now, thinking back, I feel like we were all like military soldiers. We walked from Tan Ha Market in Lam Dong Province to HCM City, and I am thankful that they trusted me."
In the five months that Mark has spent in Viet Nam, he has not just been walking. He has been invited to teach English and visited several schools to talk with students, making many Vietnamese friends in the process.
Nguyen Thi Sam of Ha Noi said she joined Mark and other friends going running in the morning during his stay in the capital city.
"On weekends, I took him to West Lake for running with a long-distance-running club or just with my colleagues. He is such a friendly, modest, cheerful and considerate person and his journey is amazing. Not many people can do such a 'crazy' walk."
In HCM City, Mark made friends with Nguyen Dang Dong, an entrepreneur proficient in three martial arts – Judo, Taekwondo and Shaolin Kungfu.
Dong and Mark walked 150 kilometres in five days. Dong hosted Mark for a week, teaching him martial arts and showing him around the city.
"Mark is a kind-hearted person. I taught him some martial arts. Hope he uses it properly when necessary," said Dong.
Widening horizons
"Walking has changed my perspective. I have had lot of time to think, about myself, about life, nature, people, stars, galaxies. There is no ceiling or restriction. I see horizons, hundreds of villages. I see and feel the positive aspect of humanity and have hope in goodness.
"As the environment changes, I feel like my identity changes. But my main focus remains; to be a better, more respectful and more positive human being. This has been my consistent goal," said Mark.
In the past three years, Mark has been hosted by 170 different families and enjoyed experiences not accessed by tourists or other visitors.
In India, he had the chance to meet members of the famous Shillong Chamber Choir and they sang three beautiful songs exclusively for him.
He also joined a massive crowd of 1.5 million Hindu pilgrims walking to the Ambaji Temple in Gujarat.
As a walker he has visited places where villagers have told him that he is first ever European to visit them, and the first time they have seen one.
Constant worries
The biggest problem that Mark has faced is own "inner attitude and emotions."
He also operates on a very low budget. At first, he leased his house for funds, but later, sold it. In two and half years, he spent 4,000 euros. A vegetarian, he can make do with some bread, water or leaves on the way that he knows for sure is edible. Most nights, he sleeps in his tent, where, as mentioned earlier, he has been bitten by ants and dogs, and robbed by people.
Every night, he gets anxious about where he would sleep, but his walk has helped him see thousands of people living on the street, including suffering drug addicts, and he made a promise to himself that he would never complain about his life.
He has walked in 40+ degrees Celcius, camped in snowy conditions at temperatures as low as -17 degrees Celcius and endured months of monsoon rains.
Once he was robbed, Mark made sure that he wore unwashed clothes through some areas, trying to appear as dirty and poor as possible. "Once I looked like them, people didn't touch or take anything from me."
"But I also have to say that I love difficulties. I strongly believe that hard situations can only help me get stronger and better.
"My goal of becoming a better, more respectful person remains unchanged." 
Substitute teacher: Mark joined an English class for kids in Dong Ha City, Quang Tri Province.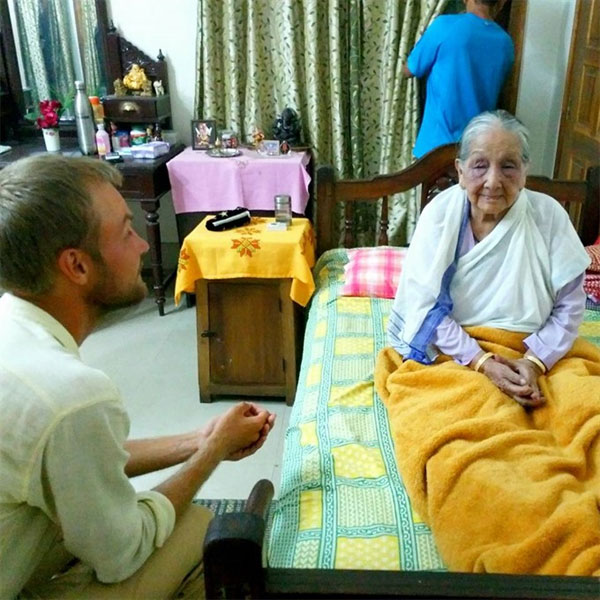 Unexpected encounter: Mark met one of the oldest woman in Haflong City in the Indian state of Assam.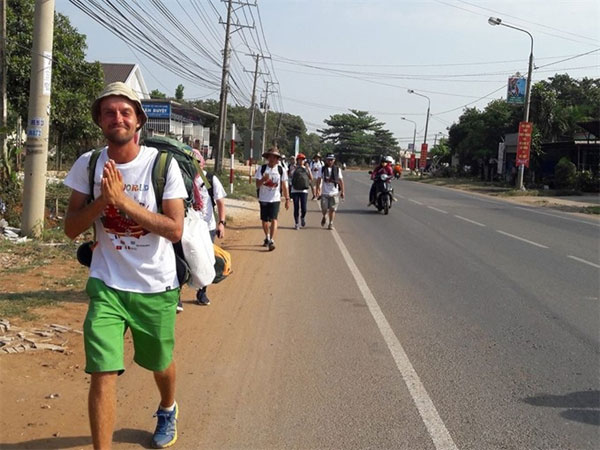 Namaste: Meigo Mark folds his hands in a traditional greeting as he walks with a group of 13 Vietnamese people from Tan Ha Market, Lam Dong Province to HCM City.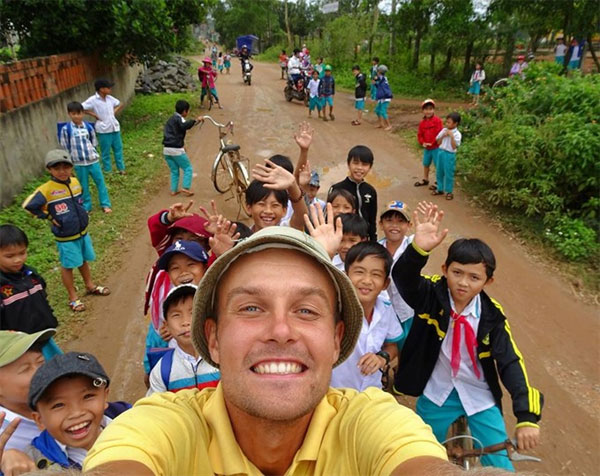 Me and them: Mark takes a selfie with Vietnamese children.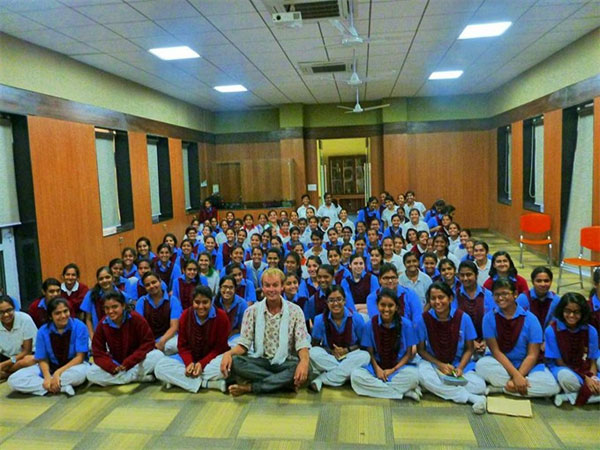 Mark was invited to visit Maharani Gayatri Devi Girls' School in Jaipur India to talk with students here.
Hong Van
VNS