VietNamNet Bridge - Sun Group's five-star Sun Premier Village Kem Beach Resort in the south of Vietnam's largest island of Phu Quoc had an impressive launch in Hanoi and HCM City last week.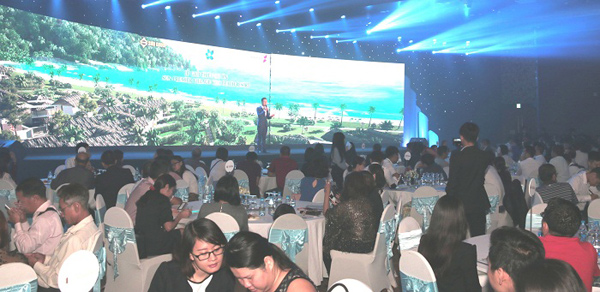 The launching ceremony of Sun Premier Village Kem Beach Resort
The event, held at Melia Hanoi on June 10 and InterContinental Asiana Saigon on June 11, attracted hundreds of investors and up to 90 percent of the products offered in this batch received deposits. 
Tong Thanh Chung, general director of Vietnam Sky Realty Joint Stock Company, a distributor of Sun Group, said that Sun Premier Village Kem Beach Resort looks to be on its way to become an investor favourite this year, thanks to its outstanding competitive advantages.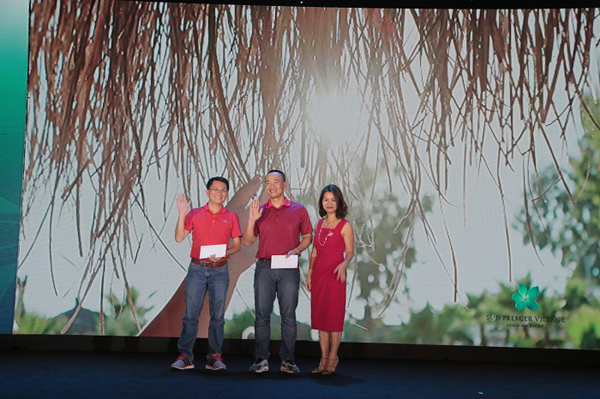 The first buyers of villas of the Sun Premier Village Kem Beach Resort project.
Chung said that Sun Group-developed products have always been hot, thanks to their prime location and careful planning providing access to resort and entertainment facilities. Additionally, the prestige of the developer, the brand of the managing company, and the high committed profit rate add to the enticement. 
"Sun Premier Village Kem Beach Resort have all of these, but at the same time is reasonably priced so investors will have the opportunity to earn big from their purchase," Chung said.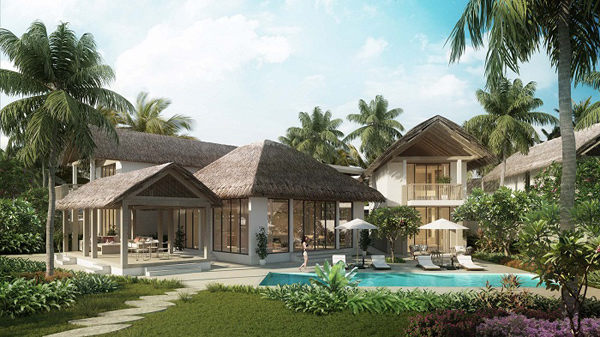 Lai Thi Kim An, general director of New Land Real Estate Joint Stock Company, said the unique design and five-star amenities will create a masterpiece resort property for the south of Phu Quoc.  
"Now is a good time for investors because the villas in the project are reasonably priced and carry outstanding profit commitment," she said. 
Investor Nguyen Tram Anh from District 3 of Ho Chi Minh City had visited Kem Beach and the surrounding areas before deciding to invest.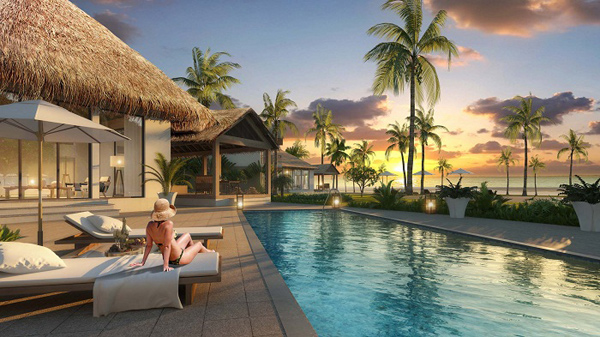 "The best thing about the project is the location. It is at the centre of Vietnamese tourism. The crescent beach is beautiful, and it is next to the resort and entertainment complex, also developed by Sun Group. The planning was done solely by Sun Group in the area, so it is consistent and synchronous, giving it bright prospects for sustainability. Also, I am convinced of the profitability," she said, adding that the attractive sales policy and the high profit commitment is the reason she eventually chose to invest. 
Nguyen Ngoc Dung from Nghe An province said his experience at InterContinental Danang Sun Peninsula Resort at the beginning of the year gave him an impression of properties developed by Sun Group. 
"The properties are not only beautiful, but also show cultural character in their design and architecture," he said. 
The Hon Thom trans-sea cable and the sizable sea entertainment complex that Sun Group is developing next to its resorts will attract more tourists to the area, promising profitability for the villas. 
After making a deposit, some of the investors were lucky to earn vacation stays at the famous JW Marriott Phu Quoc Emerald Bay, another design highlight at Kem Beach.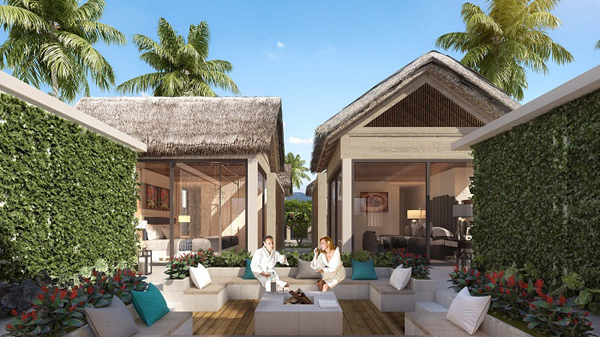 According to Sun Group's real estate distributor Sun Realty, more than 90 per cent of the products launched in this first batch were reserved by investors. This impressive result shows that the project is a bright spot in the luxury property scene in Vietnam. 
The developer Sun Group has just announced its attractive sales policy for buyers at Sun Premier Village Kem Beach Resort. Specifically, buyers will enjoy a 0 percent interest rate on loans covering 70 percent of the villas value and a grace period of 24 months for the principle. The minimum committed profit for the timeshare programme is 9 per cent a year for 15 years and 225 nights of stay during this period at facilities developed by Sun Group, including InterContinental Danang Sun Peninsula Resort and JW Marriott Phu Quoc Emerald Bay. 
Official sales agents of Sun Group for Sun Premier Village Kem Beach Resort: 
- Sun Group's real estate distribution network — hotline: 0901 448 418
- SmartRealtors & Partners Real Estate Company Ltd. — hotline: 0909.80.39.39
- Titan Real-Estate Service JSC — hotline: 0995 446 688.
- Vietnam Sky Realty Joint Stock Company — hotline: 0944.95.44.95  
PV