VietNamNet Bridge – Often acclaimed as the queen of flowers in northwestern forests, the rhododendron is commonly thought to grow all over the Fansipan mountains or Mau Son region. However, Pu Ta Leng Peak with its magnificent terrain and harsh climate nurtures the most beautiful rhododendrons. Tourists of all kinds have fallen in love with this natural beauty.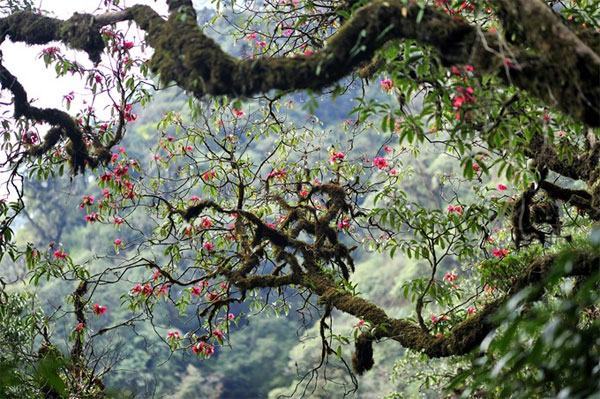 Reach: Rhododendrons can reach up to 7 metres in height, above the dense foliage of the rainforest. — Photos vietnammoi.vn
Putaleng in the ethnic Mông language was originally pronounced as Pu Ta Leng, with "Pu" meaning "mountain". Located 3,049 metres above sea level on the Hoang Lien Son mountain range at Te Leng Village, Tam Duong Commune, Lai Chau Province, Pu Ta Leng is the second highest mountain in Indochina.
Visitors are attracted to Pu Ta Leng by not only the bright rhododendrons but also various outdoor activities such as trekking through the streams, dense bamboo forests, and clouds of mist and fog.
Trekking Pu Ta Leng is not a piece of cake even for veteran adventure travellers because of the steep, nearly vertical sometimes, slopes, the tangles of the rainforest and craggy terrain.
To compensate for the hard work along the way, Pu Ta Leng offers a spectacular bird's eye view of the pristine mountains of Hoang Lien Son, veiled by thick fog. On the summit, it feels like a utopian paradise.
The trek consists of steeply ascending paths interwoven with nauseously descending slopes, and fresh streams filled with crystal clear water from deep within the mountain; below is the rock bed covered by lush green moss.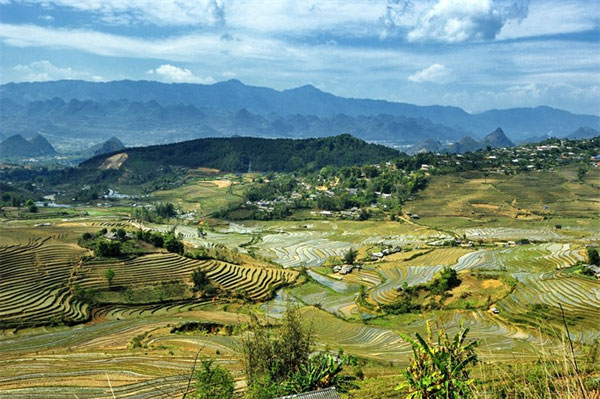 Spectacular: Looking down to the valley, tourists can see eye-catching terraced fields.
From 2,600m upwards, the forest opens out with more the beautiful colours of the blue sky or the deep earthy brown hue of the tree trunks reaching high for sunshine.
Still, the focal point of this natural masterpiece is undoubtedly the gorgeous blooms of purple and pink rhododendrons on top of the tree tops. 
The flowers are both a reward and a warm welcome from the mountain to us.
Rhododendrons can reach up to 7 metres in height, above the dense foliage of the rainforest for sunlight and pollination. Fascinated by their beauty, we were eager to move on and explore more along the way.
When approaching 2,922m, where the whole group stops for lunch, the rainforest with ferns and trees is replaced by the towering bamboo forest.
Growing high above us, millions of bamboo trunks, all roughly 3-5cm in diameter, grow closely together, towering over the walking path forming a beautiful natural tunnel, reminding one of scenery in an Asian action movie.
Finally, reaching the summit of Pú Tả Lèng Peak, one feels a sense of self-satisfaction after overcoming the challenges of Mother Nature, honouring and admiring her splendid creation and great gifts to us. All those emotions and feelings go beyond words.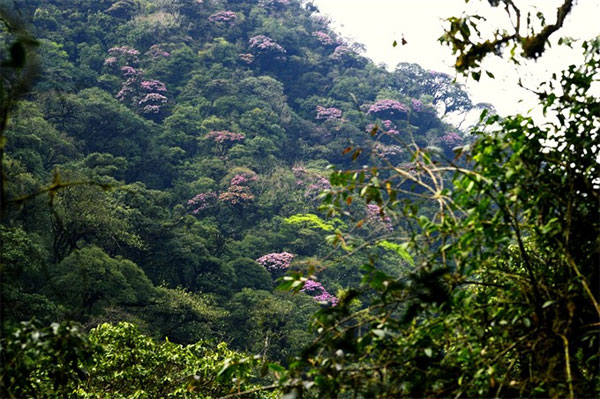 Enchanting: The focal point of the natural masterpiece is undoubtedly the gorgeous blooms of rhododendron of purple and pink.
Transportation
You have two choices of transportation to travel to Pu Ta Leng.
- Motorbike: Travel via the route Ha Noi -  Phu Tho - Yen Bai - Lao Cai City - Sa Pa - Tam Duong Town - Ho Thau.
- Coach: You can catch a sleeping coach at My Dinh Station (Ha Noi), departing at 10pm, passing by Km15 (the exit to Ho Thau).
Suggested Itinerary
Day 1: Ha Noi - Ho Thau - Elevation mark 2,400m.
Before departing from Ha Noi, you must contact your tour guide, who is responsible for leading the trek and supporting you along the way. 
The sleeping bus departs at 10 pm at the station and arrives at Km15 about 4-5 am the next day. Contact your tour guide to pick you up at Km15, escort you to their house and prepare food and other necessities for the trip.
Once preparation is completed, you trek from Ho Thau for 8-10 hours, depending on your physical state, to the camping site at 2,400 m. The group sets up tents, eats and rests.
Day 2: Elevation mark 2,400 m — Putaleng Peak — elevation mark 2,400 m — elevation mark 1,800 m.
The whole group gets up early and has breakfast. From elevation mark 2,400m, the group climbs to the summit of Pu Ta Leng. Along the trek, you will encounter some small streams and the bamboo forest.
Reaching the peak of 3,049m, the group takes a rest, enjoys the view and has a meal, all in about two hours and then starts descending to elevation mark 2,400 m, takes down the tents and then continues to mark 1,800m (the route to Ta Leng Village), spending the second night here.
Day 3: Elevation mark 1.800m - Ta Leng Village - Lai Chau City - Ha Noi.
From the elevation mark 1,800 m, you travel towards Ta Leng Village. Always carry all of your personal stuff because the route may change and the way back home may be different from the one you went.
Once reaching the village, you can rest before catching a taxi motorbike back to Lai Chau City and a sleeping coach back to Ha Noi.
Food & drink
If you don't want to carry lots of food for all three days, you should talk beforehand with your tour guide so they can support you by providing you with either canned food or fresh ingredients for cooking. Trekking with locals means that you can have a taste of foraged wild plants and herbs as they know which are edible.
However, it is still advisable that you should bring along your own snacks, water and other food that is not easily perishable to cut down extra costs and boost your energy along the exhausting trek.
Moc Mien
VNS