A southern food flea market is to be opened in Can Tho City, which aims to promote the country's Mekong Delta culinary specialities as well as to attract domestic and international visitors to the region, according to the province culture and tourism department.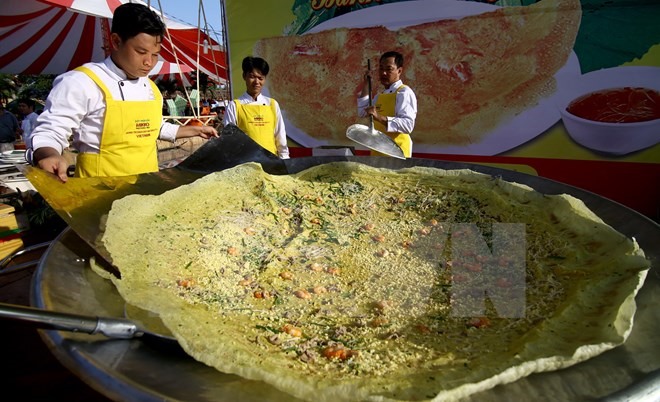 After recent successful tourism events, Cần Thơ City plans to host a Southern Food Flea Market every Saturday and Sunday at popular tourism destinations. 
The market, which will promote Mekong Delta specialties, is expected to attract national and international tourists, said Lê Văn Tâm, deputy chairman of the provincial People's Committee.
The 6th Southern Traditional Cake Festival, which was held last month, was a successful event and many vendors and cake artisans said they would like to participate in similar, long-term activities.
Cần Thơ City said it would open a Southern Food Flea Market every Saturday and Sunday at several tourism destinations, including Ninh Kiều Wharf and Nhà Lồng Chợ Cổ, among others.
Tâm said that food hygiene inspections at stalls would be conducted regularly and that vendors must present a food safety hygiene certificate in order to run their business.
Though gaining profit is important, vendors must sell products at reasonable prices, he said, adding that organisers would welcome all vendors who bring a variety of goods.
Nhâm Hùng, a cultural tourism researcher, said that it was important for vendors and artisans to improve their skills and introduce interesting products not only through storytelling but live performances.
He said that authorities should support vendors and artisans in branding so they can add even more value to their products.
Cần Thơ City has become a more popular tourism destination in recent years.
During the recent four-day holiday, it attracted more than 100,000 visits, up 12 per cent year-on-year, and earned VNĐ30.5 billion ($US1.34 million), up 17 per cent year-on-year.
Ninh Kiều Wharf, Trúc Lâm Phương Nam Temple, Mỹ Khánh Tourism Village and Cái Răng Float Market are among the most-visited spots.
Despite the increasing number of tourists, Cần Thơ City has managed to met accommodation demand, with four- to five-star hotels nearly fully booked. 
VNS