VietNamNet Bridge - Temples are among Vietnam's most popular attractions, where travelers can marvel at intricate carvings and well-preserved architecture as well as experience the local culture during their holiday. 
A predominantly Buddhist country, there are thousands of pagodas and shrines dedicated to the revered icon. Here are the most well-known temples in the country.
Tran Quoc Pagoda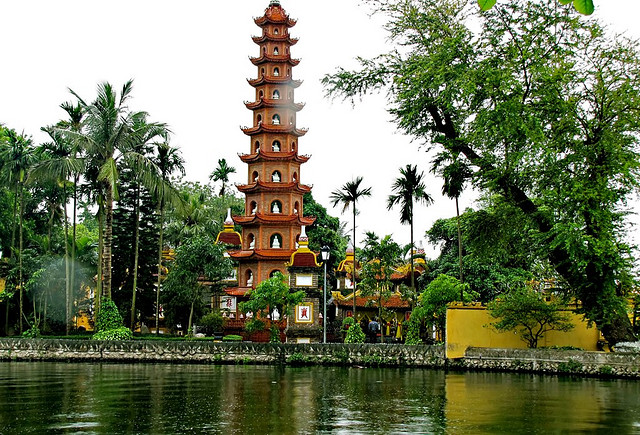 Opening Hours: Daily 07:30 – 18:00
Location: Thanh Nien Road, Ba Dinh District, Hanoi
Tran Quoc Pagoda is the oldest of its kind in Hanoi, dating back to the 6th century during the reign of Emperor Ly Nam De Dynasty (544 - 548). 
The Buddhist shrine has undergone several changes throughout the years, particularly its renaming from An Quoc to Tran Quoc (protecting the country) by Emperor Le Huy Tong in the 17th century.
Although it's now set on an islet within West Lake, the pagoda was originally located on banks of Red River before it's relocated in 1615 due to the river's encroachment. 
Surrounded by lush greenery, Tran Quoc Pagoda was a favorite amongst the kings and royal families for festivals, full moons, and Tet Festival.
Standing at 15 metres, the main pagoda is made up of eleven levels, while its surrounding buildings include an incense burning house and a museum housing historic relics. 
You can also see intricately carved statues dating to 1639, each of which bear unique facial features.
Cao Dai Temple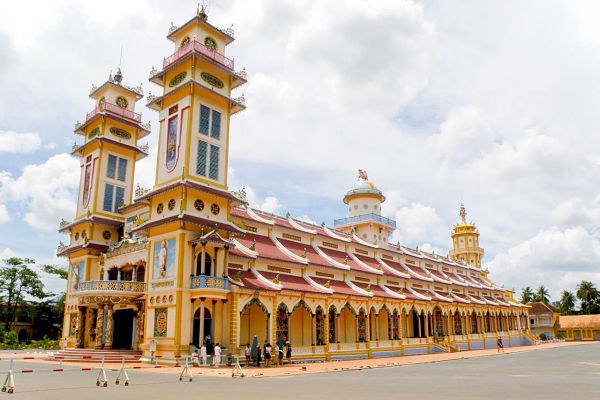 Location: Long Hoa Village, Tay Ninh Province
The Cao Dai Temple, about 100 km northeast of HCM City, is a technicoloured religious site that was constructed in the 1930s. 
Cao Daists believe that all religions are ultimately the same, combining Hinduism, Judaism, Zoroastrianism, Buddhism, Taoism, Confucianism, Christianity and Islam into a monotheistic religion. 
Open to the public, there are daily worshipping ceremonies held every six hours where you can photograph devotees in action, with long flowing robes of white for lay followers and yellow, blue or red for priests, while bishops have the Divine Eye embroidered on their headpieces.
There are nine hierarchies of worship including a pope, cardinals and archbishop with festivals, rituals and prayer all practiced regularly. 
The temple is similar in design to a Christian Cathedral featuring side aisles and an altar, as well as a long central nave, all positioned as they would be in a Christian Church. And there is even a high dome decorated with clouds and saints. 
The main focal point is a Divine Eye symbolising God which has the Ying and Yang icon in its pupil. 
Ceremonies take place daily with two services accompanied by musicians and a choir singing in English to traditional Vietnamese music.
Worshippers at the Cao Dai Temple strive for world peace and harmony with beliefs steeped in a number of world religions. 
Followers must obey the five virtues of Confucianism – humanity, obligation, civility, knowledge and reliability -- and have belief in the Buddhist principles of rebirth and karma. 
Watching Caodiasts pray is one of the major highlights when visiting the temple as they dress in long flowing robes of white for lay followers, yellow, blue or red for priests whilst bishops have the Divine Eye embroidered on their headpieces. 
During worship men are seated on the right and women on the left with all devotees seated in orderly rows. 
The building is a combination of Neo-Gothic, Baroque and Oriental design and is very ornately decorated including dragon wrapped pillars, seven-headed cobras and ceilings of sky blue.
Worship takes place every six hours and starts at midnight with chanting at 06:00 and 18:00 daily. 
Visitors are permitted to watch from the galleries and may take photographs; knees must be covered and shoes removed before entering. 
Silence is requested when a service is taking place. This is one of 1,000 Cao Dai Temples located in Vietnam.
Bai Dinh Pagoda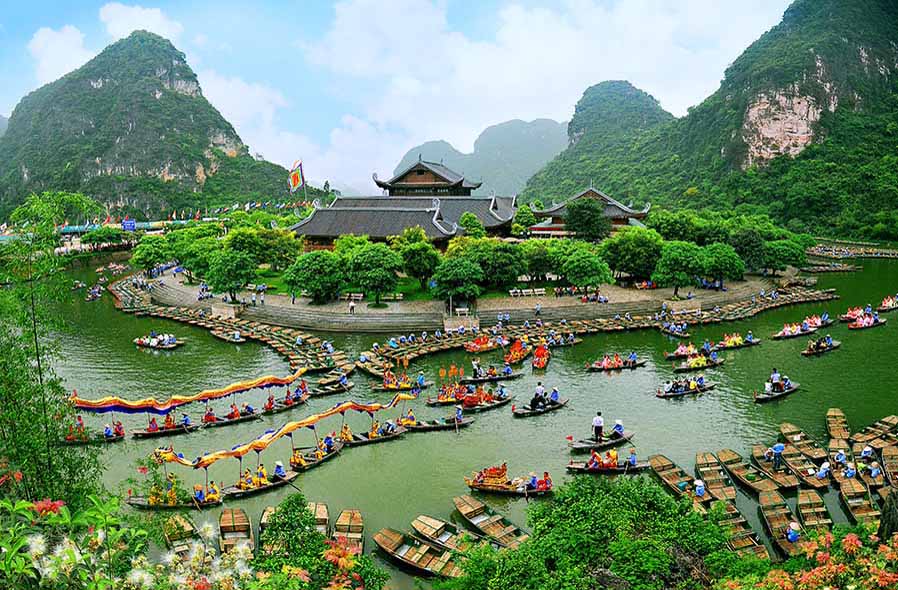 Location: Gia Sinh Commune, Gia Vien District, Ninh Binh Province
Bai Dinh Pagoda is situated to the west of the ancient city of Hoa Lu, which belongs to the Gia Sinh commune in Ninh Binh, about 95km from Hanoi. 
Bai Dinh Pagoda covers an area of 539 hectares which includes 27 hectares of the ancient segment of the pagoda, and 80 hectares of the new Bai Dinh Pagoda.
During the ancient times of Ninh Binh more than a thousand years ago, there were three ruling dynasties namely, Ly, Dinh, Tien Le. All three dynasties believed in Buddhism which they deemed as the state religion. 
The strong belief in Buddhism spawned a plethora of pagodas all over Vietnam, which included the renowned Bai Dinh Pagoda in Mount Dinh.
Bai Dinh Pagoda consists of the old and new sections. The newer section is a representation of Vietnam's past, its traditional cultural identity, and majestic architecture. 
Because of these designs and fragments of the past, the pagoda is a main attraction for tourists. 
The new section of Bai Dinh Pagoda is recognized as the biggest pagoda in Southeast Asia.
Ancieny Bai Dinh Pagoda is a distant 800 meters from Tam The Temple along Mount Dinh. 
This well-known pagoda is situated near the top of the forest, which also includes the God Cao Son Temple, Nguyen Temple, and Buddhist Cave. 
The many architectural designs and antiques inside the pagoda depicted the former reign of the Ly Dynasty, and have made it an important historical and cultural relic of the country.
The large cubes were one of the distinct architectural designs of the ancient Vietnamese. 
The main difference between the design of the Bai Dinh Pagoda and other pagodas in China is the dark color of the phoenix-like structure. 
The details in the structure also represented the traditional handicraft villages found in Vietnam.
Bai Dinh Pagoda has earned distinction as a well-known temple throughout Asia. The records of the temple include:
Asia's biggest gilt-bronze statue: 100 ton statue in the French Colonial District.
Biggest bronze replica of Buddha in Southeast Asia: 100 ton statue just outside the actual temple.
The biggest bell in Vietnam: The Great Bell weighs an astonishing 36 tons inside the Bell Tower.
The biggest pagoda in Vietnam: The pagoda complex covers 539 hectares.
The Pagoda's Horn Corridor is the longest in Asia: Horn Corridor measures around 3km.
The complex has numerous statues: 500 blue stone statues that measure 2m high.
The biggest Boddhi temple in Vietnam: 100 statues are taken from Bodhi, India.
The Temple of Literature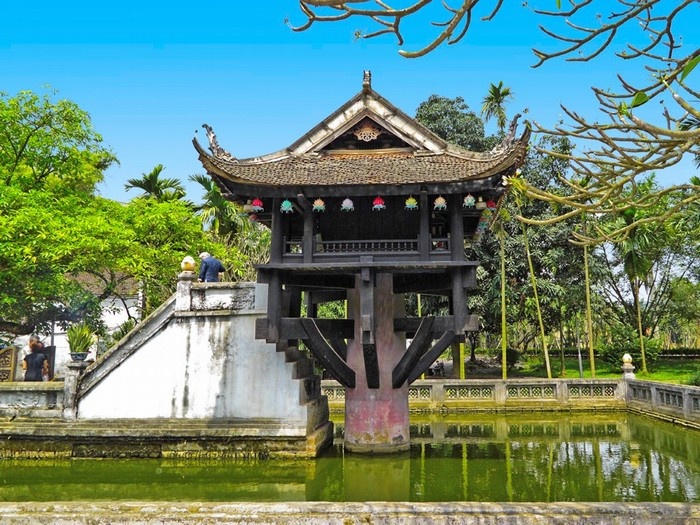 Opening Hours: Tuesday - Sunday 8:30 - 11:30 & 13:30 - 16:30
Location: 58 Quoc Tu Giam Street, Dong Da District, Hanoi
The Temple of Literature is often cited as one of Hanoi's most picturesque tourist attractions. 
Originally built as a university in 1070 dedicated to Confucius, scholars and sages, the building is extremely well preserved and is a superb example of traditional-style Vietnamese architecture.
This ancient site offers a lake of literature, the Well of Heavenly Clarity, turtle steles, pavilions, courtyards and passageways that were once used by royalty. 
Visiting the Temple of Literature you will discover historic buildings from the Ly and Tran dynasties in a revered place that has seen thousands of doctoral graduates in what has now become a memorial to education and literature.
Originally the university only accepted aristocrats, the elite and royal family members as students before eventually opening its doors to brighter 'commoners'. 
Successful graduates had their names engraved on a stone stele which can be found on top of the stone turtles.
The Temple of Literature is a place of study rather than a religious landmark. 
There are five courtyards at the temple, two brimming with landscaped gardens. The third is home to a large pond known as the Well of Heavenly Clarity; the fourth courtyard is called the Sage Courtyard and features a statue of Confucius and a house of ceremonies; and the last courtyard is Thai Hoc in which stands a large drum and bell tower. 
This historic site is ranked as one of Hanoi's most important cultural places and is steeped in Vietnamese history.
The layout of the temple is based upon the birthplace of Confucius with a magnificent main entrance and a path, once reserved solely for the king, running through the centre. 
The immaculate gardens are rich in ancient trees and are considered a serene place in which students can relax. 
There are stone statues and inscriptions dotted throughout the temple which has retained many of its original features as the most renowned landmarks of academia in Vietnam.
Thien Mu Pagoda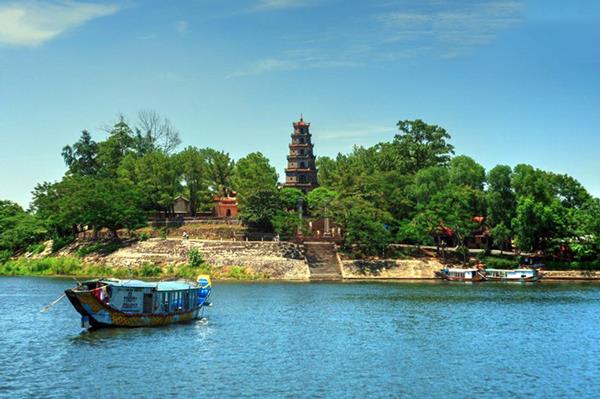 Opening Hours: Daily 07:00 – 17:00
Address: Kim Long Road, Huong Long Ward, Hue
Thien Mu Pagoda is set atop a hill just outside Hue City Centre, offering breathtaking views of Perfume River and Hue Imperial City. 
One of its standout features is a 21-metre-tall octagonal tower called Thap Phuoc Duyen, which was built in 1844 under the reign of Emperor Thieu Tri. 
Meanwhile, the main sanctuary houses wooden sculptures of temple guardians, gold-plated Buddha statues and a two-tonne bell cast in 1710. 
Thien Mu Pagoda was also the home monastery of Buddhist monk Thich Quang Duc, who famously self-immolated in 1963 in protest against the persecution of Buddhists by the South government.
Van Thuy Tu Temple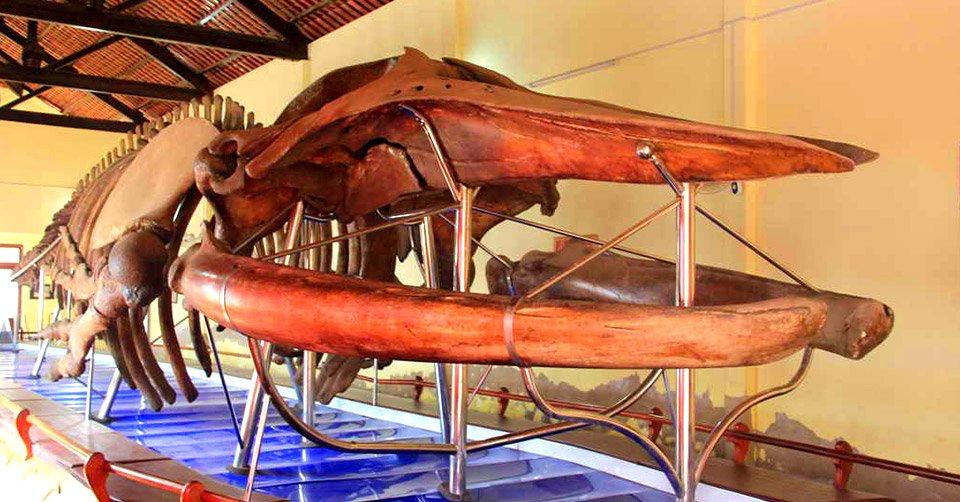 Opening Hours: Daily 07:00 – 17:00
Address: 54 Ngu Ong Street, Phan Thiet City
Van Thuy Tu Temple is the largest and oldest whale temple in Phan Thiet, displaying skeletal remains of whales as well as fishing boats, conical hats and authentic artefacts from the Nguyen Dynasty. 
Built in 1762 to commemorate Ca Ong (Lord Whale), locals believe that whales are benevolent creatures that protect fisherman from bad weather and dangers at sea. 
Today, this small temple houses the skeletal remains of more than 500 whales that are over 100 years old, including a 22-metre-long skeleton that's believed to have been the biggest in Southeast Asia. 
Numerous artefacts from the Nguyen Dynasty are also displayed within the main hall of the temple, such as written decrees by 24 former kings, terracotta statues, incense table, lacquered boards, and an antique bronze bell.
Religious ceremonies such as Spring Festival, Whale Worshipping Festival, and Peace Prayer Ceremony are held at the temple every year, where locals gather and pray for smooth sailing, good weather and fishing harvest. 
Visitors can also expect an array of activities such as solemn rites, folk singing, and boat racing during these events.
Jade Emperor Pagoda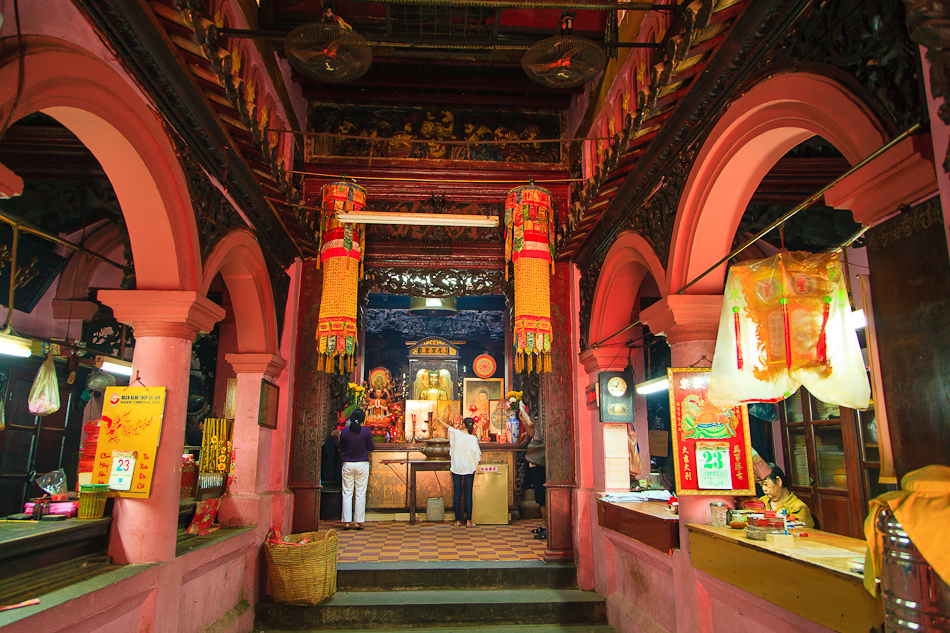 Opening Hours: 08:00 – 17:00
Location: 73 Mai Thi Luu Street, District 3, Ho Chi Minh City 
Emperor Jade Pagoda, also known as Tortoise Pagoda, is one of the five most important shrines in Ho Chi Minh City. 
Built at the turn of the 20th century by a community of Cantonese who migrated from Guangzhou province in Southwest China, this pagoda is a fine representation of the Mahayanist branch of Buddhism that is practiced widely in Vietnam. 
Open daily, the temple can get busy with locals who come here to prayer or make votive offerings of flowers, as well as lighting candles and joss sticks, offering an atmospheric feel to the place.
In the main hall, the Emperor Jade Chua Ngoc Hoang or the 'God of the Heavens' reigns supreme. Aided by two assistants, the Emperor decides who can enter this higher realm. Those who don't pass this gate will meet with the formidable 'God of Hell', on the left, who will send sinners to one of the 10 levels of hell. 
Life in purgatory is magnificently if somewhat gruesomely represented by the intricate carvings on the temple wall, depicting different kinds of punishments that await transgressors.
In a different hall, the goddess of fertility Kim Hua, surrounded by figures of women and small children, blesses childless couples who pray for an offspring here. 
The goddess of mercy Kuan Yin, who forms a very important part of any Taoist temple, has an altar in a room on the top floor.
Emperor Jade Pagoda is a living and working shrine very much in use by the locals who come here to pray or make votive offerings of flowers, and light candles and joss sticks. 
With worshippers coming and going, the temple can get busy and feel a little cramped. Its dimly lit, the narrow passageways filled with smoke lend an atmospheric feel to the place, adding to its charm.
There is an overcrowded tortoise pond in front of the temple grounds and feeding the animals is considered part of the merit-making, temple-going rituals.
Perfume Pagoda - Hanoi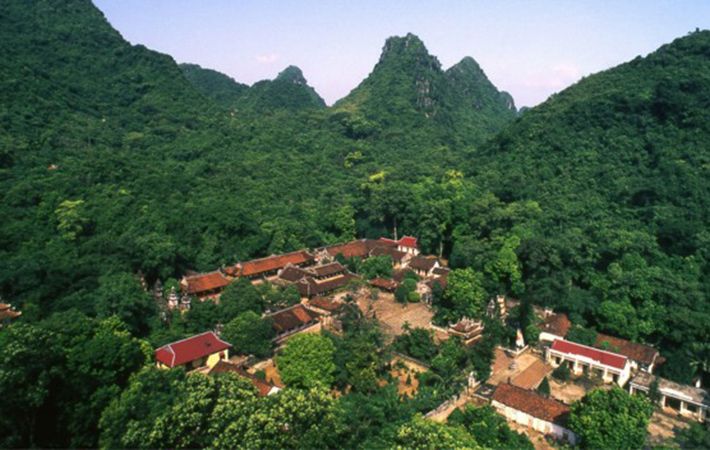 The Perfume Pagoda is a dramatic temple complex believed to have been first built in the 15th century. This series of Buddhist temples are built into a mountain range in a maze of alleyways carved into the rock, with rich forests and flowing streams all around. 
Located around 60 km south of Hanoi, in the Son Mountains, the journey here is an experience in itself: first you must take a two-hour journey by car or bus before travelling by boat to the foot of the mountains.
The Perfume Pagoda, known locally as Chua Huong or 'inner temple', is at the centre of a very revered and sacred site featuring a maze of mainly Buddhist temples built into the limestone cliffs of Huong Tich. At the heart of this complex lies the Perfume Temple or Perfume Pagoda in the Huong Tich Cave.
It is believed that the first temple was built here in the 15th century, although legend declares that the site was actually discovered over 2,000 years ago by a Buddhist monk who was meditating nearby. 
The mountain foothills are an area of great natural and spiritual beauty filled with streams, tropical plants and temples.
There are many pagodas to visit, each offering a different shrine, most of which are Buddhist although one or two are animist. 
The Perfume Pagoda attracts pilgrims and tourists seeking good luck from the stalagmites and stalactites inside the cave which have been named according to the individual blessing they can bestow. 
Dun Tien offers prosperity and Nui Co offers the chance of giving birth to a girl whilst Dun Gao translates as a 'rice stack' to those hoping for a bountiful harvest.
The entrance to the vast and mysterious Perfume Pagoda and Huong Tich Cave resembles that of an open dragon's mouth and is decorated in ancient Chinese letters which translate to 'first grade cave of the South World'. This writing dates back to 1770.
Inside the cave are many statues carved from green stone which decorate an intricate shrine, including one of Lord Buddha and another of the Buddhist goddess Quan Am. 
Smooth stalactites and stalagmites also fill the cave which are constantly touched by pilgrims believing them to deliver miracles and good luck. 
You will find the temple very cool inside and also very busy especially during the Chua Huong festival which lasts from January to April.
It's well worth taking time to stop and enjoy the view enroute to the temple as the scenery is very interesting, dotted with fruit trees including apricots and medicinal herbs grown by local farmers. 
Other temples to see within the complex include the Vong Temple, Thuyet Kinh Cave and Thien Son Pagoda.
The journey to the Perfume Pagoda is itself an interesting experience. Located about 60km southwest of Hanoi in the Huong Son Mountain range you will need to take a car for around two hours before boarding a wooden or iron boat to reach the temple complex.
The boat journeys down a narrow flowing steam fringed by rice fields, temples and grass and you will have the option to stop and visit some of these temples. 
However, if you are short of time its best to head straight to Huong Tich Cave. 
It's an uphill walk to the Perfume Pagoda which will take around one hour and things can get slippery, so remember to bring walking shoes or boots.
The Mieu Temple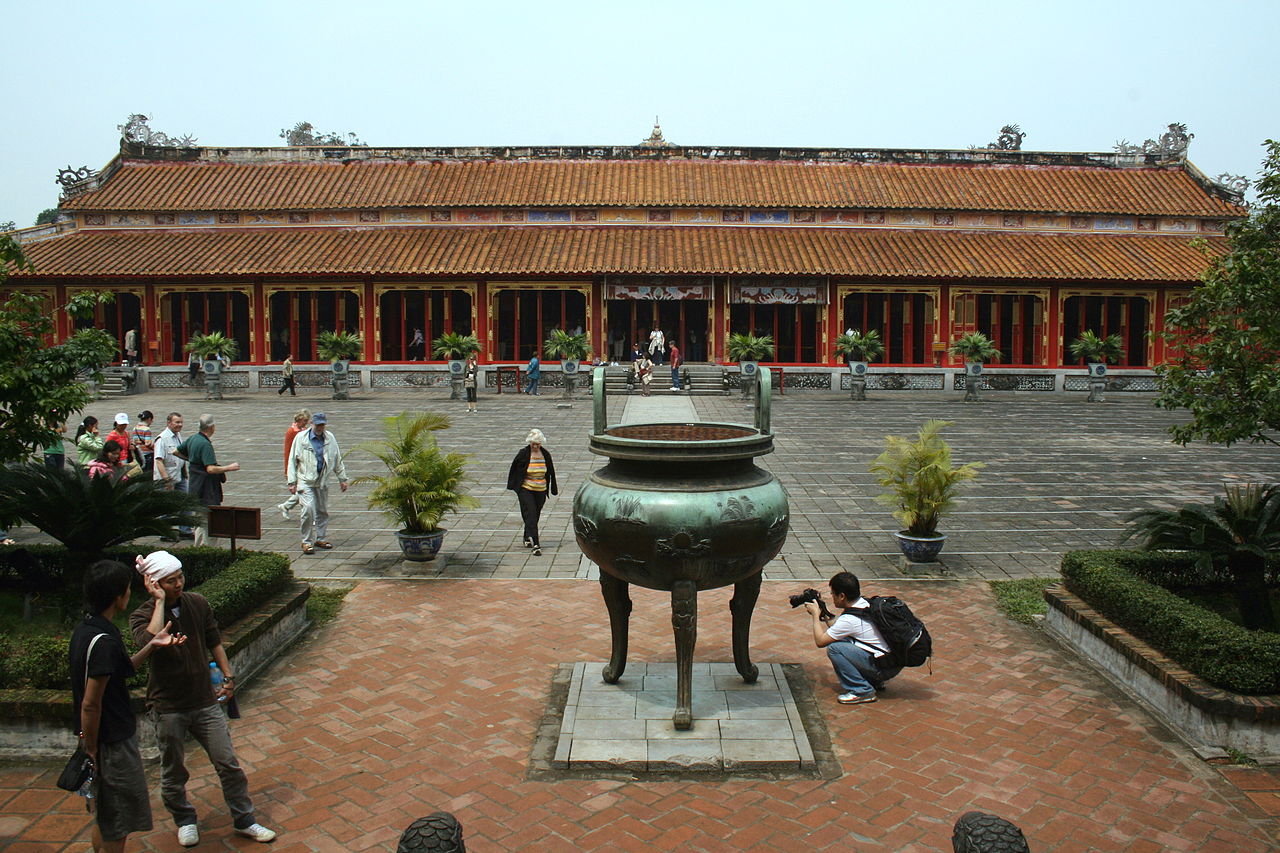 Opening Hours: Daily 07:00 – 17:00
Address: Le Huan, Thuan Thanh, Hue City
The Mieu Temple, part of the UNESCO-protected Complex of Hue Monuments, was constructed by Emperor Minh Mang in 1821 in commemoration of former emperors of the Nguyen Dynasty. 
One of the most well-preserved structures in the complex, this ancestral temple houses an ornate three-tiered pavilion, various personal items and portraits of its 10 emperors, as well as nine dynastic urns that were cast between 1835 and 1836. 
While travellers are free to explore the temple site, guided tours are available for those looking to know more about the history of Hue.
Giac Lam Pagoda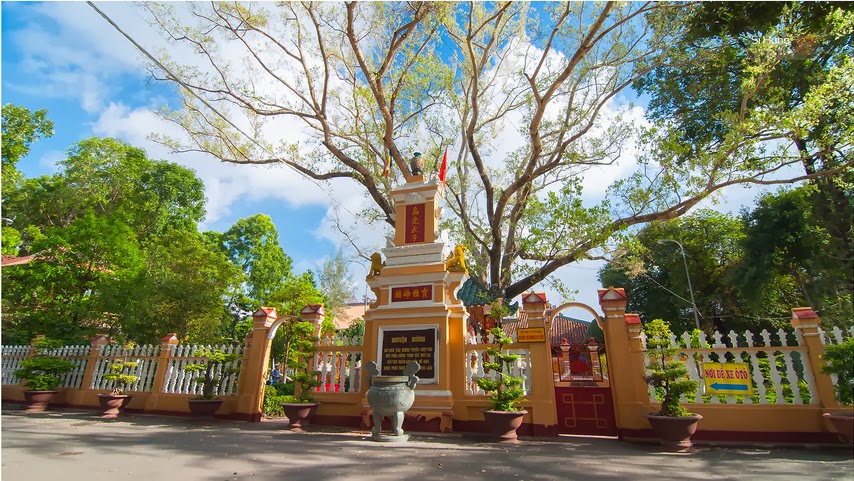 Opening Hours: Daily 05:00 – 12:00 & 14:00 – 20:00
Address: 118 Lac Long Quan, District 3, Ho Chi Minh City
Giac Lam Pagoda, built in 1744, is the oldest Buddhist temple in Ho Chi Minh City and, as such, was listed as an important historical site by the Vietnamese Department of Culture in 1988. 
Situated in Binh Than District, the pagoda is surrounded by spacious walled gardens and fronted by statues of mythical dragons while its ceremonial hall is dominated by a large statue of Amitabha Buddha, who is surrounded by five smaller carvings. 
Outside, a 32-metre-tall stupa dominates the temple grounds, which contain a Buddha relic housed on the top floor. Read More...
VNguide/VietNamNet