VietNamNet Bridge – Already famous for its incredible network of underground tunnels, Cu Chi is using its rustic ambience to attract more visitors keen to get away from urban bustle, Son Ha finds.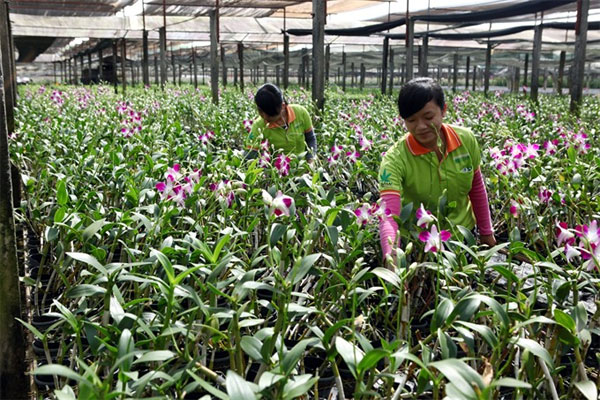 Floral farming: Orchid garden in Fosaco Village, Cu Chi District. Photo Le Minh
Arguably, no visitor to HCM City, or Viet Nam, even, will miss a trip to the Guerilla Warfare Tunnels.
They are a dark reminder of dark days, and a fantastic reminder of incredible bravery, ingenuity and indomitable spirit.
The underground network of tunnels that will never cease to amaze, with its sheer length and facilities like trenches, docks, dining spaces, bedrooms and warehouses, has come out of hiding to become a living museum of the Resistance.
The earliest tunnel appeared in 1948 in two communes of Tan Phu Trung and Phuoc Vinh An. At first, there were just short and simple complexes for hiding documents, weapons and some guerillas.
Later, more tunnels were dug and wound their way to neighbouring communes. Between 1961 and 1965, six communes in the north of Cu Chi had completed the "backbone" tunnel. Branch tunnels connected with the backbone to form a network that could be expanded, if needed. They were needed. The Cu Chi Tunnels expanded rapidly, especially in the beginning of 1966, as the fight against American intensified.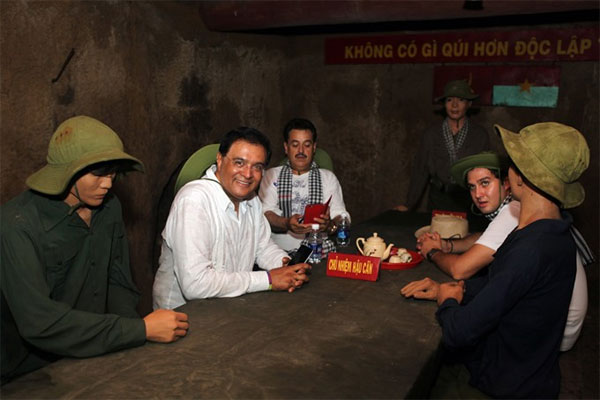 Reliving history: Tourists take a seat at what used to be a meeting room during the war in the Cu Chi Tunnels. Photo Le Minh
By 1967, the tunnel system had a total length of 250 kilometres, a man-made wonder.
The "iron land" of guerilla forces has now transformed itself, from an area most devastated by war in the southern region into a popular tourist destination and now, a "new rural area".
The world's top underground tourist attraction welcomed around 1.5 million visitors last year, 650,000 of them foreigners, says Colonel Tran Van Tam, director of Historic Relics & Cu Chi Tunnel Complex.
There is a proposal to expand the Cu Chi Tunnel Complex by 125 hectares, and authorities are looking for investors for it, he says.
They hope to create products and services that educate the younger generations about the country's revolutionary traditions while also entertaining visitors, he says.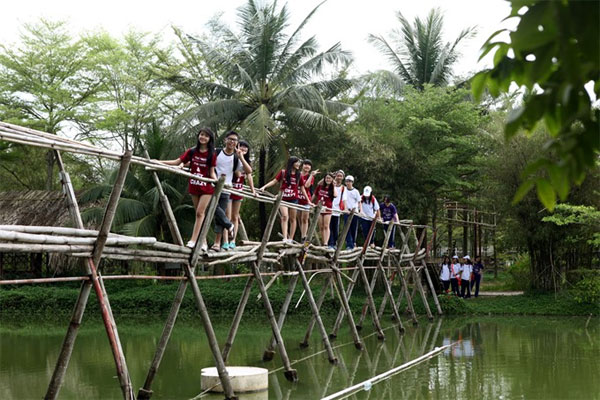 Balancing acts: A group of teenagers enjoy a rural outing at Fosaco Village, Cu Chi District. Photo Le Minh
War's over
Today, Cu Chi has much more to offer than the vestiges of war.
Thanks to a dense waterway system and a picturesque rural and river landscape along the Sai Gon River and Xang Canal, several ecotourism sites have sprung up in the district over the last decade.
Given its proximity and ease of access to downtown HCM City, these sites have made Cu Chi an ideal, hassle-free weekend escape from the hustle and bustle of city life.
Established in 2010, the Green Noen farm, a pioneer in the area in terms of combining farming with ecotourism, has helped thousands of students learn about agriculture and rural life.
The 20-hectare farm in An Nhon Tay Commune grows mushrooms, orchids and organic vegetables, and breeds cows, deer, goats, sheep, horses, chicken and ducks.
It has 33 mushroom "houses", four animal breeding facilities that take care of hundreds of animals, and a 5,000sq.m garden of organic watermelons and various kinds of vegetables.
Moreover there is a freshmilk processing line with the capacity of two tonnes per hour.
All the feed for animals and other farm inputs are produced either on the farm itself or bought from neighbouring farms, boosting the local economy.
Visitors to this farm can enjoy the rural setting, breathe in fresh air and acquire hands-on experience in rice cultivation, mushroom collection, milking cows, nurturing animals, picking eggs and packaging milk, says Nguyen Thi Thu Huong, director of the farm.
They can also enjoy dishes cooked with fresh organic farm produce. Overnight stay and camping facilities are also available at the Green Noen.
The farm welcomes thousands of students and tourists every year, Huong says.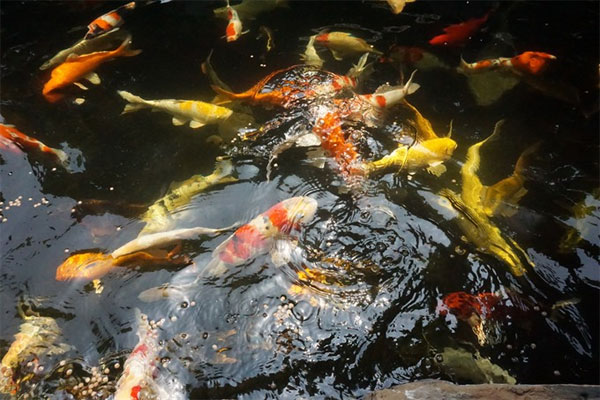 They're biting: Koi varieties such as Kohaku, Ogon, Showa, Sanka, Kohaku and Chagoi are bred at the Koi Garden, a special combination of aquaculture and ecotourism in Cu Chi District. Photo Thu Hang
Fish and fishing
On a 10-hectare plot on the banks of the Sai Gon River in Trung An Commune's Hoa An Hamlet, the Hai Thanh Koi Farm comfortably brings aquaculture and ecotourism together.
The garden uses modern technology to produce high-quality koi fish for local breeding and export.
Opened in November last year, the garden invests VND150 billion (US$6.63 million) in a koi breeding area, orchids garden, fishing area, a restaurant and a wharf to receive tourist boats.
Many Koi varieties like kohaku, ogon, showa, sanka, and chagoi are bred at the garden.
Tourists can reach the garden by bus or speedboats from HCM City.
Other ecotourism ventures like Binh My and Fosaco villages are also ideal destinations for a break from the daily rush to enjoy the peace and quietness of a suburban rural area.
Big plans
The district is looking to cash in on the ecotourism with the US$500 million Saigon Safari project that will stretch over 457 hectares, including an open zoo, breeding and animal care facilities as well as recreational zones, entertainment facilities, hotels and restaurants.   
The safari will be home to 10,000 animals of 300 species and 3,000 species of plants.
The city's authorities have urged the district to implement the long-planned project which has been delayed for many years due to site clearance and compensation issues.
Last year, the city's People's Committee approved a proposal by the Vinpearl Joint Stock Company to develop the safari park.
The park can handle 3,000 visitors coming on day tours and 1,800 staying on overnight.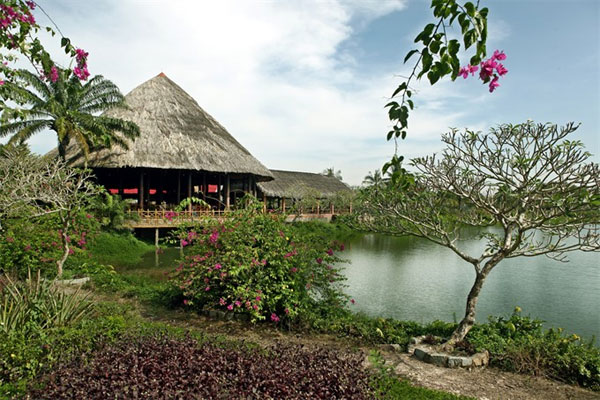 Idyllic escape: The peace and quiet of a rural suburb can be enjoyed at the Fosaco Village in Cu Chi District. Photo Le Minh
Weak link
While ecotourism, river tourism and rural tourism have huge potentials to develop in Cu Chi, these have not been properly exploited because of underdeveloped transportation infrastructure and lack of quality services for tourists, says Tran Vinh Tuyen, deputy chairman of the city's People's Committee.
"To facilitate tourism development in Cu Chi, transportation infrastructure from the downtown HCM City to Cu Chi should be upgraded to cut travelling time to the tunnels and other tourist attractions," Tuyen says.
The city plans to build an express highway and an overhead road to Cu Chi so that it takes only half an hour to get here from downtown, he says.
"River transportation facilities will also be developed to facilitate waterway travel from downtown to Cu Chi.
"Incentive policies in terms of tax reductions and exemptions for investors in tourism products and services in the district will also be put in place soon," he adds.
"The city's Department of Tourism will work with travel agents to develop various products and services that link the Cu Chi Tunnels with eco-tourism sites and traditional craft villages in surrounding areas," says Bui Ta Hoang Vu, director of the department.
Vo Anh Tai, deputy general director of Saigontourist, says Cu Chi must improve the quality and uniqueness of experiences that customers get through diverse products and services.
The number of tourists visiting Cu Chi reached nearly 2 million in 2016, an increase of 12 per cent compared to the previous year. The district's tourism revenue for the year has been estimated at VND156 billion (US$6.9 million).
Now available are half-day tours to the Cu Chi Tunnels by bus or speedboat, and full-day tours to the tunnels, Cu Chi wildlife rescue station, a craft village and/or an ecotourism site.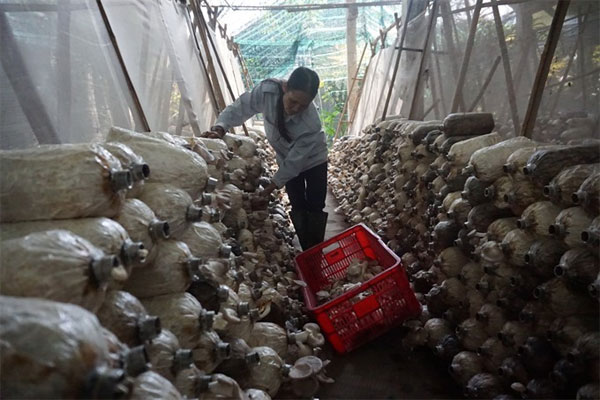 Fungal growth: Mushrooms farmed at the Green Noen farm in Cu Chi District. Photo Thu Hang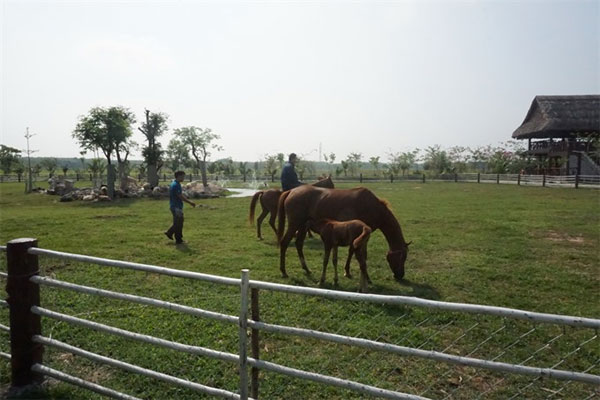 Hooving it: Horse riding on the Green Noen farm in Cu Chi District. The farm attracts thousands of students and tourists every year. Photo Thu Hang
VNS