VietNamNet Bridge – If a travel agent offered you a tour where you would pay him for picking up trash, you'd be excused for thinking he'd lost his marbles.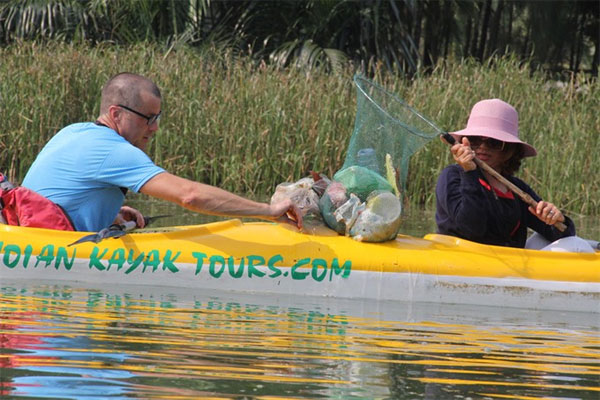 A foreign tourist rows on a kayak trip picks up trash floating on the Thu Bồn River, Hoi An City. — Photo thanhnien.com.vn
In fact, the mastermind behind such an offer was told by many that his idea was crazy.
Nguyen Van Long decided to give it a shot, anyway.
Thus it is that a tour has opened in the ancient town of Hoi An where you pay a "nominal fee" of US$10 for the privilege of rowing a kayak along the Thu Bon River and spending pretty much the whole morning or afternoon picking up trash that spoils the otherwise beautiful landscape.
The $10 fee is waived for Vietnamese visitors.
Long, 34, said the fee was reasonable because he would take care of getting the kayaks, maintaining them and buying trash bags.
"Everybody said it was a crazy idea. So I was surprised when a lot of people, first foreign tourists, then domestic ones and even local residents, were excited about joining the trips," Long told VietnamNet.
Paul Lasenby, a cyclist from England, couldn't get enough of the remarkable scenery in Hoi An, but he was saddened to see people recklessly discarding garbage in the river, ruining its beauty.
"I think the tour is great. And hopefully, it will educate the local people, fishermen and hotels in the area," he said.
Lauding the initiative as an interesting one that would help elevate public awareness, Nguyen Van Son, Vice Chairman of the Hoi An People's Committee, personally pledged to appeal to more people and the entire political apparatus to join the cause of protecting the environment in the little city and its surroundings.
The idea can be seen as a bit embarrassing for us. One would think that foreign tourists come to Viet Nam, expecting to enjoy the beautiful scenery and vibrant culture, or just lazily lounge on sandy beaches. Instead they have to pay to clean up the very places they've come to enjoy, places that we, the hosts, are trashing.
But, as they say, it is the thought that counts. The thought of doing something different, inviting the participation of foreigners, has apparently worked wonders, rousing people in the area to take action, and making others feel uncomfortable about not doing anything.
Tran Thi Ha of Cam Chau Ward in Hoi An City, was forthright: "Foreigners come here and pay money to participate in collecting trash. I am the town's citizen, how can I not join the activity and advocate for more people to join?"
Hopefully, more and more citizens will be 'proselytised' thus, creating a critical mass where droves of people take direct action across the nation instead of shrugging their shoulders and looking away, as many of us are wont to do. Even more hopefully, such public participation in collecting trash will produce nothing less than a tectonic shift, putting a stop to littering in the first place.
From this perspective, this initiative has the potential to result in far-reaching changes.
Skeptics abound
Others, while in favour of the idea, remain skeptical.
Vu Hoa, 23, of Ha Noi, said that it was a surprisingly educational and helpful initiative, given that the participation of foreigners would certainly push more people to join. However, aside from low public awareness, she felt authorities must "shoulder some of the blame for the piling up of garbage in Hoi An."
Nguyen Thanh Phuong, 46, also from Ha Noi, appreciated the thought behind the initiative, but said she would not want to join the activity, "I contribute my part by not littering. I can't imagine I would join such tours."
She maintained that the collection and treatment of trash is the responsibility of agencies like the environment department. "I mean, that's their job, and the way I see it, they have not done their job properly. And they should look at this grassroots initiative to reflect upon the lacklustre performance of their responsibilities."
Phuong's comment called to mind the recent negative and obstinate reaction of local ward officials when a spotlight was trained on the pollution in their jurisdiction by a foreigner.
The actions of James Joseph Kendall, an American who personally stepped into the nastily black waters of severely polluted ditches in Ha Noi to clear accumulated trash, was looked at askance by ward authorities who saw it, rightly, as drawing attention to their incompetence.
Of late, Vietnamese leaders have been paying more attention to pollution and similar problems. Senior-most leaders have been prefacing policy pronouncements with comments that growth will not be pursued at the cost of the environment. But, at this advanced stage of degradation, this is easier said than done.
One long-time expat resident of Ha Noi, who did not want to be named, said the environmental fallout of unbridled industrialisation and moderisation could have been seen right at the time doi moi was launched and precautionary measures taken.
That it has taken 30 years and many major pollution disasters for this awareness to seep in does not inspire confidence that it will translate into actions that can make a difference that will count, he said.
Well, let's see. All the recent measures taken so far, like increasing environmental protection fees, imposing heavier penalties and launching name-and-shame campaigns, look good on paper. Their effectiveness remains to be seen, though.
At the end of February, a woman was fined a whopping VND 6 million ($263), by no means a small sum in a country with per capita GDP of $2,220, for littering. The public welcomed the news, but we need to look at the fine print in this situation.
The heavier fines for polluters are contained in Resolution No.155/2016 that took effect on the first of February, but it was at the end of the month that the case was reported. One case of littering in a month? Given that this is Viet Nam, not Singapore, this is sadly absurd. It showcases underwhelming implementation of rules, low priority given to environmental protection, shortage of staff, and negligence.
It is in this context that this curious out of the box idea deserves consideration and appreciation. Hopefully this will inspire more "whacky" ideas, change more hearts and minds, and prompt more direct action by individual citizens and communities as a whole.
And then, who knows, we can start imagining a day when all such clean-up businesses go out of business. 
Tran Trong Kien
VNS