The Korea Tourism Organization (KTO) has asked Vietnamese travel firms to design tours to lure local tourists to the Republic of Korea, having successfully organized such an activity last year.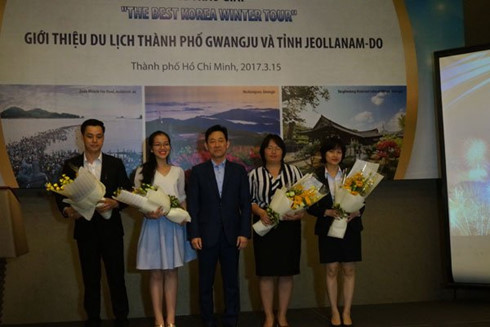 Jung Chang Wook (C) of the Korean Tourism Organization (KTO) in Vietnam, poses for photos with representatives of travel companies who won the 2016/2017 winter tour design competition 
KTO on March 15 awarded prizes totaling US$20,000 to four Vietnamese tour operators for having designed attractive winter tours for local tourists to the northeast Asian country. 
Winners of the contest are TST Tourist with first prize of US$10,000, while Vietravel Hanoi and Vietravel HCM City came second and third with US$5,000 and US$3,000 respectively. Vietrantour won a consolation prize of US$2,000.
Winter is the low season for Vietnamese travelers to Korea. Therefore, KTO convinced Vietnamese firms to design winter tours to Korea from last May, with conditions that tours must include a stay of at least two nights at the Winter Olympics venue, and that there must be a sizeable number of Vietnamese travelers buying such tours.
The winter tours after being designed were launched from last November, and within three months, the number of tour buyers reached 1,100.
"This is a very good result. We will continue organizing similar competitions to encourage travel companies to initiate and design tours to attract more Vietnamese tourists to South Korea," said Le Thi Thu Trang, marketing director of KTO in Vietnam.
Last year, around 251,000 Vietnamese visitors went to the Republic of Korea, up 53% compared to 2015. This year, KTO expects to attract more than 300,000 Vietnamese tourists, up nearly 22% compared to 2016.
KTO will continue supporting Vietnamese tour operators to send more local tourists to Korea. Beside ongoing programs such as advertising support for travel firms and gifts for tour buyers to new destinations like Jeollanam and Gwangju, KTO will work with tour operators in the entire process from introducing new ideas to product launch.
"If any company wants to design products, we will give support from A to Z, from connecting the company with ROK partners to launching surveys in the Republic of Korea and jointly organizing promotions to sell products in Vietnam," said Trang.
Vietnam and other Southeast Asian countries are seen as strong visitor-generating markets for the Republic of Korea, especially when arrivals from China have plummeted.
SGT