The year of 2016 witnessed impressive growth of the Vietnamese tourism industry, with a strong increase in both domestic and international tourists.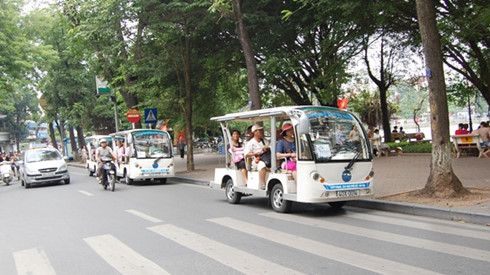 The development of green tourism is becoming popular in numerous cities and among many travel companies, contributing to sustainable tourism development.
According to figures released by the General Department of Tourism, Vietnam welcomed more than 10 million international visitors in 2016, a year-on-year increase of 26%; and served 62 million domestic tourists, up 9% over the previous year. 
The country earned VND400 trillion (over US$17.5 billion) from tourism past year, an increase of 19% compared to 2015.
Vietnam's tourism sector strives to receive 11.5 million international visitors and serve 66 million domestic tourists, earning VND460 trillion (nearly US$20.2 billion) in 2017. 
The country set a target of welcoming 17-20 million foreign arrivals and 82 million domestic tourists by 2020, contributing 10% to the country's GDP.
However, according to the General Department of Tourism, the competitiveness of Vietnam's tourism ranked 75th out of 141 nations, following numerous countries in the region including Thailand, Malaysia and Singapore. 
In addition, Vietnamese tourism products are yet to be especially attractive or unique; meanwhile multi-sectoral policies related to ensuring favourable conditions for the development of tourism and improvement of its competitiveness have not been synchronous. 
Moreover, the quality of tourism services did not meet the requirement of the raised standards, and both the natural and social tourism environments are inadequate.
In order to improve this, many experts said that in addition to increasing turnover and the number of tourists, managers should pay much attention to planning as well as sustainable green tourism.
Bui Thu Hoan, Director of the Tara International Travel Joint Stock Company, noted that Vietnam has a great potential for developing green tourism, particularly due to the country's copious variety of natural ecosystems including coral, wetland, coastal sandy areas and tropical forests. 
Vietnam is also a country home to the diverse cultures of many ethnic groups and to numerous well-known heritages such as Hue ancient capital, Hoi An ancient city and My Son Sanctuary. 
It can be said that national parks including Cat Ba, Cuc Phuong, Ba Be, Nam Cat Tien, Tam Nong and U Minh, along with mountainous areas such as Fanxipang peak are also highly suitable for the development of green tourism models, contributing to conserving natural landscapes, biodiversity and community culture.
However, for many countries in the world, including Vietnam, green tourism is a new form of tourism in terms of concept and in preserving natural resources. Research and planning for the development of green tourism is still limited. 
There are several localities and travel businesses that have tried to establish programmes and tours towards green tourism, however, their scales and forms have not lived up to expectations. 
In addition, products and markets have not been clearly identified, so attracting visitors has proven difficult.
In recent times, the Vietnamese National Administration of Tourism has co-ordinated with International Union for Conservation of Nature (IUCN) and Economic and Social Commission for Asia and the Pacific (ESCAP) held an international conference on building a strategic framework for the development of Vietnamese tourism as well as promoting co-operation in developing eco-tourism activities in Vietnam.
Tara International Travel Company has prioritised greeen tourism via the development of its markets, introduction of tourism products and building of tourism brands. 
Accordingly, the company focused on market segments, such as tourists seeking quality services and long-stay duration, particularly from Northeast Asia, Southeast Asia, Pacific, Western Europe and Eastern Europe. 
The enterprise also expanded activities to attract visitors from new markets such as the Middle East and India. In this field, the comapny enhanced the co-ordination among agencies and localities in order to ensure consistency.
Most recently, the Saigontourist Company launched a domestic tour on the occasion of Tet (Lunar New Year) to many attractive destinations boasting fresh air and beautiful natural landscapes such as Sapa in Lao Cai province and Mai Chau Valley in Hoa Binh province.
Under this trend, localities attracted a large number of visitors with different forms towards the development of green tourism. A representative from Hanoi municipal Department of Tourism noted that the capital is attractive thanks to its ancient and peaceful beauty. 
A tour around the city can help visitors to learn more about the 36 ancient streets. However, the development of tourism in Hanoi has not been commensurate with its inherent potential. 
Thus, the city has focused on diversifying all resources, encouraged all economic sectors as well as domestic and foreign enterprises to invest in tourism, and improved the quality of the capital's tourism products.
Firstly, Hanoi must create new tourism products such as developing specific tourism products in the Old Quarter and Hoan Kiem Lake, while promoting historical, cultural and architectural values and the Thang Long Imperial Citadel. 
In addition, the City should pay attention to upgrading destinations at several cultural heritages as well as building stops for tourists in urban areas and organising cultural and arts performances serving visitors in a number of areas in the Old Quarter and theatres.
Since the expansion of its administrative boundaries, Hanoi has had not only the advantage of cultural and historical tourism but also the potential of craft village, community, ecosystem and resort tourism. Hanoi is home to 1,350 trade villages, the most in the country. 
The ancient villages have become a good foundation to build community tourism products, contributing to diversifying tourism products for the capital.
Over the past years, Hanoi has supported capital for trade villages to develop their tourism through upgrading infrastructure such as roads, electricity and clean water, as well as improving environmental landscapes.
In addition, teams of guides have been launched in several trade villages including Bat Trang Pottery, Van Phuc Silk, Son Dong Wooden Carving, Quat Dong Embroidery, Phu Vinh bamboo rattan and Ha Thai lacquer.
Under the directions for tourism development of the localities and travel businesses, it can be seen that the protection and creation of green tourism environments can be considered as essential for the sustainable development of tourism in the country.
Nhan Dan