VietNamNet Bridge – Riding a boat in the nipa palm forest gives me a feeling of being lost in the lush greenery.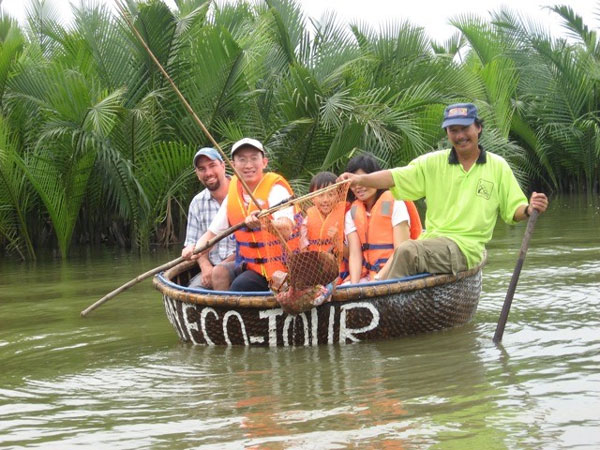 Tourists try their luck at catching fishes.
Bay Mau nipa palm forest in the central city of Hoi An, Quang Nam Province, offers tourists a chance to discover the kingdom of nipa palm, which is very similar to the tours to the Mekong Delta province of Ben Tre.
The nipa palm wetlands are 5km to the east of Hoi An City. Located in Cam Thanh Commune, the site covers an area of 80ha surrounded by water.
The Bay Mau nipa palm forest is the green tourism area, the "lung" of Hoi An and nearby areas as it comprises the original salt-marsh ecological area with poetic scenery and the abundant brackish flora and fauna. It is home to different kinds of marine life such as shrimps, crabs, fishes, snakes and mollusks.
This salt-marsh ecosystem is also a biological filter, accumulating and decomposing waste to clean the water source before it flows onto the beach.
Boat rower Duong Thi Nga took us to every nook and cranny of the forest. She gave us a fishing-rod and asked us to try our luck. However, it was not easy.
Nga asked us if we were afraid of getting dirty, then she led us to paddle in shallow water to catch purple crabs, the specialty of this site. It was totally fun and we snared nearly 1kg of crabs.
There is always an intimate connection here between nature and people. There is a strong attachment that the locals have to nipa palms. They build houses, make furniture and different kinds of souvenirs from palm wood and leaves.
Tourists can learn about the daily lives of farmers and fisher folk and visit the local houses by riding bicycles through small paths and bamboo bridges.
Reaching Cam Thanh Commune, tourists also have a chance to discover an old, important military base in two wars against the French and the Americans.
With terrain located on the outskirts of the city, near the river, there are bushes and bushes of nipa palms, and it was a convenient place to set up base for the resistance movement and nurture it. The Bay Mau nipa palm forest became a shelter to hide the revolutionary forces.
Tourist Ray Ahn from Hongkong rented a bicycle riding along the Hoai River bank to get Bach Dang wharf where he started the journey to Bay Mau forest.
"Overall, we had a good and funny experience," he said.
"You can decide how long you want to discover the forest. If you have a lot of time, you can visit the local houses, join the games, catch crabs and go fishing. If not, just sit on bamboo boats floating under the tree canopy to enjoy the green and boundless space of nipa palm forest.
"It makes all the pressures of a busy life disappear to prepare the energy for a new day," he said.
Nguyen Hai, vice director of Quang Nam Provincial Tourism Promotion Centre, said that in recent years many tours to discover this nipa palm forest have been operated.
"The Bay Mau nipa palm forest has a high potential to develop homestays and promote ecological tourism," he said.
"Tourists go on a sightseeing tour to the wetlands by bamboo boats that is different from other tours to mangrove forests in the Mekong Delta region. Meanwhile, the hospitality of the locals and traditional crafts stuck to palm trees also attract tourists to discover more," he said.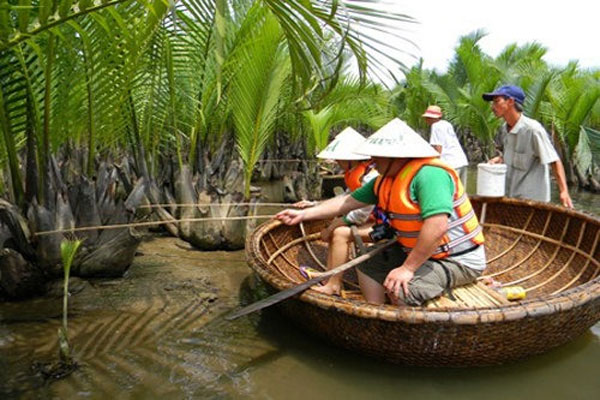 Tourists try their luck at catching fishes.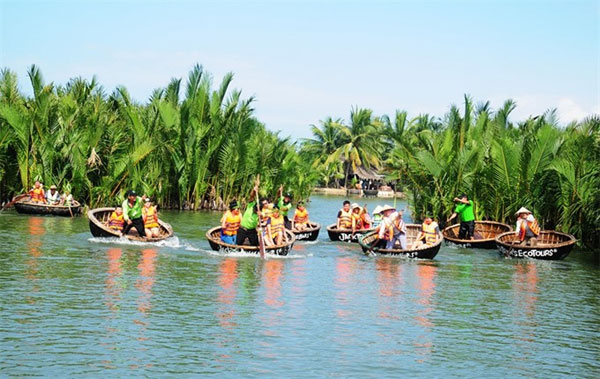 Bay Mau Coconut Forest attracts many tourists.
According to statistics, more than 20 households in Cam Thanh Commune are involved in promoting tourism. This is a form of tourism based on community and brings sustainability. People here still continue with their daily work in their profession, and at the same time, when visitors come, they ride bamboo boats and guide visitors to explore the forest. And they can survive with this on the sidelines.
At VND150,000, tourists can hire a boat for two adults and one or two children to join the tour.
August is the ideal time to visit the site as it is the palm season. After discovering the forest, tourists can indulge in some fresh, cool nipa palm juice.
Leaving the bamboo boats at sunset, we also leave a peaceful site behind to join the crowds of tourists flocking to Hoi An Old Quarter where colourful lanterns await.
Wonderful experiences on boats and the taste of palm juice lingering on my lips remind me that I have had a memorable day.
VNS
Minh Thu