VietNamNet Bridge – The fantastic landscapes that Hoang Su Phi District treats visitors to also yield some delicious ingredients that make the local cuisine a special feast to savour, Luong Thu Huong discovers.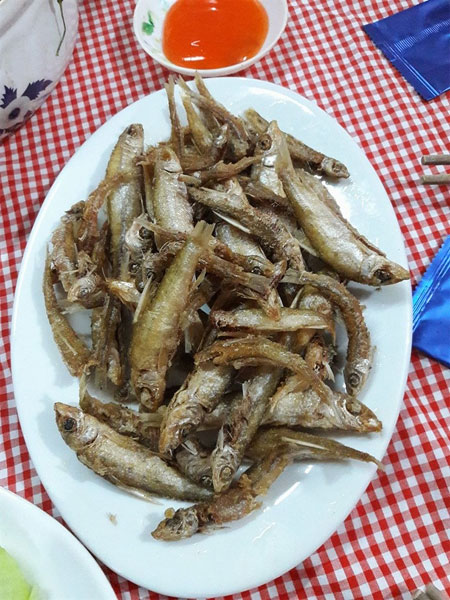 Crunchy: Crispy fried stream fish.
It is well known that a trip to Ha Giang Province is a feast for the eyes.
But it was a feast for the stomach that my friends and I were craving after the long drive from Ha Noi to the northern mountainous province.
We were tired and hungry, and needed a nutritional, tasty boost to prepare us for the next day's outings. Following a local friend's recommendation, we set off for the 666 Restaurant, where we are assured of "truly authentic mountain food".
666 is located in the heart of the district, but it's not easy to find. Not only is it tucked into a secluded corner next to the Sông Chảy Hotel, there is nothing about it that attracts notice. We did found that it does attract a lot of customers, thanks to the distinctive dishes it serves and the variety of options it offers.  
The restaurant is a two-storey stilt house typical of the area. A huge ancient tree stood right in the centre of the restaurant growing form a central pillar of the building.
Unlike other restaurants, guests at 666 have to wait at a "welcoming" table, order their food and wait for it to be cooked before they are seated. In fact, this seems to be normal for all eateries in Ha Giang, because there are not many customers all year round. Most restaurants begin cooking only after orders are placed.
 However, we were okay with the "delay" because we were going to get freshly cooked food. One of my friends joked that the hungrier we were, the tastier our food would get.
The menu at 666 lists many local specialties with most of the dishes cooked with free range black pigs or black chicken, stream fish and carps from the famed terrace paddy fields.
As soon as we were seated on the second floor, our bellies growled with joy as the steaming hot dishes arrived at our table.
Continuing to follow my friend's recommendation, we picked fried stream fish, boiled black chicken, fried catfish, sour fish soup, fried buffalo meat, rice crust, boiled chayotes, steamed mustard greens and another local specialty: Nang Don rice liquor.
My friend picked for me a yellowish stream fish, reiterating that fried stream fish was a must-try dish at this restaurant.
With a dip made of fish sauce, a little chili, onion and lime juice, the crispy fish with its tasty flesh seemed to melt in my mouth. I could eat even its bones, I felt. Accompanying the fish are salads, coriander leaves and basil freshly picked that evening from the garden.
Black chicken is part of almost every meal in Ha Giang. Because they are allowed to roam freely and eat natural food, the meat of this chicken is very lean and delicious and does not have a fishy smell like others meat.
Taking advantage of abundant water logged in the terrace fields, ethnic minorities in Hoang Su Phi raise a variety of fish, especially carp. However, the fish is pretty small in comparison with those in the lowlands, and is not gutted before cooking. This explained the slightly bitter taste of the fish we ate. The gall had not been removed.
Dishes with a bitter taste, including soups, seem to be a characteristic of ethnic cuisine in the northern mountainous areas of Viet Nam. The bitter taste of the fish might not suit every palate, but the sour soup cooked with its meat is very tasty and combines perfectly with a bowl of hot rice.
Meanwhile, the rice crust is a perfect dish to nibble at while chatting with your friends and taking a short break from meat and rice. Our crust was crispy and carried with it the special flavour of the rice that had just been harvested in the terraced fields.
Apart from tasty rice and fish, the terraced fields also provide locals with another special product, the Nang Don rice liquor.
Processed with yeast made from special leaves and pure natural water located 1,000m above the sea level, the liquor, which is named after the commune that produces it, is becoming a favoured specialty of Hoang Su Phi.
The aroma of Nang Don liquor was pleasant and soothing. After a few sips, there was a sweet taste on the tip of my tongue, as also a certain numbness.  A special feature of this liquor is that no matter how much you drink, you will not have a headache or a hangover, locals told us proudly.
All said and done, we were in high spirits as we left 666.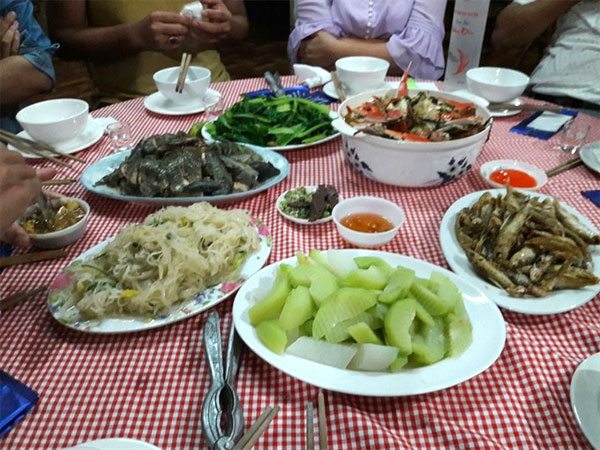 Freshness: A dinner at the 666 restaurant is invariably fresh because everything is cooked after an order is placed.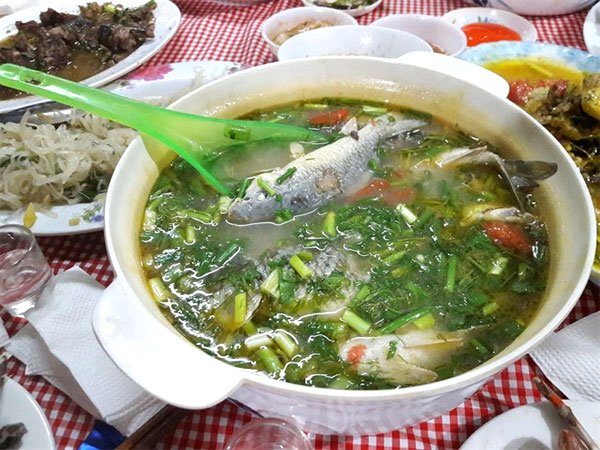 Bitter sweet: Sour soup made with fish raised in the terraced fields. The meat of the fish is sweet, but since it is not gutted, it carries a slight bitterness as well.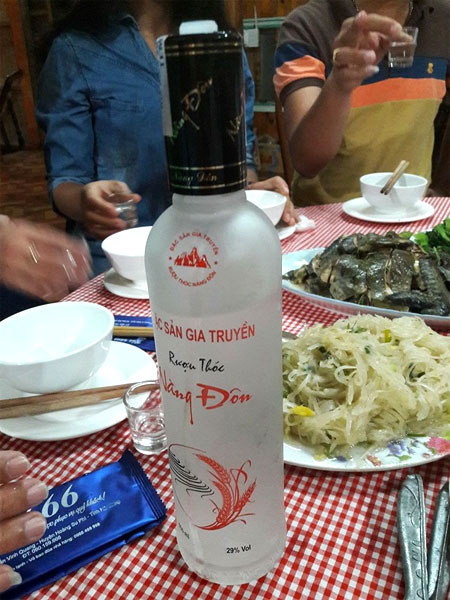 That's the spirit: Nang Don, a local liquor made with rice.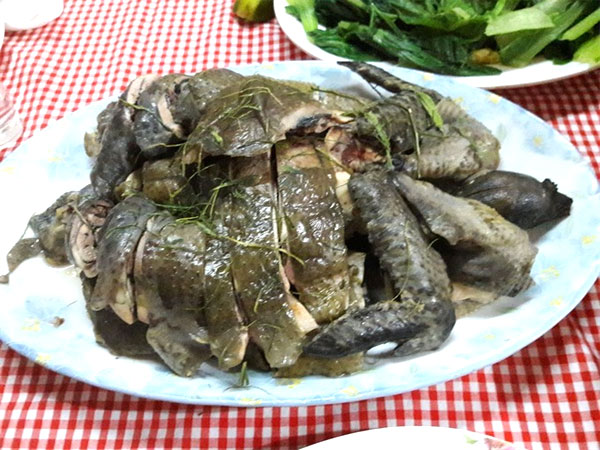 Dark: Boiled black chicken. Its meat is lean and sweet and does not have a fishy smell. VNS Photos Luong Thu Huong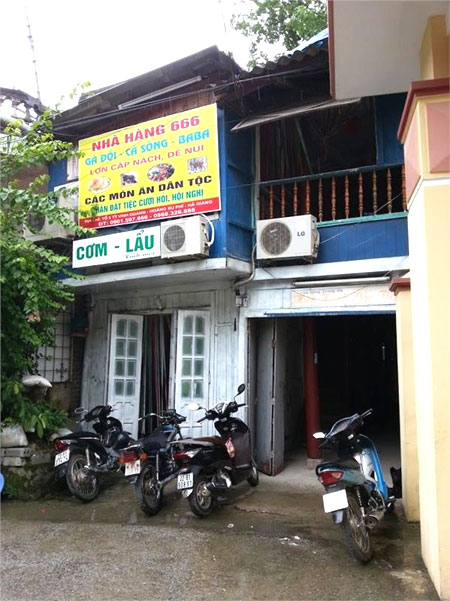 Unassuming: The modest facade of the 666 restaurant make it difficult to spot, but it attracts many customers for serving authentic ethnic dishes.
666 Restaurant
Address: Vinh Quang Town, Hoang Su Phi District, Ha Giang Province
Tel: 0901 597 666
Comment: Delicious ethnic cuisine.
Price range: VND120,000 (US$5,5) to 300,000++ ($14)
VNS