Charity tourism has become more popular for its social and humanity significance. Tourists join a journey to refresh themselves after work and find the true values of life.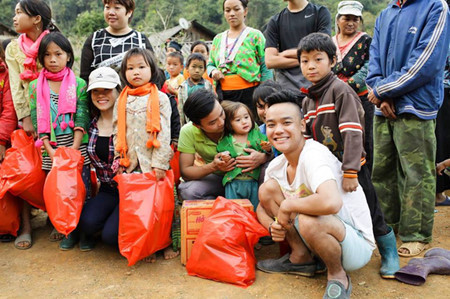 Charity tourism is often the tours to remote and isolated destinations where the local life is underprivileged. 
Travelers will bring essential goods such as clothes, blankets, mosquito nets, and books to give to people in the host communities. 
Besides sight-seeing, tourists will visit ethnic families to learn about their daily life, go with them to the terraced fields to do farm work, and prepare meals and enjoy meals together.  
Pham Vu Hoang, a representative from Merolimex Telecommunications Company, says his company organizes charity tours for the staff once a year.
"Our employees will get involved in humanitarian activities. They will have more experience about the difficult life of people in remote and isolated areas," he said.
Vietrantour says it has developed a range of charity tours from Hanoi to Ha Giang, Lai Chau, Cao Bang, and Dien Bien province. Tours combining sight-seeing and humanitarian activities have attracted a lot of people.
Le Cong Nang, Head of Vietrantour's Communications Section, said, "Charity tours and community-based tours are the global trends. 
They have met the wish of foreign tourists to explore the local unique culture. Charity tourism has contributed to improving the community life and local socio-economic development."  
To support poor children going to school, Trans Viet company has organized charity tours to Ha Giang province and give the local children notebooks, foods, clothes, and blankets.
Ben Thanh tourism company has prepared to deliver thousands of sets of clothes, blankets, school supplies, and food to disadvantaged children in northern provinces.
Nguyen Nhu Hieu, Deputy Director of Ben Thanh tourism company, said "Tourists are eager to join our tours because they go on holiday and do good deed. Many of them found the trips joyful and meaningful and wanted to go again. We organize tours at reasonable prices so many people can join."
Charity tours are often to remote areas of difficult traveling and living conditions. But travel companies say they will extend charity tours to destinations where the local people need community help.
VOV5